We are in the middle of the largest run on weapons and ammo in recorded history. Go to a Walmart (NYSE:WMT), Cabela's (NYSE:CAB), or an Academy Sporting Goods (NYSE:KKR) and you will see the shelves are rather lacking for ammunition. The selection is very sparse due to excessive demand. The question springs to mind: How can we profit from this?
With the recent rise in weapon and ammunition sales, ammunition manufacturer Alliant Techsystems Inc., (ATK) stands to increase its profits.
The company is broken into three parts: aerospace, defense and sporting. We will be examining the sporting group as a quick pick to see if further study is warranted. The sporting group is where all civilian ammo sales and accessories sales occur and accounts for 26% of ATK's revenue.
ATK produces ammunition under several brands such as: Federal Premium, Alliant Powder, RCBS, CCI, Fusion, Speer Ammo, Speer Bullets, Estate Cartridge and Blazer.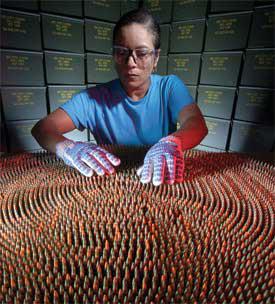 Alliant Techsystems also produces equipment for the reloading community. Reloading is where a consumer makes his or her own ammunition. It will save the consumer some money and increase the bullet accuracy but at the expense of the time it takes to assemble the ammo. With some ammo being very hard to find reloading may gain some traction with consumers who are hard-pressed to find the rounds they want. If you cannot buy it, make it via reloading.
Also many of ATK's brands are on backorder. Slickguns.com has Federal Hi-Shok 9mm on a two week back order; some other brands are on a six week backorder.
Some Police departments are even reporting an ammo shortage with ammo on backorder. Rt.com reports:
A spike in gun and ammunition sales has caused a nationwide shortage that has delayed police training exercises and is putting a substantial amount of weaponry in civilian hands.

Police in Atlanta, Georgia have been forced to delay training exercises due to a shortage of ammunition. The police department has put orders for more bullets on back-order, while officers are being deprived of the training that makes them capable of handling weapons.

Local ammunition suppliers are attributing the shortage to the spike in gun and ammunition purchases by civilians after the shooting sparked debate on tighter gun control regulations.

FBI background checks for weapons hit a record 2.8 million in December, with most of those occurring after the Dec. 14 massacre. Last month also saw a drastic increase in gun sales, with every US state seeing a rise from the previous month.

Ammunition sales were equally steep, with Brownells, the largest supplier of firearm accessories in the world, reporting that it has blown through several years' worth of ammunition in just a matter of hours. The company apologized for its inability to meet consumer demands.
We will repeat the above sentence so it can soak in... "Brownells, the largest supplier of firearm accessories in the world, reporting that it has blown through several years' worth of ammunition in just a matter of hours."
Bet some of that ammo was made by ATK? You better believe it. And who sold some of that ammo? That would be Cabela's and Academy Sporting Goods. Cabela's receives a full 20% of its revenue from the sale of weapons and ammo. Academy Sporting Goods is a very popular store in the South that carries a wide range of weapons and ammunition. During my last visit to Academy a mere week ago the shelves looked like this.
(Note: The picture was borrowed from my previous gun article)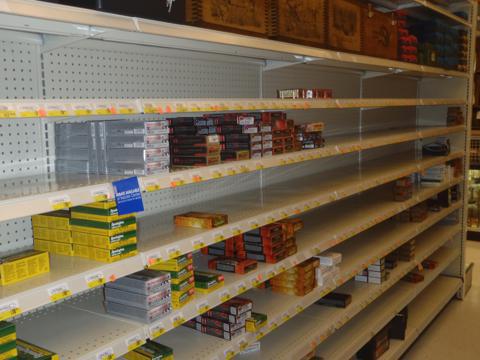 Financials
ATK's financials are nothing to get excited over, which may be the very reason we should look at the company. With the high sales of ammo it has plenty of room to improve.
The training PE is 8.71 and the forward PE 9.32. Cash stands at $237 million to $1.1 billion in debt. This is not too surprising. Producing ammo is very equipment intensive. Quarterly revenue growth (year over year) comes in at a sleepy -3.60%, with quarterly earnings growth (year over year) at -18.70%. ATK has a small dividend yield of 1.6%.
Conclusion
With the biggest weapon and ammo-buying spree in history, ATK stands to see much higher revenue in its sporting division. This could improve the bottom line and boost the financials. Ultimately the stock price would follow as well. Cabela's and Academy Sporting Goods will also see a nice boost in gun and ammo sales, which will affect the bottom line.
Note: Academy Sporting Goods is owned by Kohlberg Kravis Roberts & Co.
Disclosure: I have no positions in any stocks mentioned, but may initiate a long position in ATK, KKR, CAB over the next 72 hours. I wrote this article myself, and it expresses my own opinions. I am not receiving compensation for it (other than from Seeking Alpha). I have no business relationship with any company whose stock is mentioned in this article.