Investing can sometimes be like playing a game of chess where one always has to think ahead in order to make the right moves to ensure victory. By carefully planning ahead investors can better position themselves for future events to profit off of. One event that significantly affects agricultural-related stocks is the weather. In 2012 there were record droughts across the United States that affected crop prices and conditions that lead to the price of corn jumping higher mid-summer 2012.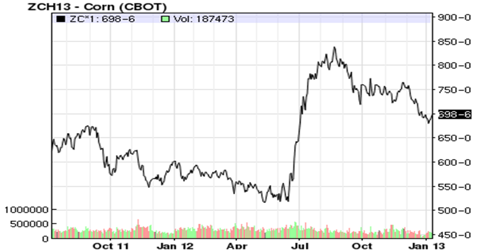 Since corn hit over $8 the price has retreated, but with the possibility of future drought striking again investors should consider the agricultural chemical sector. 2013 should be another solid year for agricultural chemical stocks as record corn planting followed by strong demand for fertilizer should benefit Agrium (NYSE:AGU), Potash (NYSE:POT) and CF Industries (NYSE:CF). I am expecting all three of these stocks listed above to continue to have strong gains for 2013 as all three of these stocks are still above their June 2012 lows.
Agriculture can be extremely time sensitive and is also a sector where raw material costs are important to consider. CF Industries and other companies in the same sector tend to benefit from lower natural gas prices and strong demand for nitrogen/phosphate products. Natural gas input costs for CF Industries have come down for 2012 with 2011 costing CF Industries 4.45 compared with 2012 at 3.34 (MMBtu). This decrease in the price paid for natural gas has helped improve gross margins from 638 million in 2011 to 702 million in 2012. Natural gas prices for 2013 are expected to be in the mid to upper $3 dollars/mil. Btu's. While prices are expected to slightly increase for 2013, I would expect CF Industries to continue to improve gross margins through lower input costs and improved capacity utilization through the Terra Nitrogen acquisition. Improved capacity utilization is extremely important since there is a small time frame when fertilizer needs to be applied and building inventories to meet demand is important.
One particular name that I want to focus on is CF Industries. CF Industries is based in Deerfield, Illinois, and manufactures/distributes fertilizers used in agriculture. CF Industries has two main components to its business and that is Nitrogen and Phosphate. Nitrogen, Phosphates and Potash are three crucial plant nutrients that are important for farmers to achieve maximum yields that can lead to making more money. Some of the many products that CF Industries produces are Anhydrous Ammonia, Diammonium Phosphate and Ammonium Nitrates. CF Industries is one of the largest producers of Nitrogen and Phosphate in the United States.
When taking a further look at CF Industries the average selling price has increased for ammonia, granular urea and prices have remained stable for uan and ammonium nitrates. Currently, with winter in full effect across the Midwest one consideration to pay attention to is the amount of rainfall and snow that will be accumulating; since farmers will have to pay close attention to recognize these conditions to reduce damages. According to Farmland Forecast 61% of the United States still have drought conditions and average rainfall is still below averages.
With the possibility of drought conditions in 2013 and low natural gas prices farmers will increasingly be seeking to increase yield on harvested acres. With farmers striving to increase yield, 2013 could be another great year for CF Industries and others in the fertilizer sector. When taking a look at a long-term chart of CF Industries investors will notice the company has been in an upward bullish channel since late July 2010. CF Industries' current price (at the time I am writing this) is at $218.70 and its last recent high around the $220-$223 level the stock sold off.
With CF Industries getting close to its highs again there is the possibility the stock could sell off, but I would want to be a buyer on weakness as fertilizer sales are still looking strong for the upcoming spring planting season. CF Industries has a price-to-earnings ratio of 7.83 times earnings, which is well below the industry average. In CF Industries' last 10-Q the company increased earning per share and operating earnings have increased. The company will be incurring higher contractual obligations (debt, leases, pension plans and etc.) in 2013, but this should be tapering off moving forward. CF Industries will be reporting Q4 earnings on February 19, 2013, and the company expects to earn $6.89 with an estimate range of $5.58-$7.85
In 2013 the story moving forward is simple for CF Industries. Higher grain prices, lower input costs and warm weather will continue to contribute to strong fertilizer demand for 2013. Even though the Spring planting season is some time away investors want to prepare their chess moves to the bullish side as CF Industries has been a solid investment over the last five years. If CF Industries can break another all-time high I would expect the company the keep moving higher in 2013, but on a sell-off I would want to be a buyer in the low $200 range as the company has a history of constantly breaking new highs.
Thanks for reading and Good Luck.
Disclosure: I have no positions in any stocks mentioned, and no plans to initiate any positions within the next 72 hours. I wrote this article myself, and it expresses my own opinions. I am not receiving compensation for it (other than from Seeking Alpha). I have no business relationship with any company whose stock is mentioned in this article.
Additional disclosure: Will be considering call spreads in CF Industries on a pullback