In our updated Market View posted last month, we expressed a concern that the market was too complacent entering 2013. Fortunately, we also expressed a belief that the market would rally sharply early in the year if a fiscal cliff compromise was reached.
So far, the S&P 500 has risen 3.2% since the start of the year, getting quite a lift from the view that the deal struck by Congress on income tax rates should keep the US economy from falling back into a recession.
While there is much work yet to be done on the fiscal front, the market has plowed ahead with a mostly carefree attitude that is grounded in the thinking that worst-case scenarios (like defaulting on our debt) will not be allowed to unfold and that economic growth momentum will be restored by the second half of the year.
It is a rational view given the precedent of eleventh-hour, stop-gap policy solutions in the eurozone and the US, and the ongoing embrace of stimulus programs in China and Japan.
It is a view, though, that is fostering a growing sense of complacency and speculation in the market, the evidence of which is seen in the crash of the CBOE Volatility Index and the rising level of margin debt at the NYSE.
The Federal Reserve and other central banks won't readily admit it, but complacency and speculation are primarily their doing.
It may be all good for now, but it is at times exactly like this when it is necessary to offer a reminder that things can turn bad in a hurry when the market ignores the potential for bad outcomes.
Expecting Good Things
We do not know the day nor the hour when bad things will happen. And we won't make any predictions.
What we simply want to do today is reiterate a central tenet of our market view, which is that it is important to manage against downside risk because there are plenty of risks out there.
With the market acting the way it is, it is easy to think it is headed for new and higher highs.
The financials are surging along with the transports; semiconductor stocks have outperformed; oil prices and copper prices have jumped 9% and 7%, respectively, in the last two months; and bond yields have spiked 17 basis points since the start of the year.
These are hallmark signs of a market that it is expecting only good things from an economic, earnings, and geopolitical standpoint. It may ultimately be exposed as wishful thinking, but for now the market looks set in its bullish ways.
A Fix on the VIX
The VIX Index, which is a measure of the implied volatility of S&P 500 index options, is euphemistically referred to as the "fear gauge." That is a bit of a misnomer since low readings in the VIX simply denote an expectation that significant moves, either up or down, are unlikely over the next 30 days.
Still, when the VIX Index collapses as much as 39% on the other side of a major news event like it did recently, and the S&P 500 simultaneously rises to multi-year highs, a case can certainly be made that market participants are feeling less fearful about seeing a major, downside move.
Low VIX readings don't always translate into imminent selloffs. The VIX Index traded between 10 and 20 for the better part of the bull market that unfolded between 2003 and 2007.
Still, it would be remiss not to add that low VIX readings certainly preceded material, downside moves in the S&P 500 over the last five years.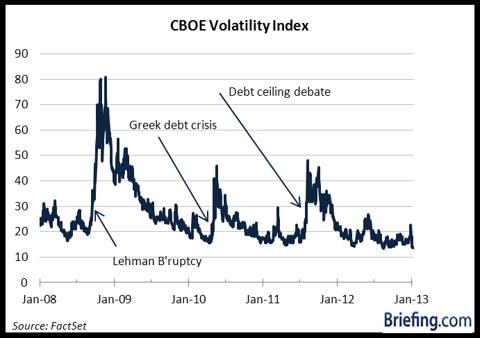 The thing about fear in the market is that it doesn't typically escalate until participants are hit smack dab in the face with a development that places a renewed premium on risk aversion.
No sane person likes getting hit in the face, so recognize today that complacency can be, and has been, costly for equity portfolios positioned only for positive outcomes in the market.
A Debt of Attitude
Something else hitting multi-year highs recently is the level of margin debt at the NYSE. In fact, margin debt is at its highest level since February 2008, which is just before Bear Stearns was forced to sell itself at a rock-bottom price to JPMorgan Chase.
That is not to insinuate that we are on the cusp of another unsettling episode like that.
A rising level of margin debt in and of itself speaks to increased confidence in the market outlook. However, the increasing use of leverage to capitalize on expected gains is also a signpost of increased speculation.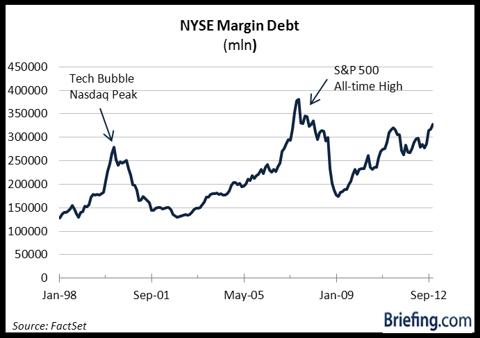 The extent to which investors are overleveraged can be seen in margin account credit balances (total free credit minus total margin debt).
A number below zero indicates negative net worth.
In other words, there isn't cash on hand to meet margin calls, which can then lead to forced liquidation of stocks in the event there is a negative surprise that increases market risk. That forced liquidation in turn can lead to emotionally-charged selling on the part of other investors that can exacerbate market losses.
The latest data from the NYSE shows a negative net worth level that is comparable to what was seen at the time of the debt ceiling debacle in 2011, the Greek debt crisis of 2010, and several months before the topping of the S&P 500 in 2007.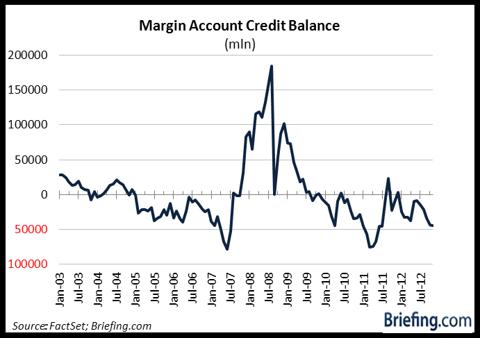 This trend should not be overlooked knowing the next debt ceiling debate is a clear and present danger ahead. By the same token, it should not be overlooked knowing quite simply that we never know what lies ahead.
The market generally has an optimistic outlook, so the risk of a negative shock from a future unknown will carry more market impact than a positive surprise.
On a related note, the market has held up just fine knowing that the debt ceiling debate promises to be divisive. That suggests to us that the market is banking on the idea that a worst-case scenario of a default will be avoided. In essence then, a debt-ceiling fix is being priced in already.
An agreement to raise the debt ceiling would be good news and might lift stock prices further, particularly if it happens sooner rather than later, yet a failure to reach an agreement is a major risk factor for obvious reasons.
What It All Means
The new year has gotten off to a very good start for the equity market. We certainly understand why and we certainly have to respect the fact that it has occurred on solid leadership from the cyclical sectors, namely financials, basic materials, and energy.
The sector ahead of them all, though, is the health care sector, which is a countercyclical sector. The outperformance of that group fits neatly with our view entering the year that cyclical and countercyclical sectors should not be overweighted or underweighted exclusively. Rather, there should be a balanced mix in the equity component of one's portfolio to deal with what are expected to be regular mood swings.
| | |
| --- | --- |
| Sector | YTD |
| Health Care | 4.4% |
| Financials | 4.3% |
| Materials | 3.7% |
| Energy | 3.3% |
| S&P 500 | 3.2% |
| Consumer Discretionary | 3.1% |
| Consumer Staples | 3.0% |
| Industrials | 3.0% |
| Information Technology | 2.4% |
| Telecom Services | 1.5% |
| Utilities | 1.3% |
Source: FactSet
By and large, the mood of the equity market is bullish right now. Every sector is up at least 1.0%; dips continue to be met with buying interest; bonds are on the defensive; and, well, there seems to be little fear about bad things happening.
It is a nice perspective, but it worries us greatly when we start to hear people say -- as we are now -- that fundamentals don't matter for this market because of the Fed's influence.
History has demonstrated that bearish strikes often occur when complacency and investor speculation are high. That combination is evident today and it is the offspring of policy actions oriented around easy solutions rather than tough decisions.
Bad things happen. It is fact of life. It is why you insure your car, your home, your business, your health, and your life. You hope you never have to make use of the insurance, but when you do, one of two thoughts will undoubtedly dominate: (1) you're glad you have insurance and/or (2) you're mad you don't have enough insurance.
Don't think any differently when it comes to your investment portfolio.
Enjoy the gains that come your way, but take steps consistent with your risk tolerance to insure your portfolio against losses when bad things happen -- losses that will mount in a hurry if complacency gives way to fear and there is a forced liquidation of stocks to meet margin calls.
Disclosure: I have no positions in any stocks mentioned, and no plans to initiate any positions within the next 72 hours. I wrote this article myself, and it expresses my own opinions. I am not receiving compensation for it. I have no business relationship with any company whose stock is mentioned in this article.