New year festivities have continued on the stock market even as the Christmas trees have been put away. The "death of the fiscal cliff," not horrible job numbers and supportive comments from Mario Draghi on the other side of the pond have led to bold and bullish behaviors over the last three weeks. While no one can predict the exact peak, here are five reasons you're better off on the sidelines than in the market.
Fundamentals Wisdom. Byron Wien is legendary on wall street and has a 30-year track record on yearly predictions. No one is perfect; Byron is better than the rest. At 50% accuracy for 2012 (which is substantially better than the street), he was right in the critical prediction that the S&P would end about 1400 by the end of 2012, as also on the excessive pessimism on Europe. For 2013, the very same Byron Wien predicts S&P 1300, caused not by a fiscal cliff but an earnings cliff.
Technician Wisdom. Birinyi made his name on the street in the 80s by using mutual fund money flows to predict stocks and markets, and was a regular on the pioneering program, Wall Street Week by Louis Rukeyser. He continues to share his wisdom about both institutional and individual investor sentiment on the Tickersense, the Birinyi associates blog. The current investor sentiment (see below) is as strong a signal as the market is going to give you that it is overbought. Can it get more overbought? Possibly. Are you placing a low odds bet if you buy now? Indubitably.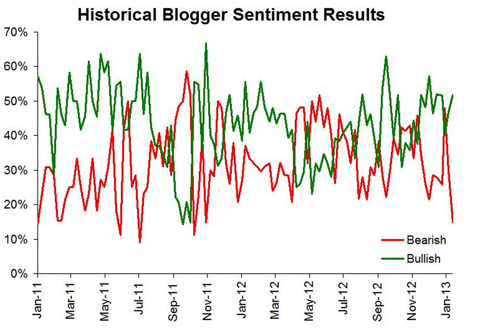 'Hedgie' wisdom. Tom DeMark is another ilk of 'technician for hire' and revered by the hedge fund community. He is an advisor to the (somewhat maligned but incredibly smart) SAC hedge fund run by Steven Cohen. DeMark correctly predicted the timing and valuation of the S&P bottom in 2011. DeMark calls for a S&P descent to the 1350 range after a short-term market top.
Small Investor Sentiment. The American Association of Individual Investors (AAAI) is another highly regarded investor analytics institution. There bulls vs bears tracker (see below) confirms Birinyi's analytics, and flashes a strong warning signal for those contemplating a market entry in the near future.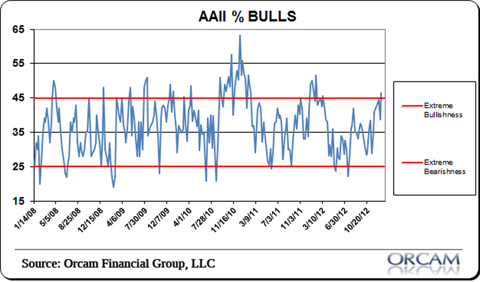 Earnings Cliff. And last but not least, are the prognostications of Doug Kass. Doug is a hedge fund manager known for calling the March 2009 bottom right around Dow 6900. Concerned as he is about Washington, the cliff he is highlighting is the earnings cliff, i.e. a shortfall in S&P earnings due to global uncertainty, inflationary pressures and consumer sentiment.
So if you're a conservative investor, you might want to stay on the sidelines. If you're brave, you might venture on the short side. As always, take this as input and conduct your own research.
Disclosure: I have no positions in any stocks mentioned, and no plans to initiate any positions within the next 72 hours. I wrote this article myself, and it expresses my own opinions. I am not receiving compensation for it (other than from Seeking Alpha). I have no business relationship with any company whose stock is mentioned in this article.