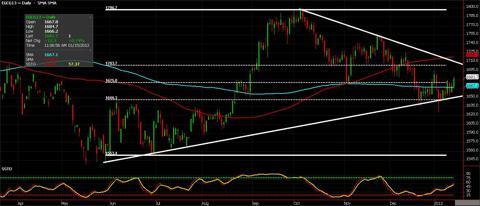 Click to enlarge
In the last 3 weeks, gold has built a solid base as prices have consolidated trading on both sides of the 200 day MA -- identified by the light blue line. Though futures probed the 61.8% Fibonacci level as seen on the chart above, prices never settled below that critical pivot point. Off their lows 2 weeks ago, prices have already advanced over $50/ounce as of this post. I think if we can get a settlement above the 50% Fib level at $1675, we should be on our way to the 38.2% level just above $1700/ounce. I see the next significant resistance at the 100 day MA -- identified by the red line, currently at $1718.
One of the most significant features I want to point out on the chart is that before we reach the apex in the triangle, we should see prices breakout (up or down). Now this is not precise but the apex is likely in the next 30 days, so stay tuned, as the direction of the forthcoming breakout I anticipate should set the tone for the next leg. I am obviously in the camp that the direction of the breakout will be up. I have advised clients to gain bullish exposure in futures and options, and be willing to add to the trade on the way up as the market proves you correct.
Perhaps a catalyst to propel gold and other metals moving higher could be the PPI and CPI that are reported today and tomorrow. My take is regardless of the numbers, the metals are starting to price in that inflation is inevitable based on the actions of Central Banks around the globe.
Risk Disclaimer: The opinions contained herein are for general information only and not tailored to any specific investor's needs or investment goals. Any opinions expressed in this article are as of the date indicated. Trading futures, options, and Forex involves substantial risk of loss and is not suitable for all investors. Past performance is not necessarily indicative of future results.
Disclosure: I have no positions in any stocks mentioned, and no plans to initiate any positions within the next 72 hours. I wrote this article myself, and it expresses my own opinions. I am not receiving compensation for it. I have no business relationship with any company whose stock is mentioned in this article.