When it comes to earnings time the first thing many investors always think is that by default bigger is always better. Still, blindly chasing hot earnings often turns into a dangerous game. In particular, DryShips (NASDAQ:DRYS) is a perfect example of how any company with sustained explosive earnings can ultimately turn into a ticking time bomb if its earnings growth is largely driven by an ungodly amount of debt.
Why?
A company whose earnings are heavily driven by an aggressive level of financial leverage needs its industry to stay in a solid state of growth. Otherwise, the earnings can and do often quickly deteriorate in what seems to be the blink of an eye along with the stock price. Further, history has made it clear that the global economy naturally moves in cycles, therefore no company even has the opportunity to operate in an environment whose growth is continuously limitless.
Specifically, what happens to a highly leveraged company when economic growth slows down or declines?
Once things start to economically slow down the earnings of a highly leveraged company are often ravaged due to the high financing costs associated with the large debt load that once fueled its explosive earnings. Simply speaking, the large amount of debt comes back to haunt the company like the ghost of Christmas past. The difference here is that this ghost has a very real axe to grind and it takes it out on the company's earnings. Again, I point to Dryships as a great example of this but perhaps this chart explains it best for anyone not familiar with the history of this stock.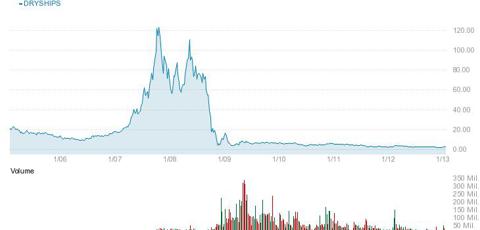 So how can investors find stocks that have amazing earnings numbers but that aren't likely to turn into ticking time bombs because of leverage?
2 Easy Ways to Avoid Financially Leveraged Time Bombs with Hot Earnings:
1. Focus on companies that operate with a low level of financial leverage.
a. Rule of thumb: a company with a financial leverage ratio of 2 or less in the latest quarter is deemed to be operating with a moderate-to-low level of financial leverage.
2. Make sure that a company has a coverage ratio of 1 or higher. A coverage ratio of less than 1 is a potential red flag because it indicates that the company could have issues paying the financing portion of its debt in the future and or that it might have liquidity issues.
Doing this simple due diligence and looking for any potential trends relative to these metrics shouldn't take more than 10 minutes. As well, these two checkpoints should help prevent investors from inadvertently investing in stocks that have explosive earnings but are being driven by aggressive financial leveraging.
It's sad when I hear investors make the incorrect assumption that dividend-paying companies can never provide the same level of explosive earnings that "hot" growth companies do. Some investors simply assume that because a company now pays a dividend it's a clear indication that the company's glory days are now over.
To disprove this investor myth today I decided to point out some dividend-paying companies that not only provide a real dividend yield (X>=3%) but are also posting impressive earnings growth numbers (year-over-year revenue growth>=20%) while operating with a financial leverage ratio of 2 or less.
The dividend stocks listed are ranked highest to lowest by market capitalization:
Stock

Market Cap.

Dividend

Yield

Fin. Leverage (Latest Qtr.)

Earn. Growth

(Y-over-Y)

1. Royal Dutch Shell PLC (NYSE:RDS.A)

$221,667M

4.36%

1.96

51.52%

2. Chevron Corp (NYSE:CVX)

$218,676M

3.14%

1.71

41.77%

3.Merk & Co. (NYSE:MRK)

$131,422M

3.91%

1.91

621.43%

4.South. Copper Corp. (NYSE:SCCO)

$33,357M

9.40%

1.65

50.82%

5. Chunghwa Telecom (NYSE:CHT)

$25,344M

4.39%

1.19

23.31%

6. HCP Inc. (NYSE:HCP)

$20,795M

4.35%

1.90

39.13%

7. CME Group (NASDAQ:CME)

$18,010M

3.32%

1.84

89.73%

8. Health Care REIT, Inc (NYSE:HCN)

$16,082M

4.78%

1.96

30.43%

9. Nucor Corp (NYSE:NUE)

$14,430M

3.22

1.96

483.33%
*Sourced from Morningstar.com
I hope the dividend stocks listed above help investors as they do their own research and due diligence on low-leverage dividend stocks that are posting explosive earnings growth numbers.
Disclosure: I am long SCCO. I wrote this article myself, and it expresses my own opinions. I am not receiving compensation for it (other than from Seeking Alpha). I have no business relationship with any company whose stock is mentioned in this article.