Last summer, Jay Leno came up with a bit on his show about the heat wave called "How hot is it?" He would follow up the question with a punchline like, "It was so hot in Kansas yesterday, the people were glad there's nothing to do in the entire state!" Even though Leno was able to create some comic relief from the heat, it was no joke. The National Oceanic and Atmospheric Administration (NOAA) released a report on Tuesday that stated 2012 was the warmest year on record and the second most "extreme" with regard to weather. Although the current drought creates many challenges to citizens across the country, it does create investing opportunities to willing investors.
Although technology advances within the agriculture industry have allowed the U.S. to sustain a substantial growth rate in crop yields over the years, Mother Nature still plays the largest role in crop yields -- and, as a result, corn prices from year to year. Crop yield is the measure of a crop produced relative to a unit of land cultivation. As shown in the chart below, corn yields for corn have increased from 20.5 bushels per acre in 1930 to 122.3 bushels per acre in 2012. Although the long-term corn yield trend has been increasing significantly, each year's corn yield is highly dependent on two variables: temperature and precipitation. Also shown in the chart below is a closer look at the past four years of corn yields, which has experienced the second largest rolling three-year drop since 1930 as a result of the continued drought.
Click to enlarge images.

Plotted below is the year-over-year change in the corn yield (horizontal axis) vs. the year-over-year change in the price of corn (vertical axis). It is apparent that there is an inverse relationship between the two variables. As I stated earlier, corn yields are highly dependent on temperature and precipitation. According to a University of Illinois at Urbana-Champaign (U of I) 2008 study on crop yields, the most important months during the crop process are June and July for precipitation and July and August for temperature.
Using data from the NOAA, I took the average rainfall in June and July and the average temperature during July and August since 1930. I then ranked each year based on a combined ranking for both rainfall and temperature, with low rainfall and high temperatures receiving the lowest ranking. Based on the combined ranking methodology, the 10 worst years are indicated in the chart below using the red data labels. It is apparent that during these hot and dry years the yield fell significantly, which reinforces the claims made in U of I's 2008 study.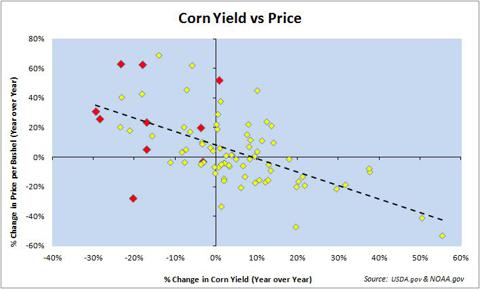 The concern now is how long and how severe will the drought continue to be and if it will cause a decrease in corn yields for a fourth consecutive year. Iowa State climatologist Elwynn Taylor said in a December interview with Reuters that it would take about 16 inches of precipitation by April 1 to recharge moisture in Corn Belt soils, up from the usual 12 inches that farmers look for over the winter. As of Wednesday, Chicago, at the heart of the Corn Belt, just set a 72-year-old record after it surpassed 320 days without more than an inch of snowfall. According to Chicago meteorologist Andy Avalos, historically, Chicago should be at 11.5 inches of snow by this point. This does not bode well for the healing process from one of the most severe droughts in U.S. history. Although the records and data may point to higher corn prices, that may not be the case.
As I stated earlier, 2009-12 was the second largest three-year decrease in corn yields since 1930. This three-year decline in corn yields of 26% resulted in an 83% increase in average annual corn prices over the same time period. The largest three-year decline in yields occurred during another drought period, from 1985-88 and saw a price increase of 14%. In 1989, the corn yields increased significantly from 1988 by 37% and the price per bushel decreased by 7%. According to Greyson Colvin, the managing partner at New York-based Colvin & Co., which manages $22 million of farmland and agricultural assets stated, "Despite the worst drought in over 50 years in the U.S. last year and disappointing yields the prior two years, most analysts expect 2013 corn yields to return to trend line averages of 160 plus bushels per acre." Even if the large gains in corn prices from the current drought have already occurred there are other opportunities to be found.
One opportunity that is starting to unfold is the price of cattle. Over the past few years, many beef cows were slaughtered prematurely due to high prices of feed resulting from tight supplies caused by the ongoing drought. In fact, last summer hay prices were so high in the South that some ranchers were shipping it in from as far north as Minnesota. The high price of feed made the decision to butcher early easy for ranchers in areas hard hit by the drought. As a result of this liquidation, the smallest inventory level of U.S. cattle was experienced in 2012 since 1952. This liquidation process is defined as the cattle cycle. According to the U.S. Department of Agriculture, the cattle cycle averages between eight and 12 years and is the longest cycle of all meat animals. Normally, cattle only produce one offspring during the reproduction process whereas a hog can have multiple offspring. Another contributing factor to the long cycle is the time needed to breed, birth, and bring the cow to market weight. Over the past three years cattle prices were up 47% compared to an 83% increase in corn prices over the same period. The current phase of the cattle cycle combined with continued elevated feed price will drive cattle prices higher from here.
Although the drought does present investment opportunities, you have to be selective. If you start hearing weather reports that the likelihood for La Nina (dry summer) is increasing, then shift to higher corn exposure (CORN or JJG and JJA to avoid a K-1). You will be very disappointed this summer if you're watching Jay Leno and the "How hot is it?" jokes start up again and you're not long corn. However, if Mother Nature begins to ease her punishment, corn yields could increase from last year and as a result corn prices would decline. The safe bet for now is to add some exposure to cattle (NYSEARCA:COW) and watch the weather forecast during the nightly news.
Disclosure: I am long COW, JJA. I wrote this article myself, and it expresses my own opinions. I am not receiving compensation for it. I have no business relationship with any company whose stock is mentioned in this article.