It is usually prudent to hope for the best and plan for the worst with investing. So with all the macro-economic issues going on right now, it is a great time to be looking for companies that can survive and thrive in an economically shrinking environment. I have been going through my portfolios for the last month or so, trying to weed out and vet any companies that might struggle in the worst-case scenario. And I was surprised to find that Tesla Motors (NASDAQ:TSLA) was still on my list of companies that could thrive in spite of an overall weak economy. I have been fairly optimistic about TSLA for about six months now, after first considering it a potential short. This will come as no surprise to ardent followers of Tesla Motors, but it may astound some to know that TSLA has been doing extremely well over the past couple months, and it might even be recession-proof. Investors, who have not given TSLA more than a brief look, might be taken aback when they realize what has been happening since last time TSLA had an earnings call, and what TSLA is set to achieve over the next few months. In the fourth quarter alone, TSLA is set to post the highest sales and revenue of any quarter in its history as a public company.
It was not that long ago that TSLA was looking like an excellent short. Until TSLA did a recent follow-on offering it looked like it would probably disappoint investors by running cash reserves too low, precisely as it was trying to get its most important product to the market, the Model S. But that concern is now assuaged due to the capital raise, and it looks like people will be getting an abundance of pleasant surprises from TSLA over the next couple months. TSLA is in the midst of a pivotal transitional period that has been in the works for years, which for stocks often means that they will decidedly swing one way or the other.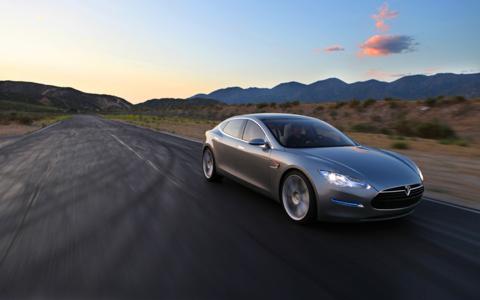 Demand
TSLA has publicly set a goal of selling 20,000 Model S in 2013. That sounds like a lofty number for an upstart company making its first top-to-bottom car, but it only represents a tiny portion of the worldwide luxury auto market and less than TSLA's actual manufacturing capacity. There was concern that there might only be a relative handful of early adopters that would want to snatch up a Model S, and then demand would drop off. However, it appears either that the early adopter scenario is not the case, or the group itself is far larger and faster growing than it first appeared. As of the writing of this article, TSLA has already taken orders for almost all of its 20k Model S in 2013, and the year has just started. Reservations are tracked in detail by members on the Tesla Motors Club website along with a host of other data points from deliveries made, options chosen, even VIN numbers.
Average Reservations Per Day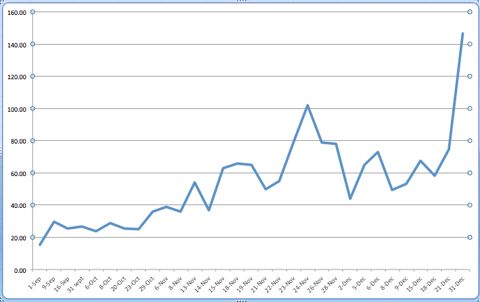 At that level of sales, revenue from the Model S will drastically change the look of TSLA's income statement (and everything else), not to mention the way electric vehicles are seen. Since the Model S received the Motor Trend Car of the Year award in November, reservations have continued growing, reaching over 150 per day at times and averaging about 89 reservations per day over the last month, which projects to over 24,000 reservations in 2013 on top of the over 15,000 it already has. In other words there no longer is a demand concern for TSLA. As of December 31, 2012, TSLA had almost 18,000 U.S. reservations, not including Canada, Europe, or Asia.
The great thing about this surplus in demand aside from the obvious is that it more than effectively hedges a possible increase in reservation cancellations due to macro-economic conditions. In the last conference call, TSLA alluded to cancellations rates between 10%-15% and an expectation of the rate decreasing. Even if the overall economy went through a period such as a few years ago where auto sales decline enormously, at these reservation rates TSLA could see a 50% cancellation rate and still exceed 2013 sales expectations. And it is worth noting that it just began marketing efforts in Asia in December and just announced pricing for Europe, and both have massive sales potential.
Supply & Revenue
Just as important as demand, TSLA also may surprise some people with supply. Production of the Model S got off to a prudently slow start, missing targets in favor of ensuring quality, but a quick scan of the Tesla Motors Club site shows that over 500 people are already enjoying their new cars, and that is only the people who chose to share their information with the club. TSLA has stated that it hoped to deliver about 2500 Model S by year-end. This is something that should already make investors smile, but what will really make them smile are reflections this will have on the financial statements. Whether or not TSLA ends up delivering 500, 2500 or 3500 cars does not really matter in order to make the fourth quarter to look good. When TSLA releases Q4 earnings and sales numbers in February, the headlines will likely say things like "TSLA Revenue Doubles," "TSLA Reaches Cash-Flow Breakeven," "U.S. Electric Vehicle Sales Spike In December" and maybe even "TSLA Now Profitable."
It is easy to read those titles and assume they are overoptimistic, but the first three scenarios are already in the bag; in fact revenue will be up over 500% for the quarter if the company meets or exceeds delivery targets, TSLA already reached cash-flow breakeven (announced via a tweet), and what it has already sold has significantly impacted EV sales (total U.S. EV sales in November not including the Model S were about 6300 vehicles, so another 1000 or 2500 is a big increase). And the fourth scenario, profitability, is an actual possibility although it is more likely later in the year, not to mention that it is expecting gross margins of 25% or better. TSLA's third-quarter earnings reported about 50 million in revenue. At 2500 cars delivered in the fourth quarter, that will yield about 250 million in revenue from the Model S, five times third-quarter revenue. The icing on the cake is that most of the cars produced in Q4 had just about every option the Model S can come with, meaning that for Q4, the average selling price of each Model S was at the high end of its roughly $57,500-$100,000 price range.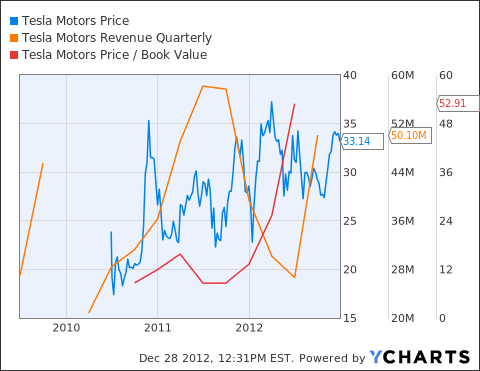 TSLA data by YCharts
Extras
In addition to the all-important revenue etc., TSLA is also expanding its Supercharger network starting with the East Coast and across North America. This is allowing free charging at strategic points across the country, effectively making the range and cost of driving the Model S unlimited and free. And worth mentioning, TSLA still has just about 50% short interest. While it only represents about 25% of total shares, it could slightly compound the already good news as short positions concede and cover, leading to higher demand for the shares. Also worth noting is that the TSLA store locations are being contested in court, supposedly in violation of dealership rules in some states. So far at least one court has ruled in favor of TSLA in Massachusetts. However, even if TSLA gets told it can no longer operate its store locations, a very small possibility, it will not have a huge effect on the success of TSLA or its future sales. The stores have already served their purpose in many respects by garnering lots of exposure, without actually selling cars. Even without the stores, every time a Model S gets delivered and driven by its owner becomes a driving advertisement. So as TSLAs being driven every day become more frequent, so too does exposure and consequent interest and sales.
The Takeaway
So this all sounds good but it is worth noting that TSLA stock can still be quite volatile even though it has doubled at times since the IPO; it is not for the risk averse, yet. There are a lot of high expectations already built into the price of the stock. But any "fiscal cliff" and debt ceiling/macroeconomic related downward movement in the stock should present a great buying opportunity before the aforementioned headlines begin to come up. There is now really only one thing that could rain on the TSLA parade, just like any other manufacturer, which is the need for a major recall. The odds of that happening are very small; TSLA may actually have better quality control and more precise manufacturing than any other manufacturer in the world. Those in doubt might be persuaded by watching the National Geographic Ultimate Factories hour long program that details on video TSLA's state-of-the-art factory. In addition to top notch manufacturing, TSLA has integrated a sophisticated electronics and software system, which can update wirelessly just like an iPhone, and track data from each vehicle. Each Model S will be a continual learning tool for TSLA as well as the best car on the road for owners. It is the first car on the road ever that will actually get better over time. Just recently a software update was released that improved the already best in class range of the car. And also in the next quarter or so, TSLA plans to release an iPhone App for watching the progress of charging and probably all sorts of other things.
The shift from speculative investment to good investment will happen quickly for TSLA. It is already listed as a buy by eight out of 16 analysts, and it is tough to compellingly argue that TSLA has been progressing in any other direction without skewing or ignoring the facts. Suggestions that by 2020 all cars on the road will be electric are probably too farsighted for now, but TSLA has potential that is just beginning to get realized and recognized. Every car on the road might not be electric in 2020, but TSLA is still a waking giant in the world of electric vehicles and American manufacturing, it already employs over 3,000. Overall risk has been decreasing while demand, supply, and revenue are steadily growing. TSLA investors are set up for good things over the next couple of months (and perhaps years); it is not every day that a company that has been losing money for a decade finally finishes climbing the mountain, crests the summit, and begins coasting down the other side.
Disclosure: I am long TSLA. I wrote this article myself, and it expresses my own opinions. I am not receiving compensation for it (other than from Seeking Alpha). I have no business relationship with any company whose stock is mentioned in this article.