When I first began investing, I knew little about portfolio allocation and how to properly diversify my holdings. Specifically, I was a bit confused by the terms overweight, underweight, and marketweight. I foolishly thought having an equal percentage of capital in each sector was normal, and that over and underweight were in regard to boosting or lowering this allocation percentage. For example, if there is 10 sectors, I felt 10% in each would mean all sectors meant an equal weighted portfolio across the board. Of course, this was wrong, and I learned the hard way.
The S&P 500 can be divided into 10 sectors, and together they comprise the total value of the index in terms of dollar amount. As of January 2013, the index looked something like this: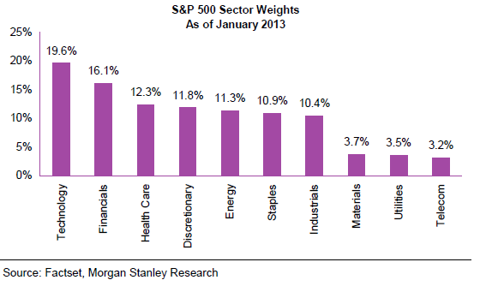 I find it surprising that Tech, Financials, and Health Care together amounted to roughly 48% of the S&P 500 Index, simply because it seems there is so much emphasis on other sectors. If you are equal weight these 3 sectors, this portion of your portfolio would equal nearly half of its total value. I find that although it is okay to be overweight certain sectors if you feel strongly about their upside promise, being much too overweight is a common mistake by most investors and could lead to dramatic underperformance and thus, extra risk.
For example, such sectors like Telecom and Utilities can be appealing because of their high yields, and could be commonly overweighted by a huge proportion by non-professional investors. Again, this may not be a big mistake if you are consciously aware, as you are free to buy stocks you like. However, I feel many investors may not be aware of such a situation, and may be exposing themselves to risks unknowingly. A signal you may not be properly diversified is if you steadily underperform or outperform the index by wide margins on a regular basis, perhaps in a pendulum-like pattern.
Not being properly diversified could be one of the biggest risks you can make as an investor. Since we are beginning a new year and you are probably recovering from tax selling in 2012, or possibly shifting your portfolio around quite a bit, now is the time to check your allocation to ensure a successful 2013.
So, what sectors are you overweight/underweight? By how much are you under/over allocated? Now is the time to take a look, and if you like, please share in the comments section below. Best wishes to everyone in 2013!
*I am currently overweight Energy and Financials.
Disclosure: I have no positions in any stocks mentioned, and no plans to initiate any positions within the next 72 hours. I wrote this article myself, and it expresses my own opinions. I am not receiving compensation for it (other than from Seeking Alpha). I have no business relationship with any company whose stock is mentioned in this article.