The failure of a major retailer is often followed by the decline of similar businesses. This market malfunction seems to be a common occurrence. It is difficult to believe that Circuit City, Filene's Basement and Montgomery Ward, who were once mainstays in the marketplace, are no longer with us. Their cousins, Best Buy (BBY), JC Penney (JCP) and Sears Roebuck & Co. (SHLD), have recently experienced similar business patterns. One wonders if the failure of Linens N Things will predict the future of Bed Bath & Beyond (NASDAQ:BBBY)?
Throughout the 1990's both Linens N Things and Bed Bath & Beyond enjoyed rapid growth. The nature of their product line was similar. Linens N Things, early on, installed advanced computer systems to control its inventory, and was supported by Melville Corp., a large conglomerate whose financial resources far outstripped its competition. Linens N Things had strong retail presence in most major markets and was able to replenish sold inventory in the blink of an eye. They are now gone
Bed Bath & Beyond closely replicated Linens N Things' path to success, but remained behind in technological innovation and advanced merchandise distribution. Its position in major markets was not as intense. Many analysts gave the edge to Linens N Things.
With the turn to the new century, after a short period of declining earnings and sales Linens N Things filed for bankruptcy protection in May 0f 2008. Bed Bath & Beyond continued business as usual. If one evaluates Linens N Things' advanced operational methods, its superb web site and its professional management, then one must question, "Should not Bed Bath & Beyond have been the one to fail?"
Business enterprises, just like people, have a soul. When making predictions for success the appraisal of the spirit that drives an enterprise may be more important than examining spread sheet data. If present analytical predictions were truly insightful we would then read the financial press and follow its recommendations. Quick wealth would be close at hand.
Bed Bath & Beyond (BBBY) does and has done many things that are not accepted as best business practice. They don't have layers of management, an excessive amount of vice presidents at headquarters, and are not reliant upon elaborate distribution centers. They are running several different business venues simultaneously in a world where it is difficult enough to operate just one business. Bed Bath & Beyond is late at becoming a major Internet presence. Is this a recipe for collapse?
I see a different path for Bed Bath & Beyond than its straying from standard business practice suggests.
The success of any organization must be credited to the quality of its management. The management of BBBY was not imported from high image business schools, but was nurtured internally. BBBY's guidance is supplied by two partners, the Company's founders, whose understanding of retail has driven Bed Bath & Beyond's growth, Mr Warren Eisenburg and Mr. Leonard Feinstein. Mr. Eisenberg is 82 years old and Mr. Feinstein is 75. They are true retailers who have identified the talent of an employee of 20 years, Mr. Steven Tamares, who is now CEO, and that of an employee of 36 years, Arthur Stark, who is now President and Chief Merchandising Officer. I believe that these two executives have the important skills that will build BBBY to an organization many times its present size.
An example of the founders' commitment is a tale that occurred when their operation was smaller. They would track through store aisles picking up small pieces of unsightly paper that fell upon their sales floors, so that the customers would have a fine shopping experience. They understand retail. Under their watchful eyes the future will continue to stay bright.
The missing distribution centers suggest that goods are shipped directly to the stores; this is not the way most retailers operate. Many retail organizations are over-laden with distribution facilities. This concept of shipping merchandise directly to the stores eliminates a whole layer of extra cost and adds to gross margin. View the table of margins below. It will assist with predicting Bed Bath & Beyond's future.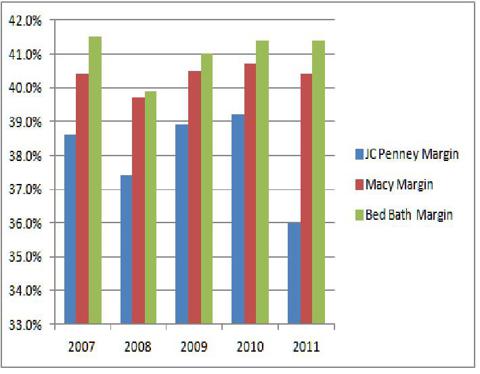 JCP, M, BBBY Retail Margins for years 2007 to 2011
By October of 2012, JC Penney's profit margin declined further. This decrease is not reflected in my graph.
Four additional business operations fall under the Bed Bath & Beyond umbrella, Christmas Tree Shops, Harmon Stores, buybuy Baby and Cost Plus. Isn't it better to concentrate on one business model? Tradition says, "Yes", but with Bed Bath & Beyond my answer is, "No!" Bed Bath & Beyond's small retail chains are like a piggy bankin which one saves for a rainy day. Modeling after the piggy bank these other business entities represent assets not debt, since BBBY does not have long term obligations.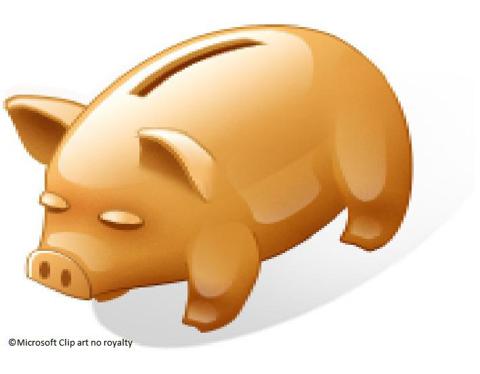 Each of these specialty store groups represents potential for future growth, each acting as a sleeping giant ready to spring into action.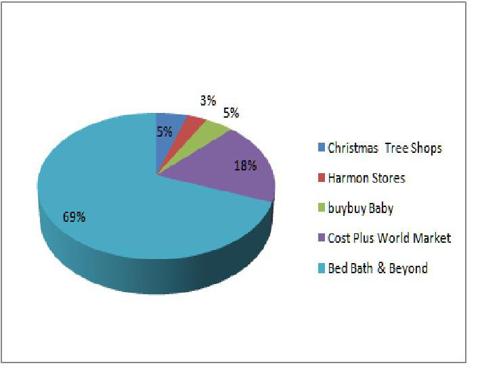 Percentage of Stores By Division Within BBBY Organization
BBBY's other secret waiting to awake is its entry into the Internet. BBBY, like few other successful retailers, such as Pier One (NYSE:PIR), have avoided the Internet because the time had not yet arrived when it would assist in growing their businesses more quickly than would store development. Now when they enter electronic retailing in a major way, new technology is available that will place them ahead of those retailers who are heavily vested into the technology that may be now outdated. The potential for additional growth is immense.
Bed Bath & Beyond's stores are run by store level management. This policy builds an experienced staff that understands what selling to the public is really about. There is no delay in checking with headquarters when a decision is needed. Incentive lies in wait for this management. They just have to look at the positions that Mr. Stark and Mr. Tamares have gained by promotion from within.
Items are stacked from floor to ceiling. The stores do not depend on fancy displays that may or may not satisfy a customer's wish to purchase. Desired merchandise is there. The store does not have to convince its customer that the available merchandise represents what they should purchase and what is missing may not be worth having. The customer need only bring their selection to the check out area and take it home. Customers must squeeze through narrow aisles and experience the excitement of encountering multiple customers as they search for their intended purchase. The store displays an abnormally large amount of stock keeping units, which results in a customer finding the exact item they are looking for, and in making a purchase.
BBBY's stores that are packed with merchandise result in the chain's achieving more than $260 per sq. ft. in sales. The power of high sales per unit area is critical to the success of a retail business. This quality is another reason to invest with BBBY.
By October 2012 JC Penney's footage sales sharply declined. This is not reflected in my chart of historic data.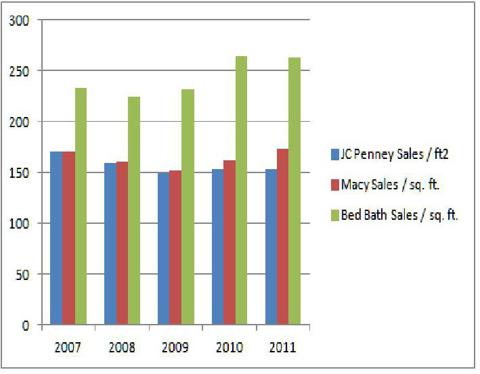 Annual sales per sq. ft. JCP, M and BBBY for years 2007-2011
Am I going to invest for the long term with Bed Bath & Beyond? There is no way that I would miss such an opportunity!
The information that I provide may contain errors. It is written solely for your enjoyment, and should not be viewed as a recommendation to purchase or to sell securities. Data is accumulated from organizations' 10-Q, and 10-K reports along with other published information.
Disclosure: I have no positions in any stocks mentioned, and no plans to initiate any positions within the next 72 hours. I wrote this article myself, and it expresses my own opinions. I am not receiving compensation for it (other than from Seeking Alpha). I have no business relationship with any company whose stock is mentioned in this article.