eBay (NASDAQ:EBAY) will disclose earnings after the close on Wednesday, January 16th. This is the time when eBay stockholders hold their collective breaths in hopes that the company will continue its upward trend.
The company is clearly on a roll. The stock has moved up 74% over the past year compared to the S&P 500's 14% gain. Its earnings growth rate (21.60%) is greater than its trailing p/e ratio (18.1), one of my personal favorite measures of what constitutes a fairly-valued stock.
According to WhisperNumbers.com, over the last 10 years, eBay has exceeded the whisper numbers on 35 occasions and fallen short of whisper numbers 15 times. That is more than a 2 - 1 margin for the company exceeding expectations.
For the last two quarters, eBay has exceeded expectations by a large margin and the stock has spiked accordingly. In July, the stock shot up by nearly 10% and in October, nearly 5%.
This time around, both the analysts and the whisperers agree on a $.69 earnings number. (In October, the company gave guidance of $.66 - $.69). With such a strong recent history of exceeding expectations, we would expect whisper numbers to exceed analyst projections, but that is not the case.
The reason is probably due to the prevailing belief that eBay's primary auction business has reached a plateau (and is possibly declining). Of course, this possibility is offset by the strong growth in the PayPal service (growing at 15% a year) and the recent establishment of a greater Marketplace presence (it purchased GSI for $2.4 billion in 2011) which has become an increasingly important part of the company's business).
In the October 2012 conference call, John J. Donohue, CEO at eBay, spoke glowingly of the company's prospects in ecommerce. What seemed significant to me was the fact that over half their PayPal business comes from outside the U.S. (and is just getting set up in Brazil and Russia). PayPal Mobile seems to becoming the preferred choice paying bills for increasing numbers of people - "10 major U.S. retailers now have PayPal live in store at more than 7,000 locations. And we expect to have 20 major retailers signed up for PayPal's point-of-sale solution by year end," Mr. Donohue reported.
While this is a purely anecdotal experience, my daughter is developing an exercise device which uses elastic straps and yoga mats that she is sourcing in China. When she finally selected a manufacturer and placed her first order, she (and I) was a little surprised that they asked to be paid through PayPal. She expected to have to wire a deposit but the manufacturer preferred PayPal. It seems significant that a Chinese manufacturer would have such a preference.
What would happen to the price of the stock if eBay instituted a dividend? No one seems to be speculating on that possibility, yet the company is sitting on $9 billion in cash.
The company has authorized a program of repurchasing $2.0 billion in common stock to off-set the dilution caused by share-based compensation programs for its employees. This should help to smooth EPS figures over a long-time period.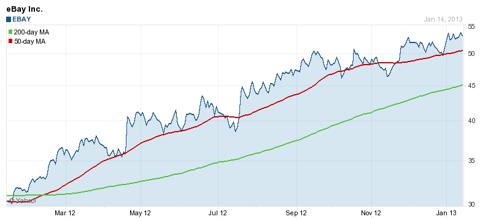 The stock is trading comfortably above the 200-day and 50-day moving averages so there is no major concern on these popular technical measures. The latest RSI number is 55, a neutral reading on the over-bought - over-sold scale.
In contrast to this long list of positive indicators, there are some valuation concerns. While the earnings growth rate currently exceeds the p/e ratio, both revenue and earnings are expected to grow at about 15% compared to the 18.1x p/e ratio, which would mean that the growth percentage trails the p/e ratio.
Another concern is that the current p/e ratio is well above the 5-year average multiple of 14.7x. This suggests that a 5% or 10% increase in the stock price is far less likely after this week's earnings announcement. We should probably not expect the stock to pop like it did after the last two announcements.
So what should you do if your outlook for the company is generally positive, but you don't expect a big move higher, at least in the short term?
Going into earnings, Implied Volatility (IV) of the Jan-13 options (66) is greater than the Feb-13 options (35) due to the uncertainty of the earnings numbers. This gives calendar spreads a considerable IV advantage.
Today, with eBay trading at $53.00, I bought 20 each Feb-13 - Jan-13 calendar spreads at the 50 and 52.5 strikes (using puts) and at the 55 strike using calls. In addition, I bought 10 uncovered Feb-13 57.5 calls just in case recent history does manage to repeat itself and the stock pops higher.
One of the persistent problems with placing calendar spreads in advance of earnings is that the IV of the long side falls after the announcement. I suspect that this will not be much of a problem this time around. I checked back a month ago and saw that IV for the Jan-13 options series with four weeks of remaining life was 33, which is only marginally lower than today's Feb-13 level 35. So the Feb-13 option prices shouldn't plummet after the January options expire.
Here is the risk profile graph for my positions:

These are the positions I have:

For those of you who prefer seeing these trades as I placed them, here they are:
BTO (buy to open) 20 EBAY Feb-13 50 puts (EBAY130216P50)
STO (sell to open) 20 EBAY Jan-13 50 puts (EBAY130129P50) for a debit of $.50 (buying a calendar)
BTO 20 EBAY Feb-13 52.5 puts (EBAY130216P52.5)
STO 20 EBAY Jan-13 52.5 puts (EBAY130129P52.5) for a debit of $.56 (buying a calendar)
BTO 20 EBAY Feb-13 55 calls (EBAY130216C55)
STO 20 EBAY Jan-13 55 calls (EBAY130129C55) for a debit of $.54 (buying a calendar)
BTO 10 EBAY Feb-13 57.5 calls (EBAY130216C57.5) for $.58
These positions cost $3780 to place and commissions worked out to $162.50 at thinkorswim for a total investment of $3942.50. I placed these trades when eBay was trading right at $53. According to the graph, the stock can fall over $4.00 before I lose anything on the downside, and a profit will result no matter how much it moves higher.
The graph shows that if eBay closes at any point between $52 and $56 on Friday, these positions could make as much as 100% (including commissions, my best goal should be in the 70% to 80% range, however, especially if I close them all out before waiting until the last minute).
The big risk is on the downside. If the stock falls more than $4, a loss would occur. If you wanted to expand the downside break-even point you would buy additional spreads at the 50 strike.
As usual, a caveat, even though I am bullish on eBay (or at least don't expect it to trade lower after the announcement Wednesday), I am only investing money that I can afford to lose.
Disclosure: I am long EBAY. I wrote this article myself, and it expresses my own opinions. I am not receiving compensation for it (other than from Seeking Alpha). I have no business relationship with any company whose stock is mentioned in this article.