Chimera (NYSE:CIM) is showing all of the classic warning signs of a ship about to go down. It has failed to file financial statements since December 2011 as it has been unable to properly value its non-Agency assets in accordance with U.S. GAAP. It has changed auditors, it has decreased dividends, its CFO's qualifications are suspect, and it has offered no explanation as to why it is so difficult to value its non-Agency assets.
Red Flags
Financial statements are the best gauge of the quality of an investment. Chimera has failed to file year end and quarterly statements since December 2011. Prior to providing notices of delay, the auditors resigned with the standard "no disagreements" announcement with respect to financial reporting. This is just a boilerplate statement, it means nothing. If the auditors did not disagree with the reporting by the company, the only other reason an auditor would resign is that it has not been paid.
Although it has continued to pay dividends throughout 2012, in November it paid a dividend of $0.09 of which $0.06 was a distribution of capital. Distributions of capital are usually done by companies that are winding up operations or closing out divisions. These are usually done so that the investor can get favourable tax treatment on the distribution as it will not be taxed as dividend income, a sort of thank you for your investment on the way out the door.
The CFO of Chimera is the sister of the CEO of Annaly Capital Management (NYSE:NLY). The CEO of Chimera is the son of a board member of Annaly. Chimera is an umbrella company of Annaly and is managed through FIDAC, another umbrella company of Annaly. The recent history of family run investment firms has been rife with scandal. It may be that both of these people are specifically qualified to fulfil these positions and there is nothing here to contemplate. Because of the lack of financial disclosure, these interlocking directorships do not do the company any favors.
The compensation package at Chimera is tied to book value which was declared at $3.31 in December. Compensation is not tied to performance. An arbitrary book value is much simpler to deal with than actual market performance especially in the absence of audited financial statements.
Alternatives
There are companies in the REIT space that deal in a combination of Agency and non-Agency paper. American Capital Mortgage Investment (NASDAQ:MTGE) has a portfolio of Agency and non-Agency mortgage and mortgage related investments. Its stock trades around $25 and pays a dividend of 14.3%. It has similar interlocking directorships as Chimera. American Capital Mortgage has directors in common with American Capital Agency (NASDAQ:AGNC), a REIT that invests in Agency guaranteed mortgage investments. However, it does not have the same difficulties as Chimera does with disclosure issues.
Apollo Residential Mortgage (NYSE:AMTG) invests in residential mortgage backed securities and other mortgage assets, and it does not have a problem with valuation or disclosure of its non-Agency assets. Its board of directors is independent and there are no interlocking or affiliate relationships among the board. Apollo trades around $21 and pays a 12.9% dividend.
What's Next For Chimera?
On the face of it, things don't look good for Chimera. It has to get its act together, or it will face delisting. The company will file quarter statements culminating in the years end statements for 2011 and 2012. The company cannot currently estimate the time for delivery of its year end statement.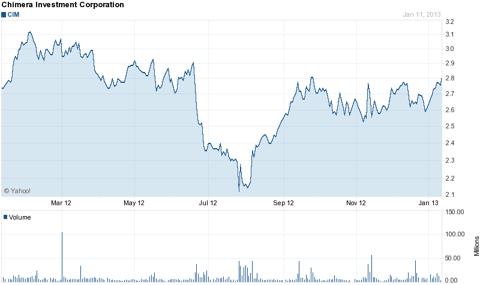 What is it that the people who are still trading in this stock know, that no one else does? I can only come down to the portfolio holdings of Agency Paper. If the company were halted, its business in the trading of Agency paper would be severely restricted, at least for a period of time. In this instance, it would jeopardize the liquidity of other Agency traders and this would not be a good thing for the guarantor of the paper, the U.S. government. Additionally, if Agency paper was used to lever or over lever non-Agency paper, there will be difficulty with the valuation of the company as a whole which will affect the book value and by extension, the compensation of the principals of the company.
Conclusion
A listed company that does not file financial statements on time would normally be suspended from trading. After a period of non-compliance, would be delisted.
Chimera's performance behind the scenes has all the hallmarks of a very poorly run, very cagey management team that is hiding something. I do not see that drip feeding whatever disclosure to the public will make the situation better. The company cannot or will not disclose the value of its non-Agency residential mortgage backed securities portfolio. Unless there is information that is not available to the public, I do not get what is keeping the stock listed and trading. There are better opportunities for investors in this space.
I speculate that it was using agency paper to guarantee any loans, options or hedges on non-agency paper and it is difficult to unwind and may negatively impact the agency side.
Disclosure: I have no positions in any stocks mentioned, and no plans to initiate any positions within the next 72 hours. I wrote this article myself, and it expresses my own opinions. I am not receiving compensation for it (other than from Seeking Alpha). I have no business relationship with any company whose stock is mentioned in this article.