Despite the gloom and doom in the news, no one seems to be predicting that the spread of TCP/IP will be slowed by a global recession. Most analysts are more concerned with how the network will be monetized and the role it will play in new virtualization and cloud computing initiatives.
That means that the networking industry needs to articulate its relevance to these initiatives more forcefully as IT automation initiatives continue to connect to the static TCP/IP network. A weak economy will also make the business case a more significant part of the sales process; which will increase the pressure on networking vendors to automate core network services, thereby setting the stage for dynamic network infrastructure capable of keeping up with new dynamic systems and endpoints.
The good news is that dynamic infrastructure can deliver for the CIOs (especially in terms of real-time visibility into the condition of the network and devices attached) what relational databases (i.e. Oracle (NASDAQ:ORCL)) delivered for the CFO. It can enhance availability, reduce TCO and make networks more capable of keeping up with increasing velocities of change. As networks become increasingly strategic to business operations (and the availability of dynamic, automated systems), this vision becomes glaringly obvious to even the most tactical network teams.
Thus far I think Cisco (NASDAQ:CSCO) and F5 (NASDAQ:FFIV) are the only large cap network appliance vendors who understand how strategic a new network vision is to the growth and vitality (and availability) of the network. Check out this online Data Center 3.0 presentation by a Cisco executive, highlighting conversations from Cisco's recent C-Scape analyst event, as well as this recent blog. F5 has also been blogging about dynamic infrastructure at its DevCentral blog.
That's part of the reason that Infoblox has recently sponsored a blog dedicated to Infrastructure 2.0 and I'm moving my future Archimedius blogs on dynamic infrastructure to this new blog, where I'll be joined by others who want to be a part of the conversation. It also has a great deal to do with an upcoming (January 15) Dynamic Infrastructure event at the San Jose Fairmont with speakers from Cisco and Infoblox that you can read about here.
Clouded Visions of the Network Prevail
Many in the virtualization and cloud communities think that the network is irrelevant. You cannot blame them. The real problem is that the networking vendors have for the most part been caught flat-footed by the rise of system and endpoint automation. Perhaps many of their customers are still playing the CIO Shell Game and are wondering why none of their initiatives are quite living up to their promises.
I've mentioned the exceptions, but one has to wonder how the other network vendors succumbed to the "speeds and feeds" trap that ultimately devalues network hardware and drives innovation (and IT budgets) outward into systems and endpoints. Their lack of vision also puts the network business case at increasing risk as limited budgets meet the rising tide of manual requirements to keep networks in sync with higher rates of change required by new initiatives.
We've talked about the recent evidence of large enterprise networks already showing increasing strains as they grow more complex and incur higher velocities of change. This increasing gap between network capabilities and emerging demands is the biggest threat and opportunity for all leading networking vendors, from Cisco and Juniper (NYSE:JNPR) to F5 Networks, Blue Coat Systems (NASDAQ:BCSI), Riverbed (NASDAQ:RVBD), Extreme Networks (NASDAQ:EXTR) and Foundry (FDRY). It also risks throttling back the business case for these new initiatives. Increasing automation of systems without network automation puts network teams on an oscillating tightrope.
A Weak Economy Will Only Increase the Pressures
As the economy weakens and growth transforms into shrinkage in some strategic sectors, network hardware decisions are going to be driven increasingly by ever more demanding business case scenarios. And those vendors who deliver on the promise of automation, visibility and control will displace the "speed and feed" commodity hardware gamers of the last three decades. This suggests that the networking industry is about to bifurcate into two camps: the automated and the dead.
If you follow this column you've seen this diagram before, with a switchboard symbolizing one of the last bastions of manual labor in IT: the collections of freeware, spreadsheets and configuration and change management tools that have managed to survive decades of innovation in network, endpoint and application intelligence. I've updated it slightly to reflect the spirit of static infrastructure.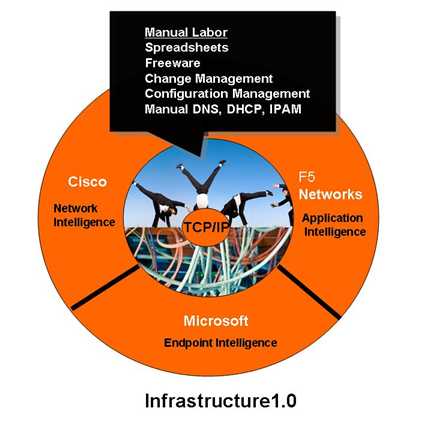 To a great extent, this contrast between automation in systems and various pockets within the network and the high risk, high cost elements of manual labor in the core network services that all networks rely upon is one of the key barriers to Infrastructure 2.0. These services help to establish connectivity intelligence between the network and endpoints. They are the equivalent of yesterday's operator switchboard, which was rendered obsolete by heavy investments in automation that started decades ago. When you automate these services, you make your infrastructure more dynamic, more capable of keeping up without requiring layers of manual intervention, which adds risk and expense.
As these core network services (including DNS, DHCP and IPAM or IP address management) are automated the business case for the network and new initiatives improves significantly and TCO goes down. This is the catalyst for the next boom in the network; and Cisco, F5, Microsoft (NASDAQ:MSFT) and Infoblox (my employer) are well positioned to lead this new vision. I think Cisco and F5 are already there.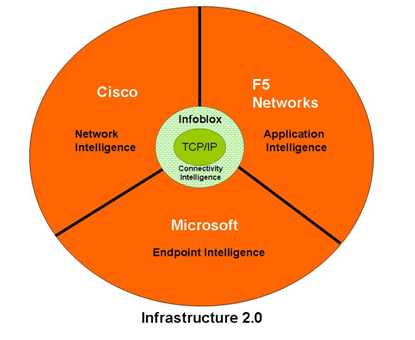 The above diagram shows an increase in network, application and endpoint intelligence enabled by connectivity intelligence, or feedback loops between networks and applications. Those feedback loops set the stage for new innovations driven by the collision between new requirements (including virtualization and cloud) and new capabilities (driven by connectivity intelligence).
In coming years new companies will be funded addressing issues once thought impossible because of the rising rates of manual labor factored into maintaining ever-growing networks experiencing higher rates of change. New initiatives will also emerge from the network vendors who understand the link between dynamic infrastructure and dynamic growth opportunities. Improving business case will drive more growth and perhaps healthier margins.
For the enterprise, dynamic infrastructure promises to make the network strategic yet again. Networking pros and IT execs can focus on policy versus simply trying to preserve availability while keeping up with even more moves, adds and changes.
Disclosure: Long CSCO.