On December 18, I wrote an article found here warning investors to keep an eye on the following three biotechnology stocks: Pacific Biosciences of California (PACB), OPKO Health (OPK), and Solazyme (SZYM). Each of these companies appeared to be positioning themselves for an upcoming rise in market value for the reasons entailed in the previous article. As of January 14, less than a month later, PACB is up 61.0%, OPK is up 21.2%, and SZYM is down 7.1%. The following details are written in order to give closer analysis to the developments that have since occurred for OPKO Health.
If there's one deciding factor that continues to weigh heavily on Miami-based OPKO Health, it lies in the influential hand of the company's CEO, Dr. Phillip Gamma Frost. Dr. Frost's conviction in his company's prosperous future has been witnessed through his large insider purchases of common stock made daily over the past few months. His latest reported purchase can be found on the Form 4 filed with the SEC found here. However, a better illustration of this atypical buying can be seen on Yahoo Finance's list of insider purchases as seen in the graphic below. The below table is a snippet of his latest buying, a trend that extends well beyond Christmas 2012 and dates several years back.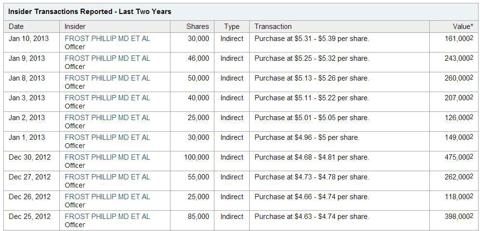 But who exactly is Dr. Frost? According to Forbes magazine, he stands as #188 on the list of America's richest billionaires with a fortune of $2.4 billion. Also according to a recent article from the Miami Herald found here, Frost is one of the leading philanthropists in the world having pledged alongside his wife to give away at least $1 billion. Regardless, what is a well-known fact is that Frost made his fortune through his savvy business dealings and his conviction.
In the 1970s, Frost took over Key Pharmaceuticals with partner Michael Jaharis. They sold the company to Schering-Plough in 1986 and Frost moved on to found drug manufacturer Ivax. In 2005, Frost made a bulk of his fortune by selling Ivax for $7.6 billion to Teva Pharmaceuticals (TEVA), a company on which he now serves as the Chairman of the Board of Directors.
Dr. Frost now serves as the CEO of Opko Health, and he is single-handedly beginning to prove that an individual can made a significant difference in a share price. As of January 11, Frost has effectively taken 135,764,800 shares off of the open market according to the aforementioned Form 4, an amount that prior to the latest string of acquisitions would equate to roughly 45% of the total outstanding shares. For a company that held a 17.7% short position of the outstanding float, or 24.26 million shorted shares as of December 31, such continual buying pressure by the CEO has put a real pinch on those looking to profit from a decline in the company's price. As a result, the latest rally is likely in part due to the covering of short positions as investors buy back their shorted shares in a rising price environment.
Yet this latest rally starting in early December has also been compounded by a series of good news. On December 18, OPKO announced the acquisition of OURLab, a CLIA laboratory that serves as a natural expansion benefiting the upcoming U.S. launch of Opko's 4KScore prostate test. Almost within a week on December 26, OPKO announced the additional acquisition of Silicon Comercio, an important doorway acquisition into the Latin American markets. Within 2 weeks of this news on January 8, OPKO announced the definitive agreement to acquire Cytochroma Inc., a very large acquisition that will allow OPKO to acquire two products related to kidney disease currently under Phase 3 clinical trials.
Through this buying spree, the one thing that is becoming increasingly clear is the effective use by Frost to leverage his own purchasing power. By propping up the company's share price with his own insider purchases, Frost was able to wield greater buying power in the latest acquisitions. For the acquisition of OURLab for instance, Opko paid $9.4 million in cash and $30.6 million in shares of common stock priced at $4.33 as seen in the filed 8-K found here. By the time of the acquisition for Cytochroma, the company's buying power has significantly improved as seen in the all-stock deal found in the 8-K seen here:
"Pursuant to the Purchase Agreement, the Buyer will purchase from the Seller the issued and outstanding equity securities of Cayman Newco and Proventiv for $100.0 million, which will be paid in shares of the Company's common stock, par value $0.01 per share, (the "Common Stock") based on the volume-weighted average price per share of the Company's Common Stock as reported on the New York Stock Exchange ("NYSE") for the ten trading days immediately preceding the date of the Purchase Agreement, or $4.874 per share (the "Stock Consideration"). In connection with the Purchase Agreement, the Company expects to issue 20,517,030 shares of the Company's Common Stock to the Seller Parties at the closing."
Through his own personal endeavors, both in the companies sold to Schering-Plough and Teva Pharmaceuticals, Dr. Frost continues to leverage his gains in such a way that investors continue to prosper. His made fortune continues to serve investors today by leveraging its impact on the open market of his current company found in OPKO Health. Now priced at a whopping $1.7 billion according to Yahoo Finance as of January 14 despite only having $146.3 million in total shareholder equity, OPKO is effectively being pieced together in a capital-efficient way by a single investor found in CEO Phillip Frost. His large insider purchases into the company have continued to expand a market capitalization that ultimately preserves cash in acquisitions that would otherwise have been needed to create such a promising operation going forward.
And looking forward, investors should continue to read into the progress now being made. As explained by fellow Seeking Alpha contributor John H. Ford in an article found here, Opko's 4KScore product could soon generate over $1.8 billion annually as it penetrates the prostate cancer diagnostics market. Bristol-Myers Squibb Company (BMY) also recently expanded its collaboration with OPKO in relation to diagnostic test technology as seen in the article found here. As a large $56 billion biopharmaceutical company with a heavy presence in correlated markets, such a relationship could prove to be increasingly beneficial for OPKO down the road.
As a CEO who personally made his fortune by leading companies and selling them at higher prices, Frost could be developing a similar situation with OPKO. The warming relationship with Bristol-Myers Squibb could prove to be deeper than what lies on the surface. In the same sense, as the Chairman of Teva Pharmaceuticals Dr. Frost is sure to have some influence in tighter circles there as well. Yet even apart from such speculation of a possible takeover bid, OPKO appears to be developing quite nicely at the unfortunate loss of short-sellers alike.
The company has developed a sophisticated portfolio of diagnostic and therapeutic tools. Its latest acquisition of Cytochroma also pushes forward the pipeline and expands the range of OPKO's markets into the growing field of kidney-related diseases. The company's stock price may have quickly rallied in the last few weeks, but clearly there is a much more to come. In November 2012, Frost mentioned that 4KScore could be an early 2013 product as seen in the interview found here. If so be the case, clearly the best has yet to be seen for this quickly growing biotechnology company.
Disclosure: I am long OPK, SZYM, PACB. I wrote this article myself, and it expresses my own opinions. I am not receiving compensation for it (other than from Seeking Alpha). I have no business relationship with any company whose stock is mentioned in this article.