Earlier this week Encana's (NYSE:ECA) President and CEO announced that after 35 years at the company he was retiring that very day.
We all know what that means of course - it means his retirement was not so much of the voluntary nature. A member of the Board of Directors (Clayton Woitas) will be stepping in on an interim basis.
My first thought on seeing the news was that the Board of Directors may have finally had enough of the lagging share price, constant funding concerns and were ready to put the entire company up for sale.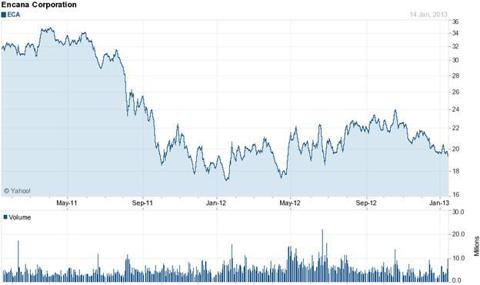 Click to enlarge
Those thoughts were quickly put to rest by the new interim CEO who stressed that for Encana it would be "business as usual."
I could almost hear the collective deep sigh from Encana shareholders.
I'm not an Encana shareholder, but if I was I bet I would much rather hear that the company was in fact for sale. Like Chesapeake Energy (CHK) and Sandridge Energy (NYSE:SD), Encana is a company that has a very valuable portfolio of unconventional resource assets which are priced by Mr. Market at a significant discount to their true value. These discounts stem from leveraged balance sheets, low natural gas prices and the huge amount of cash needed to develop them.
This discounted pricing of unconventional assets is a theme that I see regularly when looking at oil and gas producers today. Unconventional acreage that can be sold at $10,000 per acre to another energy company is often valued by the stock market at a fraction of that (as implied by stock prices).
Consider two of Encana's Joint Venture deals that have been completed which provide us with metrics from which we can value retained acreage:
Duvernay Joint Venture With PetroChina
The Duvernay has been referred to as Canada's equivalent to the booming Eagle Ford shale in Texas. The big difference between the two plays at this point is that the industry has been very quiet about early Duvernay drilling results so we can only speculate on how economic development wells will be.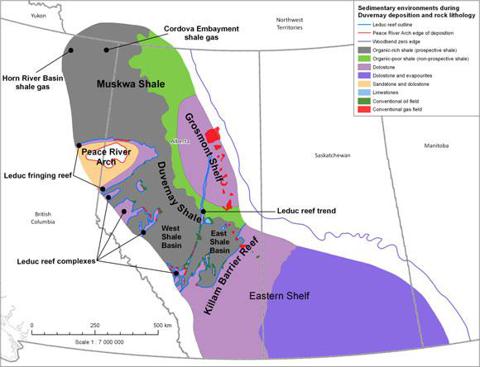 Click to enlarge
If however, there was any doubt that the Duvernay was going to be a big success, Encana put that to rest in December when PetroChina agreed with the company on the following deal:
- PetroChina agreed to acquire a 49.9% interest in 445,000 of Encana's Duvernay acres
- The total purchase price was $2.18 billion
- $1.18 billion to be received up front
- $1 billion to be received in the form of future drilling carry
That purchase price equates to $2.18 billion / 222,000 acres = almost $10,000 per acre.
That means that prior to this deal when Encana was holding 100% of this property, the company had an acreage position with basically no booked reserves and no production worth $4.4 billion.
Encana has an enterprise value of roughly $20 billion (depending on the share) price, which means that this non producing asset would have been worth almost a quarter of that in terms of value.
The stock market surely isn't (wasn't) giving Encana credit for this valuable acreage position, but PetroChina did.
Cutbank Ridge Partnership With Mitsubishi
The big Duvernay Joint Venture with PetroChina wasn't the only big deal that Encana did in 2012. Back in February Encana struck a deal with Mitsubishi as follows:
- Mitsubishi agreed to acquire a 40% interest in Encana's Cutbank Ridge acreage
- The total purchase price was $2.9 billion
- $1.45 billion was received up front
- The remaining $1.45 billion will be received through drilling carry
That purchase price for 40% of the acreage means that prior to the deal the 100% interest in the Cutbank Ridge properties that Encana owned was worth $7.25 billion. That is almost a third of Encana's Enterprise value.
Going into 2012 Encana held 100% of both its Duvernay and Cutbank Ridge plays. As we can see by the deals that have been struck on the plays the full value of them was ($4.4 billion Duvernay plus $7.25 billion Cutbank) $11.65 billion.
That means that more than half of Encana's Enterprise Value could have been covered by the value of just those two assets. Two assets out of a portfolio of many: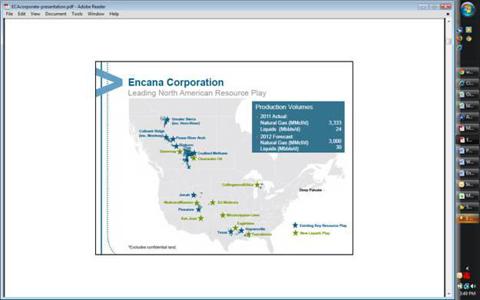 Click to enlarge
The point that I am driving to is that the stock market is not coming anywhere close to assigning fair value for these assets. And developing these assets requires an enormous amount of capital which stretches a balance sheet and subjects shareholders to a great deal of risk.
The easiest, and safest way to realize fair value for Encana shareholders would be to sell the company.
I know if I were a shareholder that would be my preference. Instead Encana is going to keep on going about "business as usual" and maybe three years from now with some hard work (and luck) the share price will move from $20 to $30.
I bet Encana could sell itself for $30 tomorrow and avoid the hassle and the risk.
That is what I'd be doing if I owned the entire company.
Disclosure: I have no positions in any stocks mentioned, and no plans to initiate any positions within the next 72 hours. I wrote this article myself, and it expresses my own opinions. I am not receiving compensation for it (other than from Seeking Alpha). I have no business relationship with any company whose stock is mentioned in this article.