Most big business and governments usually thread a thin line between civility and hostility. Yet, Google (NASDAQ:GOOG) seems to be on the good side of some governments based on recent events. Google is set to move into another bullish run with the recent positivity emerging from its relationship with governments around the world. In this article, I will show how Google's recent dealings with international governments have saved the company from losing revenue. I will explain how this has helped Google maintain healthy revenues and increase investor sentiment.
Web Ad Revenues See New Highs
A report from the Interactive Advertising Bureau (IAB) showed continued double digit growth for online advertising in the first half of 2012. According to the report, U.S. online advertising totaled slightly over $17 billion for the first six months of 2012, marking a 14% increase from 2011.
Here are the highlights:
-Mobile ad revenues increased 95% to $1.2 billion
-Search revenues increased 19% to $8.1 billion
-Video ad revenues increased 18% to over $1 billion
-Display $5.6 ad revenue growth slowed to 4% ($5.6 billion)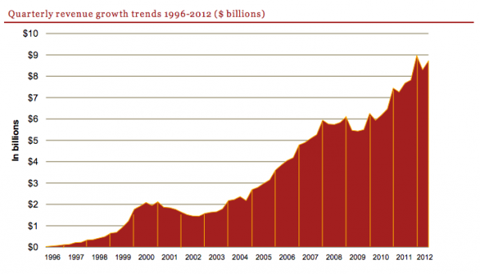 Google makes most of its money from advertising. AdWords is Google's primary advertising product and the company's biggest revenue generator. My discussion below will center around Google's dealing with governments around the world in the context of advertising.
Goodwill in France
The French government recently ordered Free, the second largest ISP in France with about 5.2 million subscribers, to stop blocking web ads coming from Google. In the third quarter of 2012, Google generated $11.53 billion from the ads it places on its innumerable web pages to viewers in different parts of the world. Had the blocking of ads been allowed to continue, Free would have reduced Google's revenue in France significantly by as much as one million euros daily, which is close to half a billion euros in just one year. More so, the blocking of ads by Free could also translate into billions of euros in losses if other ISPs in Europe followed suit. Thankfully, the goodwill that Google enjoyed from the French government has been instrumental in forestalling such losses.
Goodwill in the United States
The recent news about the outcome of the long probe of Google by the Federal Trade Commission will surely gladden the hearts of Google investors. The outcome of the probe had Google reaching an agreement with the FTC on the way it runs its business as well as it relationship with competitors.
Google paid a fine of $500 million in 2011 after an investigation into its promotion of ads selling illegal prescription drugs with Google AdWords. It also paid a fine of $22.5 million in 2012 to settle charges involving the bypass of privacy settings of customers on the Safari browser of Apple (NASDAQ:AAPL). Interestingly, Google's shares remain largely unaffected by the outcome of the FTC probe, with the price ending up 42 cents at close to $724.
However, I am sure that Microsoft (NASDAQ:MSFT) would not be happy with the outcome of the probe because its efforts at lodging series of complaints against Google with the regulators (in the hopes of breaking up what it considers a trust) has so far remained futile.
As far as goodwill from the United States government is concerned, Amazon (NASDAQ:AMZN) is not currently on the good side of the U.S. This stems from a recent development that saw the FTC suing Amazon over a textile labeling that has been misleading consumers in the United States. The misleading label referred to a fabric as being made from 100% organic bamboo when it is actually made from rayon. Amazon and Macy's (NYSE:M) would be paying $450,000 and $250,000 respectively in fines for bamboozling their customers.
Goodwill in Korea
Google Chairman, Eric Schmidt visited North Korea; the visit, which has so far been regarded as a private visit, simply holds much potential and possibilities for Google in North Korea where Internet use is strictly restricted. It was reported that Schmidt would be looking forward to engaging Pyongyang on the importance of allowing Internet connectivity for the country's almost 24.5 million citizens, 69.4% of whom are aged 14-64 years old. The specifics of the visit are still unavailable; yet, it is safe to speculate that Google investors can expect an increase in business from the Asian front in the not too distant future.
Goodwill in the Middle East
Apple in a remarkable move rejected a game that was designed around the current events in Syria. Games topped the list of the highest grossing iPad and iPhone apps for Apple in 2012. However, as a matter of policy, Apple cannot accept a product that targets a specific culture, race or government.
Google should consider getting a game that models current world events (especially war) on the android. This can help Google in winning another important battle in the apps war between the two giants. The revenue from the sales of such a game would not hurt the balance sheet either.
Risks
Google may experience a setback based on the recent report stemming from its perceived surrender in the Chinese censorship war. After all, China is the world's most populous nation with 1.3 billion citizens, 72.1% of whom are aged 15 to 64 years, and the inability of Google to run its business in the country may translate into lost revenue. Even though the Chinese government has launched a crackdown against VPN networks in China, it is only a matter of time before Chinese citizens develop another solution to surfing the internet anonymously in order to ensure that they can assess the wealth of information available on Google search engine.
Looking Ahead
Interestingly, Baidu (NASDAQ:BIDU) the Chinese equivalent of Google, has tested a facial recognition system on its search engine in a bid to capture the attention of Chinese internet users away from using Google search. However, it is still early to know how well the facial recognition search system will succeed. Google should reconsider the use of a facial recognition search system in its search engine in order to stay competitive in the Chinese market.
Disclosure: I have no positions in any stocks mentioned, and no plans to initiate any positions within the next 72 hours. I wrote this article myself, and it expresses my own opinions. I am not receiving compensation for it (other than from Seeking Alpha). I have no business relationship with any company whose stock is mentioned in this article.