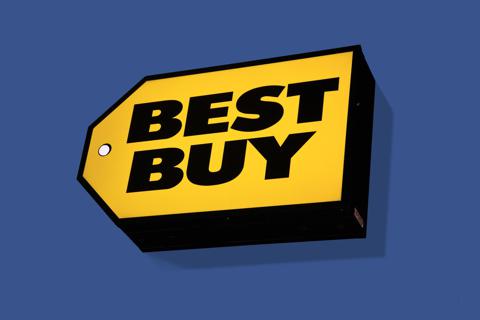 Best Buy (NYSE:BBY), one of the most debated retails stocks this year, has been catching Wall Street's eye. With the stock down 41% YTD, many believe this presents a possible buying opportunity. If ever a time to buy low and sell high, this may just be your chance. Or is it?
The Scoop
Best Buy Co., Inc. is the global leader in consumer electronics with more than 1,400 locations, $50B in annual revenue, nearly 170,000 employees and is currently the 11th largest retail website. In the fiscal year of 2012, Best Buy operated with a store count of 1,103 in the U.S. with at least 1 location in each state. California took the cake with 126 locations in its state, followed by Texas with 110. Also, Best Buy operates around 400 mobile stands that sell headphones, chargers, etc. Recently, the company made the decision to begin downsizing. Best Buy went from 1,103 locations to currently 1,056 in an attempt to minimize liabilities and maximize profits. The current price per square foot is around $866. Simple economics dictate that if you decrease the amount of stores then you'll increase the price per square footage. For the fiscal year 2013, the earnings report for the first quarter was -5.3%, second quarter was -3.2%, and the third quarter -4.3%, which is understood justification for those pessimistic on the stock. The earnings report for the final quarter will be released February 28th, 2013.
Sustainability Report
In order to be considered a sustainable company, AKA green company, a business should have relatively little to no negative impact on the global or local environment, community, society and economy. A sustainable business is any organization that participates in environmentally friendly or green activities to ensure that all processes, products, and manufacturing activities adequately address current environmental concerns, while maintaining a profit. It just so happens that Best Buy makes this a huge priority in their business. Since they are advocates of sustainability, it would only be natural for them to have some substantiation to prove their position. With brands such as Insignia, Dynex, Init and Rocketfish, they are developing products that are more energy efficient and further compliment the conservation of the environment. Also, next time you're in Best Buy, take a look at the packaging. They are initiating new ways to package their products into a more environmentally-friendly manner. They've gone so far into their advocation that the DJSI (Dow Jones Sustainability Index) has included Best Buy into their index two years in a row. This shows a business that has a genuine interest towards doing business not just the profitable way, but the right way. Through a company with integrity and morals, profits are sure to follow.​
Dividends and Stock Splits
Best Buy has had three 2-for-1 stock splits. One in 1994, 1998, and 1999. Also, they've had two 3-for-2 stock splits. One in 2002 and another in 2005. So, the feasibility of a stock split occurring while you hold the stock is plausible considering the previous management styles of the company. Historically, since January 7th, 2004, the stock has consistently paid a fair and increasing regular cash dividend. The dividend has never decreased, only increased, and has been sustainable, as well. From $0.7 in 2004 to the current $0.17 paid on December 11th, 2012, the dividends are consistent and rising. With a pleasing current dividend plus yield of 4.76% (0.68), this adds another justifiable reason to own the stock. If you are looking to diversify and need exposure to the retail industry, consider Best Buy. With a low share price and a healthy dividend, this stock could sit well with your portfolio. If you're looking for a company that allocates a nice dividend with a steady share price, Best Buy probably isn't your best buy.
Why was the stock down 50%?
Not too long ago, the stock was trading around the $20.00 region and Wall St. was excited about the possibility of the $25-30 price range. Not exactly the case here. With rumors (that turned out to be true) of declining profits of upwards to 10% in comparison to the prior year, the stock began to take a beating. Another reason the stock was down is because they have been having difficulties with staffing. Because of Brian Dunn's resignation due to allegations of employee affairs, the troubled company was lost in leadership. In August, Hubert Joly was assigned as their new CEO and has been taking the company a step in a new direction. Yet another huge reason the stock was down is because of a feared lack of competency online. With giant competitors like Amazon and eBay, investors have a right to be wary. Best Buy may not pull in the type of numbers that these companies do, but as we've seen, their online business is profitable. Online revenue over the holidays jumped 10% year over year. Thanks to the assurance of good holiday sales, investors responded by increasing the share price by almost 18%.​ Best Buy said areas such as tablets, cellphones and e-readers produced the best results, although sales in televisions and entertainment fell. Ron Friedman, a retail expert at an advisory and accounting firm Marcum, said "That tells me Best Buy is making the transition they need to make in order to compete as an online retailer instead of being a showroom. Best Buy did pretty good, all things considered." Hubert Joly said increased worker training and a price-match policy helped produce a holiday season earnings increase that was an improvement over the last several quarters.
Current Position
As of today, the stock is trading at $14.42, -0.06 (0.41%). With a high of $14.50, a low of $14.20 and today's volume 2 million less than it's 10 day average, my best assumption is that investors are holding still until the next earnings report releases, which is probably a smart idea.
Final Conclusions
So, obviously Best Buy has its competitive problems, but, then again, which company doesn't? Best Buy is a huge franchise. They will continue to sell products, and they will continue to be profitable. Downsizing in the U.S. for Best Buy is smart. Less overhead costs and less liabilities leave room for more focus on prioritizing for better strategies both online and in-stores. The next few months, even years, will be critical to the overall success of this business. If Best Buy's strategy capitulates to the works of Amazon, eBay, and relevant companies in its industry, then commence a short position. But, if this company continues with the attitude that they need to keep up with the modern pace and set business strategies that compliment and attract the needs of the consumer​s, then I believe a real opportunity exists. For now, lets wait until the next earnings release (February 28th), but​ keep a close eye on the movement of this stock. Best Buy looks like it's heading in the right direction, and I'll leave you with a statement from Hubert: "While it will be a journey of ups and downs, we are focused on becoming an increasingly effective multi-channel retailer and engaging with the tens of millions of consumers who shop us online and in-stores."
Disclosure: I am long BBY. I wrote this article myself, and it expresses my own opinions. I am not receiving compensation for it (other than from Seeking Alpha). I have no business relationship with any company whose stock is mentioned in this article.
Additional disclosure: I have no affiliation with this company and this article has been written solely on personal interest and educational purposes.