Soft commodities and related agriculture exchange traded funds continued their rally Monday on lower U.S. inventories, with corn supply at its lowest since 1995.
U.S. corn supplies are diminishing at their fastest in 17 years and the lower prices have fueled demand from livestock producers beyond government projections, reports Jeff Wilson for Bloomberg.
On the supply side, the U.S. Department of Agriculture revealed that corn inventories on December 1 were 8.03 billion bushels, or 17% lower year-over-year, compared with the average analyst expectation of 8.219 billion, Bloomberg reports. Wheat reserves on May 31 will be 716 million bushels, or 5% lower from December estimates, compared with the average analyst estimates of 741 million. Soybean inventories were 1.966 billion bushels, less than analyst projections and the lowest level since 2003.
Corn futures were up 2.0% Monday, wheat was 2.0% higher and soybean increased 2.6%.
USDA data revealed that lower quarterly corn stockpiles could translate to a further drop in inventories to 602 million bushels, the lowest since 1996, before the 2013 harvest.
"A sharp increase in demand and tightening grain stockpiles mean the January USDA reports were supportive for corn prices," Luke Mathews, a strategist at Commonwealth Bank of Australia, said in the article.
As of January 1, around 55% of the nine-state Midwest region - the area where most of the country's crop is grown - saw moderate to exceptional drought, compared to 13% year-over-year. Analysts estimated that only 89.6% of the crop that was planted could be harvested.
Teucrium Corn Fund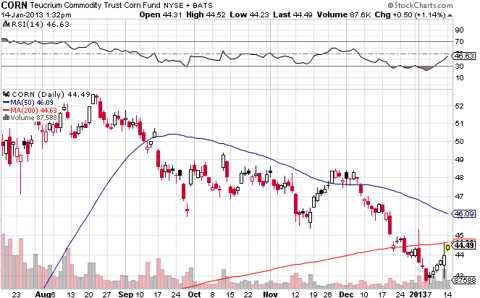 Max Chen contributed to this article.
Disclosure: I have no positions in any stocks mentioned, and no plans to initiate any positions within the next 72 hours. I wrote this article myself, and it expresses my own opinions. I am not receiving compensation for it. I have no business relationship with any company whose stock is mentioned in this article.