Vodafone Group (NASDAQ:VOD) is the world's leading provider of international wireless telecommunications services. Based in the U.K., the company has a significant presence in Europe, the Middle East, Asia, and the United States through the company's various subsidiaries and joint ventures. The company pays a very healthy 5.8% dividend, and I feel that it is a very safe and lucrative long-term investment for anyone's portfolio.
Based on the proportion of ownership interest in various telecom companies, Vodafone has around 450 million customers. Arguably the company's most valuable asset is the 45% stake in Verizon Wireless (NYSE:VZ), which contributes 42% of VOD's operating profit. This provides a large amount of dividends to the company, as Verizon itself currently yields 4.76%.
Virtually all of Vodafone's major operations hold the number one or two market share in terms of revenue. The majority of the company's revenues (69%) come from Western Europe, which can be viewed as a negative with both slowing growth and unstable economies in several countries. This lack of growth may be offset by VOD's expansion in emerging markets through various acquisitions, such as a controlling stake in Hutch Essar in India. The company also has disposed of some of its assets that it feels are either not core assets, or that don't have a path to majority ownership. For example, in 2011 Vodafone sold its stake in industry giant China Mobile (NYSE:CHL), as well as its stakes in Belgium and Switzerland.
Over the past decade, Vodafone has a very nice history of increasing its dividend (see chart below), from 27 cents per share in 2003 to $1.50 per share today. This is an average annual increase of 21%, a very nice record of creating value for shareholders. This is especially impressive considering that it includes the pullback in the dividend following the financial crisis. With a payout ratio of less than 60%, there should be plenty of money to continue to pay and increase the dividend going forward. Dividend safety is simply not an issue here.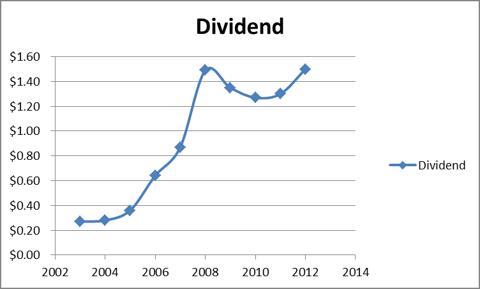 Click to enlarge
In terms of valuation, Vodafone trades at 10.6 times fiscal year 2013's consensus earnings, which ends in March. Analysts call for Vodafone to increase its earnings, although at a modest rate, to $2.55 and $2.67 in fiscal years 2014 and 2015, respectively. Although a 3.7% growth rate is nothing to get excited about, growth rates should pick up beyond that as penetration into emerging markets picks up. Regardless, I believe that the stock is fairly valued currently.
I also think the analysts' projected growth rate might be a little low, as Vodafone's revenue from data services grew by 22% last year, and makes up only 15% of the company's revenues. Voice service revenues fell 6%, and they make up 60% of the company's revenues. I believe data revenues will continue to rise at double digit rates as consumers transition to tablets and smartphones and away from PC's, and the decline in voice service revenues will taper off.
To sum it up, Vodafone is a safe, high-paying dividend stock that is certainly worth a look for any portfolio. I believe that it will grow quicker than the analysts seem to think, but only time will tell. In the meantime, however, you are paid almost 6% to wait and see.
Disclosure: I am long VZ. I wrote this article myself, and it expresses my own opinions. I am not receiving compensation for it (other than from Seeking Alpha). I have no business relationship with any company whose stock is mentioned in this article.