One of the most interesting commodities ETFs on the market is the $480 million GreenHaven Continuous Commodity Index Fund (NYSEARCA:GCC), which tracks an equal-weighted index.
Thomson Reuters recently tweaked the ETF's tracking index by adding CME Soybean Oil and removing ICE Frozen Concentrated Orange Juice.
"Because of the equal weighting, GCC offers significant exposure to grains, livestock, and soft commodities and a lower energy weighting than many of its peers," says GreenHaven, the fund manager.
The tracking index holds 17 commodities in equal weights. The benchmark also recently changed from geometric averaging to arithmetic averaging and a five-day roll period to replace the one-day period, according to a regulatory filing.
The 17 commodity components of the Thomson Reuters index are continuously rebalanced to maintain the equal weight of 5.88%.
The recent moves were designed to ease investor use of the product and boost potential returns, Reuters reports.
"The reason for having a longer roll period is simply to ensure a very low tracking error going forward, since traders had to roll large quantities of contracts in a single day before," said Steve Harris, senior product manager for analytics at Thomson Reuters.
Orange juice was replaced due to its relatively lower liquidity to soy oil and position limits that are more restrictive, according to the article.
"The arithmetic model more accurately reflects investor returns and better serves ETFs that track commodity indexes," Harris added.
GCC, the ETF tied to the index, won the 2012 Morningstar ETF Award for best commodities broad basket fund in the retail category.
"For an unusual and successful approach to broad-basket commodities investing, GreenHaven Continuous Commodity Index is worth a look," Morningstar analyst Abby Woodham wrote in a profile of the ETF. "Most of its peers weight their portfolios by economic significance, which results in an energy overweighting. GCC allocates equally to all 17 commodities it tracks, which has historically resulted in strong relative performance and lower volatility."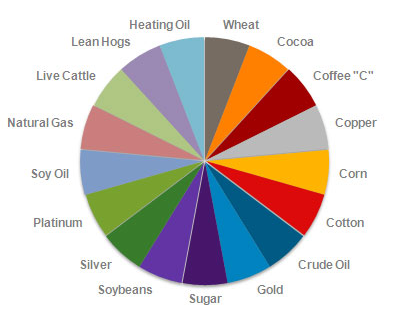 Disclosure: I have no positions in any stocks mentioned, and no plans to initiate any positions within the next 72 hours. I wrote this article myself, and it expresses my own opinions. I am not receiving compensation for it. I have no business relationship with any company whose stock is mentioned in this article.