In the game of Paper Chase, a group of "hares" sets off through the thicket, leaving a trail of torn-up paper as a proxy for their scent. The "hounds" are then charged with following the scent and beating their cotton-tailed adversaries to a predetermined finish line. The winners have the privilege of choosing the next hares. An eerily similar game has been played in the currency markets ever since the Tripartite Monetary Agreement of 1936.
Prior to the 1930s, it was the broad custom for paper currencies to be backed by a physical asset - usually silver and gold. However, the severe economic downturn caused many countries to question the discipline of such a system, and when faced with the choice of economic survival or jeopardy, the path of least resistance was currency devaluation. After five years of beggar thy neighbor policies, the United States, Britain and France came to the same conclusion that the W.O.P.R did in the movie "War Games" - "the only winning move is not to play."
Despite the painful lessons of the last currency war, central bankers, politicians and pundits refuse to heed the lessons that Henry Morgenthau Jr, John Maynard Keynes, Matthew Broderick and Ally Sheedy learned from the harshest master - reality. The only winning move is not to play. This is why it came as no shock when we heard today that the President of the Euro Group declared the euro "dangerously high."
Really?
The following chart is the BIS real effective exchange rate (OTC:REER) for the euro against a broad range of currencies: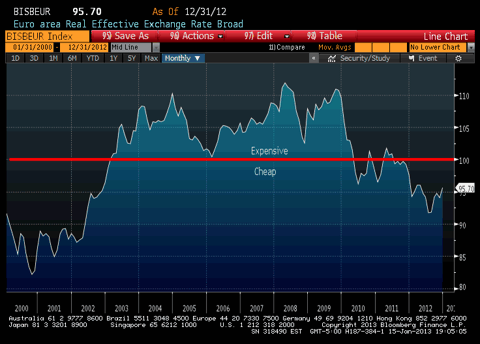 If the euro were at "dangerously high" levels, the chart may look a little something like this: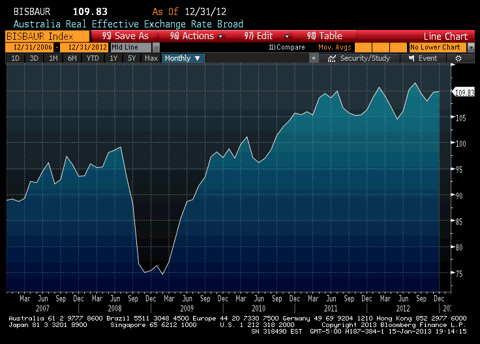 This chart depicts the REER for the Australian dollar - one of the most overvalued currencies in the world. The hares in this game are the United States, Japan and China, while the newest hound appears to be the eurozone. While whimsical stories of bunnies and puppies may be suitable for bedtime, investors may find them to be rather unsettling.
As countries scramble to provide products to an ever-shrinking aggregate demand, trade wars develop. The phenomenon is no different than a classic price war that has destroyed countless retailers - who remembers Montgomery Ward????
While not unexpected, this does change the landscape for investors - especially those of us who traffic in the currency markets. The bottom line - the era of the "safe-haven" currency is gone - it whooshed past us today when the president of an economy with an undervalued currency declared that his paper was "dangerously high."
Who's the hare now?
Disclosure: Shelter Harbor Capital and I are long GLD, SLV. I wrote this article myself, and it expresses my own opinions. I am not receiving compensation for it (other than from Seeking Alpha). I have no business relationship with any company whose stock is mentioned in this article.