Goodyear Tire & Rubber Company (NYSE:GT), a component of S&P 500, is one of the largest manufacturers of tires and other rubber products in the world, along with Bridgestone and Michelin. The company sells tires under the Goodyear, Dunlop, Kelly, Debica, Sava, Fulda, and various other Goodyear-owned house brands, as well as under the private-label brands. Goodyear tires are chosen by Ford (NYSE:F), BMW, Audi, Mercedes, Volkswagen, Toyota, Nissan, Rolls Royce, Ferrari, Maserati and many others. Despite the high cost structure and pension obligations, GT is expected to increase its revenue and have a good year in 2013.
Analysts are expecting U.S. auto industry recovery to continue in 2013. The Detroit Three are optimistic about the industry in 2013, where General Motors Co. (NYSE:GM), Ford Motors and Chrysler Group LLC combined sold around 6.5 million vehicles in their domestic market in 2012, up 8 percent from last year. GM's reported sales last year were up 4 percent to nearly 2.6 million, while F increased sales by almost 5 percent to 2.25 million in 2012. Ford continued to outperform with F-Series pickup trucks.
Ford has selected tires from Goodyear as key original equipment fitments for various models of the 2013 Ford Fusion. Ford Fusion, in the practical midsize category, is very important for Ford's sales. Ford said that while overall U.S. auto sales are up 15 percent in 2012, midsize car sales have ballooned 26 percent. Data from Edmunds.com shows midsize sedans currently make up 18.4 percent of U.S. auto sales through August 2012, up from 16.3 percent for all of 2011, and up from 14.5 percent in 2007.
As reported, General Motors has selected Goodyear's ultra-high performance Eagle F1 Supercar G:2 tire as the exclusive original equipment fitment for the 2012 Chevrolet Camaro ZL1. The 2013 Chevy Volt also rides on lightweight aluminum wheels wrapped in Goodyear Fuel Max all-season, low-rolling resistance tires optimized for electric vehicle range, noise, feel and performance. Assuming a reasonable sales rate for December 2012, and including European sales, the Chevy Volt is expected to top $1,000,000,000 in revenue for 2012.
Correlation between Ford and Goodyear
Since early March 2010, GT and F started to show a much closer correlation for their price performance. While investors and analysts are bullish on F, where Goldman Sachs upgraded F to Conviction Buy with $17 price target on Jan. 11, 2013 and J. P. Morgan & Co reiterated F's overweight rating and raised its price target from $13.00 to $15.00, GT is expected to perform well following the auto industry's recovery.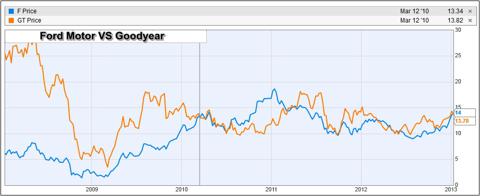 Source: YCharts.com
Earnings Estimates
Analysts, on average, are expecting an EPS of $0.21 and revenue of $5.36B for the quarter ended December 2012. Analysts are also estimating an EPS of $1.66 with revenue of $21.29B for fiscal 2012. For 2013, analysts are projecting an EPS of $2.31 with revenue of $21.91B, which is 2.90% higher than 2012, as seen from the table below.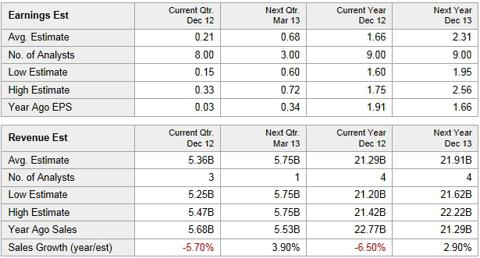 Source: Yahoo! Finance
Key Stats and Valuation
GT has an enterprise value of $7.10 with a market cap of $3.38B. GT has total cash of $2.26B, with a total debt of $5.98B. GT generates an operating cash flow of $1.42B with a levered free cash flow of $829.12M. GT has a book value of $2.98 per share. By using Morningstar's data, GT's key stats will be compared to its peers in the rubber and plastics industry, including Cooper Tire & Rubber Company (NYSE:CTB). GT has higher revenue growth (3 year average) of 5.3, as compared to the industry average of 4.6. GT has lower operating margin of 4.3%, ttm, and net margin of 0.9%, ttm, compared to industry averages of 4.6% and 2.2%, respectively. GT has ROE of 23.2, which is higher than the average of 19.7.
GT has P/E of 19.2, P/S of 4.6, which are higher than the industry average of 12.3 and 3.2, respectively. GT has a forward P/E of 4.0, which is below S&P 500's average of 13.3. GT has a PEG ratio of 0.2.
Technical Analysis
GT closed at $13.78 with 2.48% decline on Jan 11, 2013. GT had been trading in the range of $9.23-$14.65 in the past 52 weeks. GT has a high beta of 2.65. The MACD (12, 26, 9) had been showing a bullish trend, but the MACD Histogram closed at -0.003, which could indicate a coming change for MACD trend. The momentum indicator, RSI (14), had been declining but still showed a bullish lean. GT is currently trading above its 50-day MA of $12.61 and 200-day MA of $11.69. The next resistance is $14.26, the R1 pivot point, followed by $14.72, the R2 pivot point, as seen from the chart below.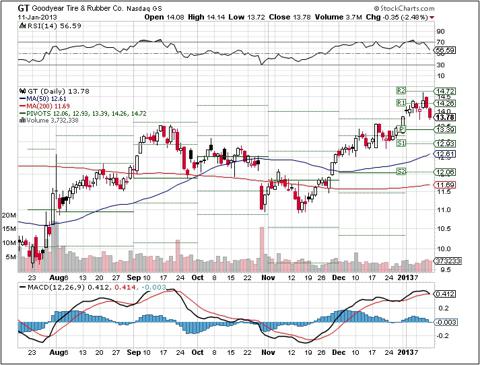 Source: StockCharts.com
Options Strategy
As the U.S. auto industry recovery continues in 2013, the demand for GT's products and services should improve. A credit put options setup will be reviewed for bullish investors who would like to establish GT positions at a lower entry while gaining some upside potential.
Short April 20, 2013 put at the strike price of $12.00 for the credit of $0.40
Buy April 20, 2013 put at the strike price of $11.00 for the cost of $0.25
The maximum profit is $0.15, and the maximum risk/margin requirement is $0.85 ($1 loss - $0.15 credit received). If GT closes above $12.00 on April 20, 2013, 17.65% return on margin will be gained. If GT falls below $12.00 on April 20, 2013, GT stock will be acquired at $11.85, which is 14% less than the current price of $13.78.
Note: All prices are quoted from the closing of January 11, 2013 and all calculations are before fees and expenses. Investors and traders are recommended to do their own due diligence and research before making any trading/investing decisions.
Disclosure: I have no positions in any stocks mentioned, and no plans to initiate any positions within the next 72 hours. I wrote this article myself, and it expresses my own opinions. I am not receiving compensation for it (other than from Seeking Alpha). I have no business relationship with any company whose stock is mentioned in this article.