Let me first open this article by stating that I really, really respect Mr. Paulo Santos and his work here. He is one of the biggest Amazon (NASDAQ:AMZN) bears on the planet, and every single one of his articles on the company has a beautifully written, snappy, and logical argument that further fuels the fundamental reason that the e-tailer is a screaming short candidate. My favorite is the observation that the company is the only $100B+ market capitalization company that has earnings going in the totally wrong direction.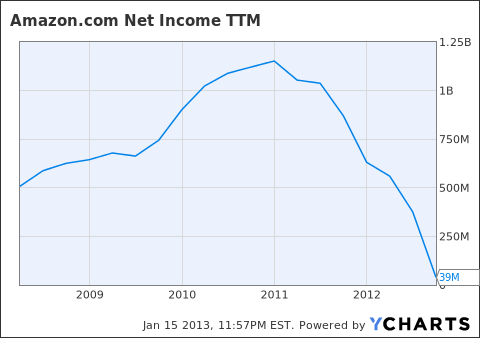 AMZN Net Income TTM data by YCharts
Generally speaking, when net income looks like that, the stock usually looks even worse. However, Amazon time and again defies gravity and the "fundamentals." The stock price chart looks like this: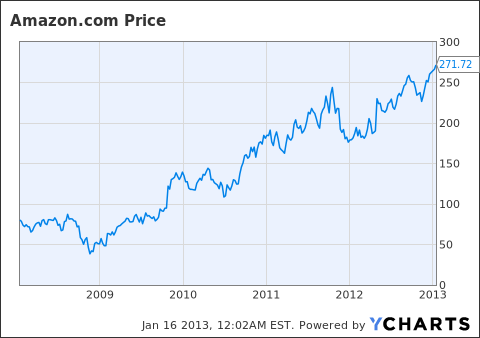 Yikes! The bulls have made a killing while the dead bodies of short sellers litter the chart. Further, that chart still looks extremely bullish! Well, the price seems to really be following the price-to-sales ratio that is typically used for hyper-growth stocks: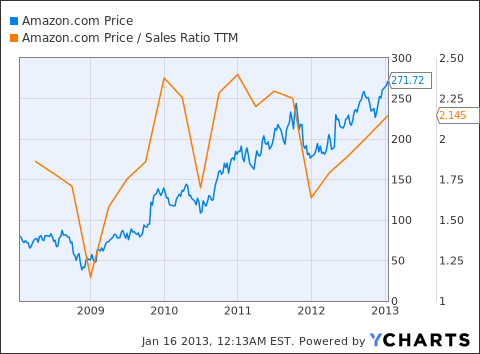 From this angle, the stock doesn't look "overvalued" compared to what people have traditionally been willing to pay for it.
Supply And Demand: What Really Drives Stock Prices
Forget fundamental analysis, forget valuation, and forget about what "should be" when talking about high-hype and high-growth names. Stock price is determined by one thing and one thing only: supply versus demand.
In order for the stock to tank, you've got to have people (read: institutions and funds) so freaked out that they're willing to go ahead and dump their shares at whatever they can to protect the likely huge profits at this point. What could do that? Amazon shares have already suffered the following "negative" catalysts:
Forced to pay sales tax in a number of areas
Increased competition
Net income evaporation
Improved results from retailers such as Best Buy (NYSE:BBY)
And yet here we are, at all-time highs day in and day out at increasingly unreasonable valuations. The "story" of high revenue growth is still fresh. However, can we find any chinks in the armor from a short- to medium-term perspective?
Short Capitulation Seems A Contrarian Indicator
Take a look at the short interest: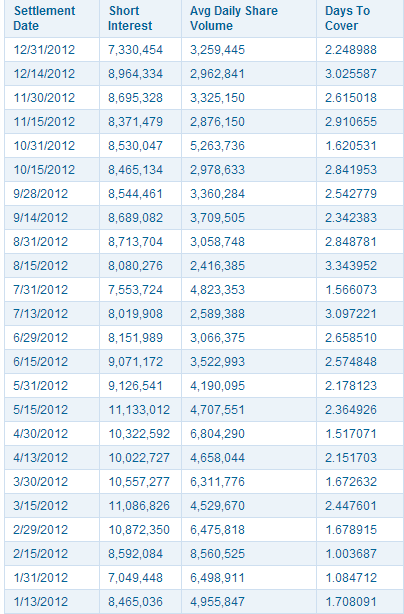 Ouch! Shorts have been getting squeezed out since March, and most recently the short interest reached pretty much a 52-week low. Coincidentally, the stock is reaching 52-week highs. To me this is actually quite interesting: it looks almost like capitulation on the part of the short sellers, which is probably the reason for the outsized upside move to new highs over the last week or two.
This seems like a contrarian "short" signal. Eventually, once the last of the "weak hand" shorts is squeezed out (we're close!), a fresh round of new shorts could come in at the new highs and try their hands at it. This could certainly be good for a shorter-term drop.
Okay, so we've established that it might be time to go in short...where's our target?
Insiders Dumping...Giving Us A Price Target
I like to watch insider transactions. Insider buying is almost always a "buy" signal. However, what about sells?
Usually small sales here and there are meaningless -- maybe these people need to pay some college tuition or buy a boat? But when I see sustained, large-block insider selling, then I start to get a little bit bloodthirsty on the short side of things.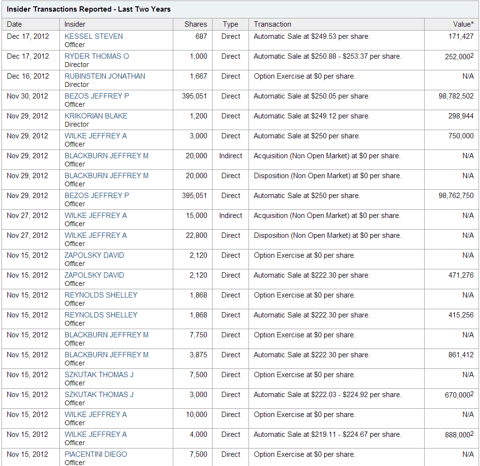 Well, that's interesting. A lot of sales starting at $219 and persisting all the way to the $250 level. Not surprisingly, nobody's buying. However, for a large-cap company like Amazon, insider buying is going to be rare -- options/shares are routinely part of the executive compensation package, so why buy what you get as part of your (quite large) pay anyway?
However, CEO Jeff Bezos seems to have sold two $100M chunks of stock at significantly lower prices than today's close of $271.90 ($250 level). This gives us our near-term downside target. Multiple sells from the CEO of the company within a couple of days at about the same (already high) price, netting him nearly $200M, is a red flag.
My target is where Mr. Bezos decided that he'll rather have the cash than the stock: $250/share.
Conclusion
I'm short Amazon at $265.40 and will probably add to the position soon. To recap the rationale:
Heavy insider selling at the $250 level gives us a target
Short interest is near 52-week lows, implying that the recent run was mostly fueled by "weak hand" shorts and could likely become a strong short target once they are all weeded out
At all-time highs, the stock is likely due for a pullback
The risks to the trade are pretty clear:
Many analysts have $300+ price targets on this momentum stock
The macroeconomic environment is improving and people are likely to continue to shop online more, further fueling the long case of revenue growth
There aren't a lot of other really hot, well-known "growth" stocks out there with any more reasonable a valuation, so it's tough to see funds exiting en masse to put that money to work somewhere else
Disclosure: I am short AMZN. I wrote this article myself, and it expresses my own opinions. I am not receiving compensation for it (other than from Seeking Alpha). I have no business relationship with any company whose stock is mentioned in this article.