Stocks To Trade:
Today, we are looking at an earnings trade in DR Horton (NYSE:DHI), longs in 3D Systems (NYSE:DDD) and Caterpillar (NYSE:CAT), and a short in Intuitive Surgical (NASDAQ:ISRG).
For an earnings trade, we are looking at DR Horton today. DHI was one of our top picks for earnings season as we believe the company is destined for a big earnings report and should see a nice build into that report. Lennar (NYSE:LEN) led off housing earnings for this season with good results, which give us confidence about our DHI pick after seeing a similar company produce solid results. LEN beat expectations with a 0.56 EPS vs. 0.44 analyst estimate. The company made positive comments, saying that it foresaw strong profits in FY13 and saw its backlog grow by over 80% in the final quarter of 2012. The company's only negative was that its growth is hindered by land restrictions.
Our take on DHI was that among its competition, it is one of the best value plays to have for earnings growth in the sector as current PE has jumped to 14, which is below most of its competition. The company's last report was very promising and should show some definite potential for the coming report, which is expected to show over 50% growth in earnings and 24% growth in revenue. The past quarter (Q3) showed homes closed rose 12% while the backlog grew 49%. That strong backlog means that DHI can see extended upside movement in sales for a while now. The stock looks like it could be ready to be put into play after DHI has made a decent pullback over the past week, and we like going long on the stock over 20.40, which has been recent resistance.
Trade: DHI, Long
Buy Point: 20.40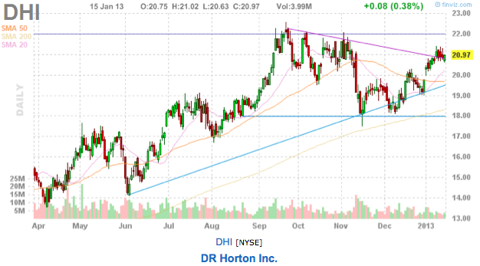 For longs, we like the looks of 3D Systems and Caterpillar. DDD has been a favorite of ours for some time, and we have recommended the company on a couple of occasions. The stock is definitely one of the hottest names on the market right now and continues to stride higher. The growth potential for the company is tremendous, and the market loves to latch onto new growth opportunities.
Yet, are market makers overvaluing the stock too soon? We do not think so. The key to any growth stock is the ability to see future growth and limited risk. The power of 3D printing is pretty incredible because it can revolutionize the way that businesses create objects-- as well as consumers, potentially. Manufacturers with the systems, can print simple parts, creations, tools, etc on high-tech machines rather than labor intensive and often wasteful cutting methods that often require long labor hours. The 3D printer lays down layers of material one after another to create the product. All it needs is a digital model. The printer can cut down on waste and increase efficiency.
Despite its innovative product, DDD's PE right now is over 90, and the future PE is over 30, meaning that a lot of future growth is anticipated. Can DDD continue to move higher? We believe so. What DDD is doing well is acquiring competitors and companies that can further its lineup. These acquisitions allow it to diversify and improve its own business while maintaining a strong presence and moat. Growth by 2015 could see an EPS of 3.50 - 4.00 given current growth models. That number would put the PE at 15-20, which is cheap for a high-growth stock. The market is definitely pricing in a lot of future growth, but with the industry just starting to rev up and with DDD being the leader, we believe you will not want to miss a lot more growth opportunities. The stock has seen near-term resistance at $62, and we like buying on a break of that level.
Equity Trade: DDD, Long
Breakout Point: $62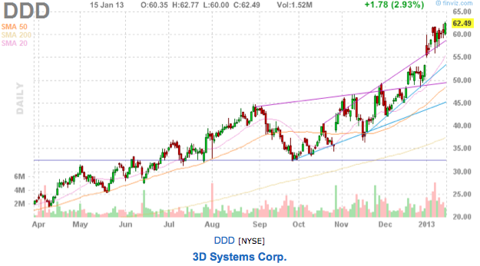 Another stock we are liking long is Caterpillar. The stock has been coiling below $96 per share since the beginning of the year, and we believe that it could be ready for a nice move higher. The company has earnings on Jan28, and we like the stock long into that report and beyond. We believe that CAT is going to be able to ride the wave of residential construction comeback, as well as a rebound in China. 2013 may end up being a slightly down year to flat year, but we would expect some revisions higher. The reason is that the expectations are for CAT to see about a 1% drop in sales year/year. Yet, at the same time, we believe a secular housing rebound is just beginning. Sure the rebound may be volatile, but we heard LEN say today that it wants to build new homes. Further, the market of new homes is actually quite small, which has helped keep prices afloat. As demand starts to return - just take a look at the 90% growth of LEN's backlog - construction will need to start again. We do not believe the market is correctly pricing in this rebound.
Additionally, China could be set for a nice year as well in 2013. The country has been seeing a nice slate of recent data about manufacturing and its economy, and things seem to be rebounding there as well. CAT just opened two new facilities in China to construct equipment to meet demand. With a PE right now at a measly 9.7, the stock is very cheap. We like a play on CAT with options to take advantage of what we will be a solid 2013. The support for CAT throughout all of 2012 was $80. We like playing that level for May options at 80/77.50 for a 10% max gain. We can complement the options by buying the stock. This options position will allow us to then take on the stock if CAT moves down significantly. It works as a hedge and potential gains.
Options Trade: CAT, May 2013, 80/77.50 Bull Put Spread
Max Gain: 10%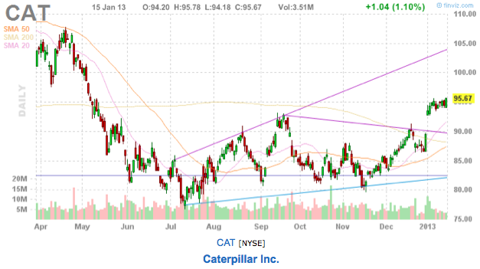 For shorts, we like the looks of Intuitive Surgical. The reason we like this short position is that ISRG has some definite risk in 2013. The problem for ISRG is that the company is seeing some potential limitation in growth but maintains very strong valuation levels. Expectations are for 17% growth in revenue in 2013, along with a similar level in earnings growth. Yet, the company's top competitor MAKO Surgical (NASDAQ:MAKO) commented about Q4 surgery systems, which met expectations from analysts. While MAKO meeting expectations is fine, ISRG needs to continue to beat expectations and convince investors that the future is full of more growth. The reason is that the company holds a 29 future PE. With a company like DDD, the investing community believes strongly that the company's future growth is solid. It has shown no signs of slowing down and little risk. ISRG, on the other hand, in the latest quarter showed slowing procedures.
Growth stocks require continued belief that the future will be better. With ISRG, we are starting to question that. MAKO has struggled in back-to-back quarters and makes a very similar type of product. ISRG saw some struggles in Q3. Further, the company saw another lawsuit filed against it in December of 2012. While companies see lawsuits filed all the time, we worry about ISRG because of the very nature of its product - robotic surgery. For some, it definitely does not sit well, and if the product gets any black eye, it would spell troubles for shares. Right now, we do not like the risk in the shares, and we believe that it's best to avoid or even short before earnings on Jan22. We like shorting on a break of 500.
Equity Trade: ISRG, Short
Breakout Point: 500.00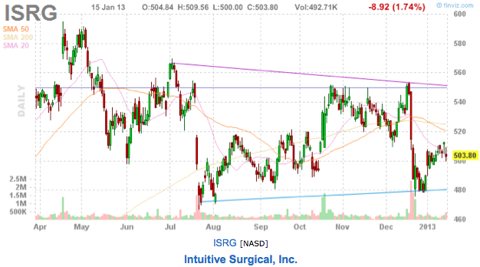 Wednesday's Outlook:
The market bounced back on Tuesday after a weak start as the market moved flatly before the big start of earnings season. Wednesday morning, the market will get news from JP Morgan (NYSE:JPM), Goldman Sachs (NYSE:GS), M&T Bank (NYSE:MTB), and Wendy's (NYSE:WEN) along with several other financial companies. The big start to the season should bring some movement in the market, and we believe that the market will get some strong reaction. The market wants to know what companies see in 2013. Additionally, how were they affected by the fiscal cliff situation? For some select companies, how was consumer spending in 2013. Some of these answers will start to flesh out today, and the market should respond accordingly.
Additionally, the market will get a solid amount of economic data to complement earnings. The market will receive news on CPI, Industrial Production, Crude Inventories, NAHB Housing Market Index, and Fed's Beige Book. The bevy of data along with earnings makes for an interesting day. We are leaning bullish due to earlier earnings and good recent data, but things could swing quickly if consensus judges that today's earnings are a flop. We will have to wait to see!
Chart courtesy of finviz.com.
Disclosure: I have no positions in any stocks mentioned, and no plans to initiate any positions within the next 72 hours.
Business relationship disclosure: The Oxen Group is a team of analysts. This article was written by David Ristau, one of our writers. We did not receive compensation for this article (other than from Seeking Alpha), and we have no business relationship with any company whose stock is mentioned in this article.