The stock market continued to close mixed on Tuesday. The retailer rally reversed the decline due to debt-ceiling concern for S&P 500 and Dow Jones. Apple (NASDAQ:AAPL) continued to decline with 3.15% drop and led Nasdaq to close in red again with 0.22% decline. Dow Jones and S&P 500 edged higher with 0.20% and 0.11% gain, respectively. DIA, SPY and QQQ still closed well above their 50-day and 200-day MAs. All sectors closed in red. The technology sector led the loss again with 0.79% decline, which is followed by consumer cyclical sector with 0.77% drop. Consumer non-cyclical sector held the best among all sectors with 0.12% decline.
The market sentiment is driven by extreme greed now with Fear & Greed Index at 89, which had increased from the previous closing of 86. As reported by CBOE, the total put/call ratio for today was 1.03, and the index put/call ratio was 1.23. The equity put/call ratio was 0.67, and the CBOE volatility index (VIX) put/call ratio was 0.88. In the following, top stocks had been identified through our daily options scanning process, with the scanning criteria where the daily call volume ratio was above 3.00 (2x of the average call volume) with a call volume above 20,000.
| | | | |
| --- | --- | --- | --- |
| Name (Ticker) | Call Volume | Average Call Volume | Daily Volume Ratio |
| Celsion Corporation (NASDAQ:CLSN) | 27,208 | 9,042 | 3.01 |
| Barrick Gold Corporation (NYSE:ABX) | 32,000 | 8,249 | 3.88 |
| Dell Inc. (NASDAQ:DELL) | 170,667 | 20,659 | 8.26 |
Source: Schaeffer's Research
Celsion Corporation is a leading oncology company dedicated to the development and commercialization of innovative cancer drugs, including tumor-targeting treatments using focused heat energy in combination with heat-activated liposomal drug technology. CLSN had gained 14.16% since Dec. 31, 2012 closing. As reported, "The company is very close to its top-line release of its Phase III study, called the HEAT trial, designed to show that ThermoDox + RFA treatment improves the time to progression of HCC liver cancer by at least 33% for patients with large tumors versus RFA alone." Investors continue to be bullish on CLSN. The MACD (12, 26, 9) indicator had turned bullish on Tuesday. The momentum indicator, RSI (14), is showing a strong bullish momentum at 69.79. CLSN is currently trading above its 50-day MA of $7.16 and 200-day MA of $4.31, and the next resistance is $9.81, the R1 pivot point. CLSN has a 52-week high of $9.44.
Barrick Gold Corporation, the world's largest gold producer, closed at $34.59 with 1.20% gain on Tuesday. ABX led the metals and mining industry higher with the following positive updates:
ABX announced that is had achieved commercial production at its 60 percent owned Pueblo Viejo mine in the Dominican Republic. Pueblo Viejo was completed at a capital cost of $3.7 billion. As reported, Pueblo Viejo, with Barrick's 60 percent share, is expecting the full-capacity to occur in the second half of 2013, and the production for the year is anticipated to be 500,000-650,000 ounces, where Barrick's share of annual production in the first full five years of operation is expected to average 625,000-675,000 ounces. Pueblo Viejo has 25.3 million ounces of reserves (100 percent basis) as of year-end 2011.
The price for Gold climbed higher as political concern on the debt ceiling ignited the investors' worries again. President Barack Obama warned Congress that "markets could go haywire" if the debt ceiling is not raised. He also added, "Raising the debt ceiling does not authorize more spending. It just allows the country to pay the bills it's already committed to."
According to S&P Capital IQ report, the precious metal is expected to be strong for 2013. The analyst Leo Larkin said, "There are a number of reasons to be bullish. With the Federal Reserve likely holding short-term rates near zero for several more years, there is no opportunity cost for buying and holding gold; in addition, mining production is likely to remain relatively stagnant in the coming years, even in an environment of growing demand, as older mines are not being replaced as quickly as needed."
Technically, ABX had broken through and closed above its 50-day MA of $34.41 on Tuesday. More upside is expected if it can hold above the 50-day MA level.
The top bullish pick for the day is Dell Inc.
Dell Inc.
Dell Inc., the third-largest personal-computer maker, is generating revenue from endpoint devices (PCs and related peripherals) for consumer and enterprise use. Dell's three main sources of revenue are notebook computers (31%), desktop computers (22%), and software and other peripheral equipment (17%). Dell is trying to boost its sales growth by building its retail presence.
The Buyout Deal
As reported by CNBC, a buyout deal for Dell could be announced within two weeks. The price will likely to be between $13.50 and $14 a share, with an equity investment from Silver Lake and other potential investors of roughly $2 billion. Founder and CEO Michael Dell would also make an investment, including his current 15 percent stake and fresh capital. The debt financing, which could approach as much as $15 billion, would also likely be oversubscribed. According to Reuters' report,
"Buyout firm Silver Lake Partners, which is leading the deal, tapped Credit Suisse, Bank of America Merrill Lynch, Barclays and RBC late last year to finance a potential deal, the sources said on condition of anonymity, because details have not been made public. JPMorgan is advising Dell on a potential buyout of the $19 billion company, which would be one of the largest deals since the global recession."
As reported by Bloomberg, "An LBO would free Dell from the fluctuations of a stock market that has lost patience with the company's shrinking PC division and its inability to adapt to an industry-wide shift to mobile and cloud computing." By going private, CEO Michael Dell might gain added flexibility to compete with Apple Inc. and Samsung Electronics Co. for consumers while combating Oracle Corp. (NYSE:ORCL), Cisco Systems Inc. (NASDAQ:CSCO) and International Business Machines Corp. (NYSE:IBM) in the market for data-center gear.
Analyst's Call and Earnings Estimate
Topeka Capital's Brian White thinks Dell might be thinking "BIG" about enhancing shareholder value. Topeka commented last November that, "with this type of valuation, we believe Dell needs to start thinking BIG about enhancing shareholder value or someone else may beat them to the punch." White noted that Dell shares sold off following fiscal third-quarter 2013 result in November, 2012, putting its valuation at three time CY13 estimates. Dell had about $2.95 per share in cash and plenty of ability to generate free cash flow. White feels that Dell should bring in $15 to $18 per share in a bid with Dell trading at 4.9 times CY13 EPS projections.
Analysts, on average, are expecting an EPS of $0.39 with revenue of $14.11B for the current quarter ending in January, 2013. Analysts are estimating an EPS of $1.71 with revenue of $56.72B for fiscal 2013. For 2014, analysts are projecting an EPS of $1.67 with revenue of $55.90B, which is 1.50% less than fiscal 2013, as seen from the table below.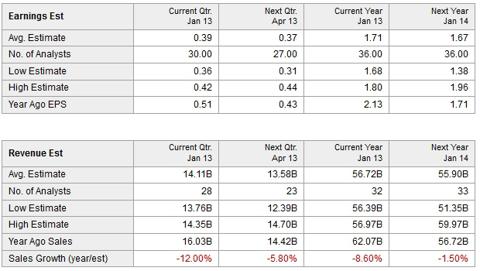 Source: StockCharts.com
Key Stats and Valuation
Dell has an enterprise value of $19.12B and a market cap of $22.88B. Dell has a total cash of $11.27B with a total debt of $9.04B. Dell generates an operating cash flow of $3.68B with a levered free cash flow of $2.61B. Dell has a book value of $5.86 per share. By using Morningstar's data, Dell's key stats will be compared to its competitors in the industry of computer systems, including Hewlett-Packard Co. (NYSE:HPQ) and International Business Machines Corp . Dell has lower revenue growth (3 year average) of 0.50, as compared to the industry average of 8.0. Dell has lower operating margin of 5.5%, TTM, and net margin of 4.4%, TTM, compared to the industry averages of 11.5% and 13.6%, TTM, respectively. Dell has a lower ROE of 27.7, compared to the average of 38.8. Dell has a debt-to-equity ratio of 0.50.
Dell has P/E of 8.3 and P/B of 2.1, which are lower than the industry averages of 15.7 and 4.2, as well as Dell's 5 year averages of 10.9 and 3.8. Dell has a forward P/E of 7.2, which is lower than S&P 500's average of 13.3. Dell has a PEG ratio of 3.2.
Technical Analysis
Dell continued the rally with 7.16% gain and closed at $13.17 on Tuesday. The volume of 154.81M was 6.23x of 30 day average of 24.83M. Dell had been trading in the range of $8.69-$18.36 in the last 52 weeks. Dell has a beta of 1.37. The MACD (12, 26, 9) had been showing a bullish trend and the MACD difference continued to diverge. The RSI (14) was showing a strong buying momentum at 81.37, where above 70 is considered as in the over-bought territory. Dell had sliced through and closed above its 200-day MA of $11.75 on Monday, as seen from the chart below.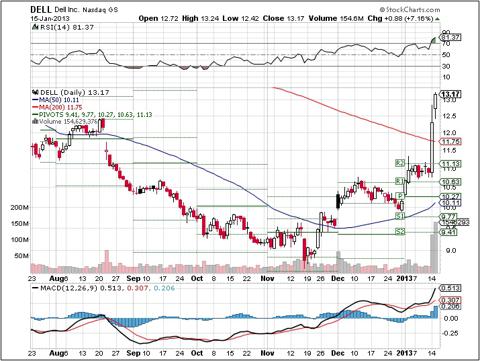 Source: Yahoo! Finance
Unusual Call Activities
Unusual option activities can be an indicator or precursor of a major movement for the underlying stock. The most active call was Feb. 15, 2013 at the strike price of $15.00 with a volume of 39,474 and an open interest of 3,450. The implied volatility is 50.7, and the chance of breakeven is 14.91. The historical volatility for Dell is 50.89 for 1 month, 40.49 for 3 months, and 34.24 for 1 year.
Investors who are bullish on Dell can review a debit bull call spread of February 15, 2013 $13/$15 call or a credit put spread of May 18, 2013 $10/$11. The credit put spread is for more conservative investors who have the plan to acquire the Dell stock at a lower price while gaining some upside potentials.
Note: All numbers/prices are quoted from the closing of January 15, 2013 with the data provided from Barron's, Morningstar, Schaeffer's Investment Research, Inc., Google Finance, and Yahoo! Finance. Investors and traders are recommended to do their own due diligence and research before making any trading/investing decisions.
Disclosure: I have no positions in any stocks mentioned, and no plans to initiate any positions within the next 72 hours. I wrote this article myself, and it expresses my own opinions. I am not receiving compensation for it (other than from Seeking Alpha). I have no business relationship with any company whose stock is mentioned in this article.