The market is off to a strong start in 2013. Indexes are up some 3% in the New Year across the board. "Risk On" seems to be the direction of equities, at least early in the year. Given that, here are highly speculative $3 E&P plays. Both have traded much higher, show good revenue growth and easily could be acquired if the animal spirits come back into M&A especially give ultra-low financing costs.
Warren Resources (NASDAQ:WRES) is an independent energy company. It focuses primarily on its waterflood oil recovery programs and horizontal drilling in the Wilmington field within the Los Angeles Basin of California; and on the exploration and development of coalbed methane properties located in the Rocky Mountain region.
4 reasons WRES is solid speculative play at just under $3 a share:
The stock is cheap at under 9.5x forward earnings and just 8% over book value.
More importantly, the company has tripled operating cash flow (OCF) over the past three years. WRES sells at approximately 4.5x OCF.
After increasing more than 15% in 2012, analysts projected better than 10% sales growth in 2013. The stock is selling towards the bottom of its five year valuation range based on P/E, P/S, P/CF and P/B.
The company is unfollowed on Wall Street. Only two analysts cover the stock. One has a price target of $4 and the other $5.75 a share on WRES.
Crimson Exploration (NASDAQ:CXPO) is an independent energy company that produces natural gas and crude oil from properties primarily in south, southeast, and east Texas; Colorado; Louisiana; and Mississippi.
4 reasons CXPO is worth $3 a share as a highly speculative play:
The stock is selling at just 83% of book value.
Stifel Nicolaus just upgraded the stock from "hold" to "buy". The median price target on CXPO by the 6 analysts that cover the stock is $5.50 a share, substantially above the current stock price.
After posting slight losses in 2011 and 2012, the company is expected to post a seven cent a share profit on the back of 8% revenue growth. Important to note is that the company has remained operating cash flow positive even in years it posted losses. Its market capitalization is just three times operating cash flow as well.
The stock has good technical support in a range just under the current stock price (See Chart).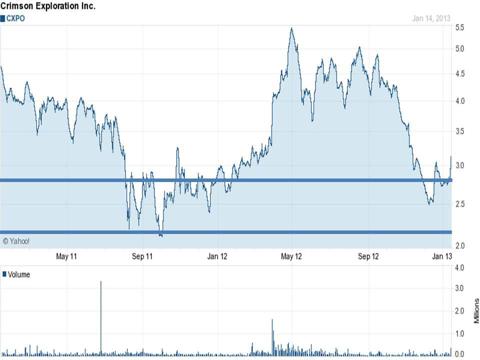 NOTE: Due to Crimson's high amount of debt, CXPO is for aggressive growth investors only.
Disclosure: I am long WRES. I wrote this article myself, and it expresses my own opinions. I am not receiving compensation for it (other than from Seeking Alpha). I have no business relationship with any company whose stock is mentioned in this article.