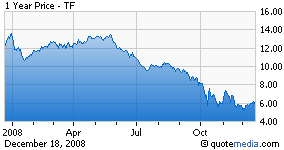 The Thai economy and the Thai Fund (NYSEMKT:
TF-OLD
) and iShares Thailand ETF (NYSEARCA:
THD
) have all been buffeted by political turmoil and outright chaos. In only four months there have been three prime ministers. In comparison, Japan's politics looks like a calm ocean of stability.
Tim Johnston writes from Bangkok for the
Financial Times
that Abhisit Vejjajiva became Thailand's third prime minister in four months Wednesday. The leader of the opposition Democrat party was voted into power by parliament in a deal that many hope will end six months of political paralysis.
Mr Abhisit, a youthful forty-four years of age and educated at Eton and Oxford, won a parliamentary vote called after Somchai Wongsawat was removed from office ten days ago by the Constitutional Court. The Supreme Court now appears to have a veto on duly elected representatives.
The new UK-born economist leader has promised a rapid disbursement of government funds to try to revive the faltering economy. But with tourism, foreign direct investment and exports all in retreat due to the global economic slowdown and domestic political turmoil, his administration will have its hands full.
Panitan Wattanayagorn, a political scientist at Bangkok's Chulalongkorn University, said: "The first order for the new government is to restore confidence in the economy both internationally and domestically. They need to come up with a rescue package."
The political impasse was broken as the military leaned on many members of the coalition led by Mr Somchai's newly formed Puea Thai party to change sides. The Democrats, who won more than 34% of votes cast in last year's elections, now lead the ruling coalition.