Market participants keep a close watch on the FOMC statements in order to get positive or negative vibes on the economy. The committee had committed to keep interest rates near-zero levels until mid-2015. This created a pessimism problem as market participants viewed this as a signal that economic activity will remain weak until 2015. To change the market perception, the committee instead adopted threshold limits for inflation (2.5%) and unemployment (6.5%) to give an indication that the time for the policy rate increase has arrived. This article discusses the probability of the threshold being breached before 2015 and its impact on policy rates and the economy.
When Will We Reach 2.5%?
According to the forecast by the Federal Reserve Bank of St. Louis, inflation will remain largely contained with personal consumption expenditure expected to be around 2% for 2013 and 2014. If this holds true, there would be no immediate threat from the inflation front to increase interest rates. However, inflation being rather dynamic, it is difficult for policymakers to work on inflation targeting.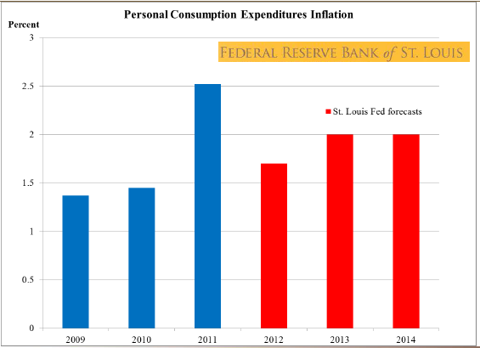 Click to enlarge
(Click to enlarge)
I have my doubts on inflation remaining at lower levels until 2014 and 2015. I had discussed the reasons in one of my earlier articles. It is very likely that continued expansionary monetary policies will trigger further upside in energy and commodities leading to higher inflation in the foreseeable future.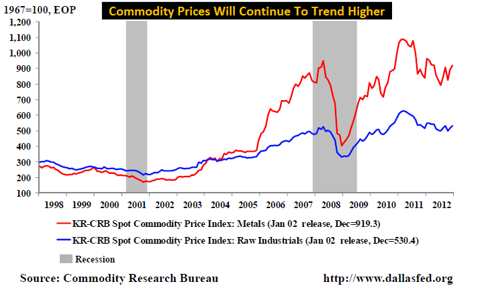 Click to enlarge
(Click to enlarge)
Investors can already see the impact of expansionary monetary policies on crude oil. Crude was trading at near $75 levels at the time of peak economic activity 2006-07. Currently, crude is trading above $90 with Europe in recession, China and India in a slowdown, and U.S. economic outlook still remaining uncertain. I expect crude, natural gas, industrial commodities and agricultural commodities to trend higher over the next few years leading to much higher inflation than expected by policymakers. The 10-year Treasury bond yields have started to trend higher from the lows of 1.4% in July 2012. Currently, the yields are at 1.82% and are indicative of higher inflation going forward.
When Will We Reach 6.5%?
According to the forecast by the Federal Reserve Bank of St. Louis, the unemployment rate will be around 6% in 2014 from around 7% in 2013. The threshold level will therefore be breached before the end of 2014.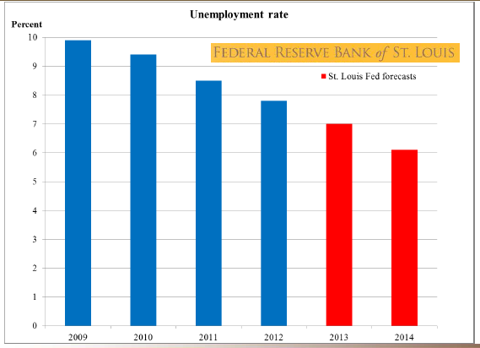 Click to enlarge
(Click to enlarge)
I am not sure about the real employment rate, but headline unemployment might decline to 6% by 2014. Certainly, it does not mean robust hiring and robust economic activity. In the recent past, the headline unemployment has declined due to an increasing number of people not in the labor force and an increasing number of people taking up part-time jobs. The charts below underscore my point on headline unemployment looking relative better even if the real economic scenario is weak.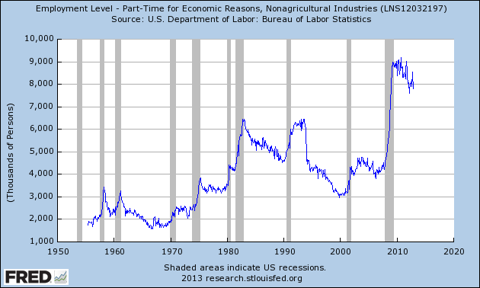 Click to enlarge
(Click to enlarge)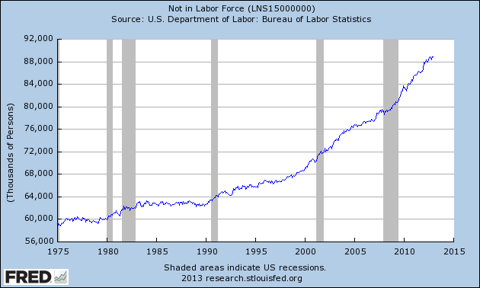 Click to enlarge
(Click to enlarge)
Therefore, there is a high probability that the headline unemployment rate will reach the threshold level before 2015.
What After 2.5% and 6.5%?
Taking into consideration the above discussion, I expect inflation and headline unemployment to breach the threshold level well before 2015. In particular, I expect inflation to reach the threshold earlier than headline unemployment. Investors might argue that inflation will remain low amidst weak economic activity and high output gap. I would like to remind investors of what Milton Friedman had to say about inflation - "Inflation is always and everywhere a monetary phenomenon."
The action by policymakers after the threshold is breached is a more interesting topic of discussion. I do expect interest rates to trend higher with policymakers increasing rates in baby steps after the threshold is breached. The key point here is that rising interest rates do not necessarily indicate tightening monetary policies. I would again like to remind readers that the Fed fund rate increased from 1% in 2003 to 5.25% over a period of 2-3 years. During the same time, the sub-prime lending was also rampant and credit growth increased along with an increase in interest rates. The point I am trying to make here is that real interest rates will remain negative. As a result, the policy will remain accommodative even when interest rates trend higher. As the chart below shows, the fed fund rate minus core PCE inflation has been negative since the onset of the crisis. I am of the opinion that this trend will continue over the long term.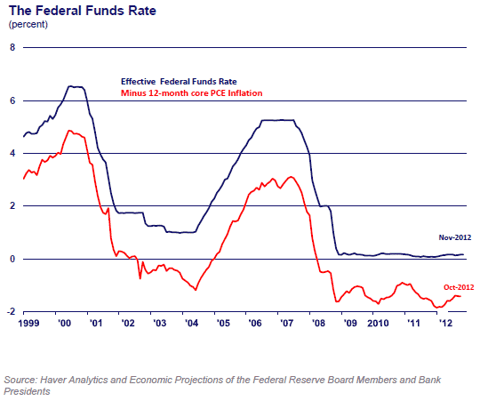 Click to enlarge
(Click to enlarge)
I also expect the asset purchase program to face opposition from within the Fed members as inflation trends higher along with a decline in the headline unemployment rate. If the asset purchase program does end before 2015, the long-term Treasury yields might witness a sharper increase leading to higher debt servicing cost for the government. Debt monetization and further debt to service existing debt might be the way forward for the United States.
What This Means For Asset Markets?
If interest rates do start rising before 2015, asset markets will see an initial negative reaction as market participants are also addicted to a lower interest rate regime. However, markets will remain bullish as overall monetary policy will still remain accommodative. Higher inflation will also encourage market participants to invest in risky asset classes. I don't expect Treasuries to look attractive even after yields start to trend higher. I must also mention here that higher interest rates might not be a disaster for consumers and for savers. Lower interest rates have just been an extended bailout for banks.
From an investment perspective, the current policy and the policy after 2.5% and 6.5% will remain risky asset class friendly. Investors therefore need to remain invested in equities, commodities, precious metals and other hard assets. I would personally look at the following exposure for my portfolio -
SPDR S&P 500 ETF (NYSEARCA:SPY) - It has been proven that beating the index is not an easy task. Therefore, the strategy should be simple - beat the index or invest in the index. From this perspective, SPY looks interesting. Also, with excess money flowing into risky asset classes, the S&P should trend higher over the next 3-5 years. The ETF provides investment results that, before expenses, generally correspond to the price and yield performance of the S&P 500 Index.
iShares MSCI Emerging Markets ETF (NYSEARCA:EEM) - Global diversification is necessary and exposure to emerging markets is critical. Over the long term, emerging markets will outperform developed markets in terms of equity price appreciation. The iShares ETF corresponds generally to the price and yield performance, before fees and expenses, of publicly-traded securities in emerging markets, as represented by the MSCI Emerging Markets Index.
SPDR Gold Shares ETF (NYSEARCA:GLD) - Investors can consider exposure to the hard asset for the long term. In the near term, some more correction in the precious metal is entirely likely. However, expansionary monetary policies and artificially low interest rates will trigger long-term upside in the precious metal. The GLD ETF seeks to replicate the performance, net of expenses, of the price of gold bullion.
iShares Silver Trust ETF (NYSEARCA:SLV) - Very similar to the argument for gold, I am also bullish on silver for the long term. Investors can consider exposure to silver through the purchase of physical metal or the ETF, which seeks to reflect the price of silver owned by the trust, less the trust's expenses and liabilities.
Vanguard Energy ETF (NYSEARCA:VDE) - In times of inflation, investors seek refuge in hard assets. Energy as a sector will do well in times of inflation. The ETF seeks to track the performance of a benchmark index that measures the investment return of stocks in the energy sector. With a low expense ratio of 0.19%, the ETF is a good investment option in a sector, which has good upside potential in the long term.
Disclosure: I have no positions in any stocks mentioned, and no plans to initiate any positions within the next 72 hours. I wrote this article myself, and it expresses my own opinions. I am not receiving compensation for it (other than from Seeking Alpha). I have no business relationship with any company whose stock is mentioned in this article.