Throughout 2012, I have been a big supporter of McDonald's (NYSE:MCD) in the mid-$80 price range. Despite investors claiming that McDonald's had lost its edge in the burger market or would continue seeing slowed growth, I still saw it as a good buying opportunity. While it certainly is true that there is increased pressure from competitors, I think McDonald's is so powerfully positioned, that the company cannot be moved -- easily that is.
There are headwinds, there's no doubt about that. Growth is slowing in some areas and the new management has got to fix things for McDonald's to start firing on all cylinders once again. An interesting article was brought to my attention regarding the food sector in general. Fellow Seeking Alpha contributor Bret Jenson provided me with the following article about why restaurant stocks will perform poorly in 2013. The main bearish viewpoints of the article are below:
"Mark Smith, analyst at Feltl & Company... "The Problem is," he confessed, "I just don't like anybody right now." He doesn't see a lot of positive for the restaurant industry this year, and his pessimism isn't unique."

"A number of analysts we spoke with said the industry faces a tough 2013. A really tough 2013. "This is going to be one of the most challenging years for the industry in many, many moons," said Northcoast Research analyst Bob Derrington."

"Domestically, restaurants are facing a combination of rising costs and uncertain demand. To be sure, this isn't 2009 when sales actually fell and restaurants close in bunches. But analysts are worried about commodity prices and health care costs, at a time when weak employment is yielding stagnant sales. In addition, many concepts lack pricing power now because they've been aggressively taking menu prices to meet previous commodity increases."
Before we get any further, lets take a look at the chart for McDonald's. Below is a three year chart displaying the recent price action of the burger giant. To gather a better understanding of the overall trend, we are using the 50-day, 100-day and 200-day simple moving averages. Below, the three year chart: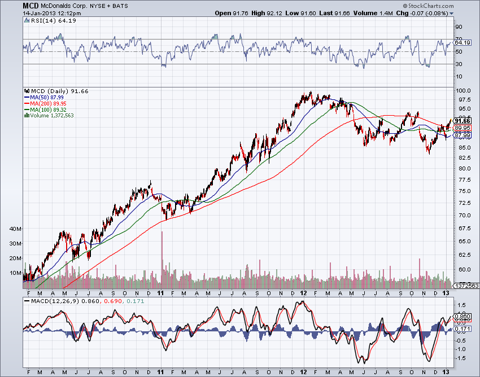 As you can see, McDonald's has been slow and steady for most of 2010 and 2011. Then, in 2012, the stock fell apart. It severely violated the long-term support from the 200-day simple moving average and is now trying to recover after a dismal year of poor price action. However, I think a couple of things are going for McDonald's investors.
For one, brand recognition. According to a study done in the 2011, McDonald's was the second most recognized company logo, right behind Apple (NASDAQ:AAPL). McDonald's is all over the world, literally. Operating in 119 countries, McDonald's serves about 68 million customer per day. Yeah, that's a lot of Big Macs.
Another glaring catalyst is that McDonald's pays -- and continues to raise -- its dividend, which currently yields about 3.5%. I will follow this paragraph with several charts and tables regarding the company's dividend payments, both quarterly and annually. McDonald's has been consistently paying out a dividend since 1976, over 35 years. This is rather comforting when looking to establish a long-term position. Below, the charts and tables for McDonald's dividend: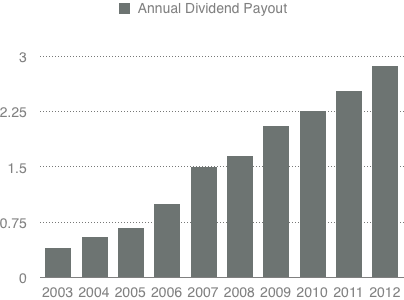 McDonald's Quarterly Payout: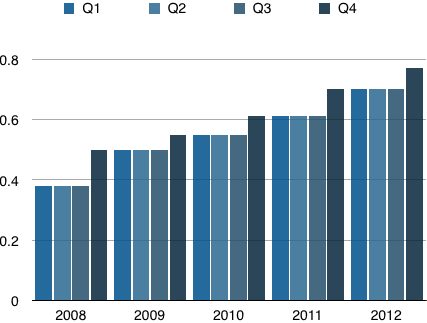 As you can see on the two charts above, McDonald's has been very consistent in terms of dividend payouts. Quickly looking at the annual dividend payout, you can see how McDonald's has continually returned more and more money to investors in a decade that has suffered two major bear markets.
The dividend has continually seen an annual bump, which is typically given in the fourth quarter. This is particularly evident in the second chart, when examining the darkest blue bar. Most recently, McDonald's raised the quarterly dividend payment by $.07, from $.70 to $.77, an increase of 10%. Below is a table illustrating McDonald's dividend growth over the last 10 years:

| | | | |
| --- | --- | --- | --- |
| Year | Current Annual Dividend Payout ($) | Previous Annual Div. Payout After Raise ($) | Percentage Change From Previous Year (%) |
| 2003 | .40 | .235 (2002) | + 70.21% |
| 2004 | .55 | .40 | + 37.5% |
| 2005 | .67 | .55 | + 21.8% |
| 2006 | 1.00 | .67 | + 49.25% |
| 2007 | 1.50 | 1.00 | + 50% |
| 2008 | 1.64 | 1.50 | + 9.33% |
| 2009 | 2.05 | 1.64 | + 25% |
| 2010 | 2.26 | 2.05 | + 10.24% |
| 2011 | 2.53 | 2.26 | + 11.94% |
| 2012 | 2.87 | 2.53 | + 13.43% |
Wow. That's all I can think of to say when looking at the dividend growth over the last 10 years. The worst year came in 2008 -- when the entire market was being decimated by the credit crisis -- and McDonald's was still able to raise the dividend by 9.33%. The average dividend increase over the last 10 years is 29.86%.
While averages can really skew the actual increases, there is no doubt that McDonald's has been able to return a great deal of money to its shareholders. The dividend increases are evident, juicy and tempting for any long-term oriented investor.
Taking it one step further, the recent weakness is not only felt at McDonald's. YUM! Brands (NYSE:YUM), one of the biggest competitors for McDonald's, has also suffered from the same global sales slowdown that has recently pushed both stocks lower. This is good news, as it's an industry wide issue, not a company related one. It's essentially saying that McDonald's specifically isn't doing anything wrong.
I view this as a good thing because I look at McDonald's and its management as the most capable company to make the proper adjustments. There's a reason McDonald's is the king of fast food, and I don't expect that to change very soon, if ever. I am a buyer of McDonald's and remain so for the foreseeable future.
I mean for me, I'm just begging that McDonald's has a terrible 2013 and that the article from above is spot on. It wasn't that long ago -- in November -- when shares of McDonald's were making new 52-week lows. Hopefully that trend continues. That's odd isn't it? Someone who's bullish and long McDonald's is hoping it has a dismal year. It's not really, because I want as many shares as I can get now, before the stock finally trades higher again.
Right now, McDonald's is trading at $91.50 per share. While this is higher than I'd like for accumulation, over the long-term, I'm not so picky. Hopefully the article forecasting a poor year for restaurants is true; that way I can continue to grab more shares of my favorite companies.
If McDonald's trades down to the $70's or $60's even, how great! I can see the worry from short-term investors, or even the traders. But the long-term guys, those who plan to hold McDonald's for many decades to come, have a great buying opportunity in their hands.
Rising commodity costs will likely hurt McDonald's, especially on the beef side of things. But it's not going to sink the company, even if it hurts the earnings for several quarters over the next few years. Even a multi-year stumble for McDonald's wouldn't worry me, as I plan on holding for many, many years to come. Being a shareholder who is looking for a solid growing dividend company in the "core" section of my portfolio, I welcome any discounts I can get on this burger-flipping giant.
Disclosure: I am long MCD. I wrote this article myself, and it expresses my own opinions. I am not receiving compensation for it (other than from Seeking Alpha). I have no business relationship with any company whose stock is mentioned in this article.