We continue to see companies adjust their property portfolios as companies with the ability to develop large undeveloped fields buy those properties from smaller players who have essentially derisked the play while selling their developed assets to those same players. This happened once again with Denbury Resources yesterday and is a trend which has enabled the continued frantic pace of development across many of the country's shale plays. Look for this to continue, as well as for companies to continue to post negative operating cash flow as they move to lock up their leaseholds by production and put in place production which will eventually allow them to operate within cash flow generated from operations.
Commodity prices this morning are as follows:
Gold: $1679.60/ounce down by $4.30/ounce
Silver: $31.295/ounce down by $0.234/ounce
Oil: $93.43/barrel up by $0.15/barrel
RBOB Gas: $2.7013/gallon down by $0.0053/gallon
Natural Gas: $3.411/MMbtu down by $0.044/MMbtu
Oil & Natural Gas
Yesterday Denbury Resources (NYSE:DNR) put the money from the sale of its Bakken assets to Exxon to work by purchasing ConocoPhillips' Rocky Mountain assets, not including the Bakken, for $1.05 billion. The property consists of 86,000 net acres and recent net production totaled 13,000 boe/d. Management stated that they would use funds from the $1.3 billion sale of their Bakken assets to Exxon in order to help fund this purchase which will result in the company producing 7,700 boe/d more for the year should the transaction close this quarter.
Carrizo Oil & Gas (NASDAQ:CRZO) saw shares rise $0.75 (3.73%) yesterday to close at $20.86/share even after an analyst lower their outlook on the company. Howard Weill downgraded shares from an 'Outperform' rating to a 'Sector Perform' in the morning, however the company released their capital expenditure plan yesterday along with news of exercising their option to purchase Utica acreage. According to the company's release (which can be found here), the company plans to spend $500 million in 2013 for drilling and completion activities with $385 million earmarked for the Eagle Ford, $70 million for the Marcellus, $35 million for the Niobrara and $10 million for other areas. The company also spent $63 million to secure Utica acreage which they had an option to buy which brings their net acreage position up to 14,000 after the transaction closes. Based on exploration plans the company believes that it will increase oil production by 28% with natural gas production declining by 3%.
Iron Ore
Dahlman Rose believes that iron ore prices are at or near a cyclical peak and that Cliffs Natural Resources (NYSE:CLF) is the most vulnerable in the industry to a price reversal. The brokerage downgraded shares from a 'Hold' to a 'Sell' rating while also downgrading or adjusting their price targets lower for other players in the industry. If one agrees with Dahlman's outlook on the iron ore pricing, then Cliffs Natural is certainly not the place you want to be invested as they are a high cost producer and very susceptible to turns in the market (both the good and the bad).
Copper
Southern Copper (NYSE:SCCO) has been a solid performer recently with the stock hitting a new 52-week high yesterday and finding itself within striking distance of all-time highs. With Freeport-McMoRan's venture into oil, that leaves Southern Copper as one of the best plays on a rebound in construction spending and economic expansion in China due to its leverage to copper. The company does have its own issues, mainly workers in Peru and their tendency to want to strike. As with any company operating in South America, there will be worker unrest and political risk, especially as socialists continue to gain favor on the continent.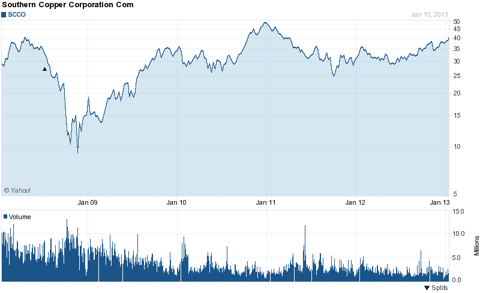 Chart courtesy of Yahoo Finance.
All-time highs are within reach here, one just has to hope that the discussion surrounding the debt ceiling does not upset the market's optimism.
Refiners
Valero (NYSE:VLO) continues to rally with the rest of the refiners and this is a trend which we have stated before that we believe will carry forward, especially as more and more domestic production makes its way to market and alleviates the need for imports from Africa and the Middle East. We have some really interesting data that we are formatting which will highlight the growth of oil production in various areas of the country and its effect upon refining margins, etc. We are bullish of the E&P plays due to their ability to continue to increase production and due to that increased production we have to be bullish of the refiners because of what that oil supply can do for their business.
Disclosure: I have no positions in any stocks mentioned, and no plans to initiate any positions within the next 72 hours. I wrote this article myself, and it expresses my own opinions. I am not receiving compensation for it (other than from Seeking Alpha). I have no business relationship with any company whose stock is mentioned in this article.