Today we have a ton of economic news out and tomorrow will be no different. With the most recent market action we now find both the Russell 2000 Index and the Dow Jones Transports at new all-time highs, which would indicate to us that we have higher to go in 2013 and that so long as a debt ceiling fight can be avoided that rally will in fact take place. See the chart of the day to get a glimpse of both of these indices.
We also want to point out that housing prices are beginning to increase, but so too is the younger generation's reliance on credit card debt and the student loan debt load they are required to carry after having graduated. This could seriously hinder the economy moving forward as they are not able to leverage up their balance sheet and purchase homes and start new households has their parents and grandparents have done during their 20s. This may be a nonissue as baby boomers are required to work longer in order to retire but it is something which shall require attention as it could have far reaching repercussions in the years to come.
We have economic news due out today, and it is as follows (these are the consensus estimates):
MBA Mortgage Index (7:00 AM EST): N/A
CPI (8:30 AM EST): 0.0%
Core CPI (8:30 AM EST): 0.1%
Net Long-Term TIC (9:00 AM EST): N/A
Industrial Production (9:15 AM EST): 0.2%
Capacity Utilization (9:15 AM EST): 78.5%
NAHB Housing Market Index (10:00 AM EST): 48
Crude Inventories (10:30 AM EST): N/A
Fed's Beige Book (2:00 PM EST): N/A
Asian markets finished mixed today:
All Ordinaries - up 0.46%
Shanghai Composite - down 0.70%
Nikkei 225 - down 2.56%
NZSE 50 - down 0.04%
Seoul Composite - down 0.32%
In Europe markets are mixed this morning:
CAC 40 - down 0.31%
DAX - down 0.29%
FTSE 100 - down 0.53%
OSE - down 0.25%
Technology
Revisiting ARM Holdings (NASDAQ:ARMH) today, the stock has backed off of its highs amid analysts worrying about valuation. Yesterday saw Morgan Stanley cut its rating on the company's shares to an 'Equal Weight' from an 'Overweight'. This follows the downgrade on Monday from Piper Jaffray where the broker moved its rating on the company to 'Neutral' from 'Overweight' as they too are worried about the recent run-up and the ability of the company to continue to grow into their valuation. Yes the stock has had a very nice run, but the real question is whether this is a top for the company. If one expects that the royalties the company is able to collect remain at current levels and that their market share is stable as the overall pie continues to grow then buying on pullbacks is the way to play this one. If you are of the thinking that something is going to change within that formula then it is best to move on at this time. One question we would like to point out however, when was the last time that Intel succeeded in cellular?
We came across the 3-D printing industry a few years ago while doing our weekend reading. It was highlighted in one of the technology newsletters we read and the idea was intriguing. Our first thought was that someone had finally solved the internet's main problem; the fact that one is unable to order takeout via their laptop/desktop/tablet. All joking aside it was something which we tucked away and figured we were 5 to 10 years away from this taking off. Well that was wishful thinking, and totally off base. 3D Systems Corp. (NYSE:DDD) was one of the companies mentioned in the newsletter and it has in fact done very well. The shares have constantly been on the 52-week high list (which also lands them on the all-time high list as well) and have been a mainstay it seems for the last week or two. The company is currently on our watchlist and we feel like we may have missed the boat on this one, but we did want to highlight this company and industry for readers in case it was something which they wanted to pursue themselves.
Biotechnology
It sure looks like a short squeeze is about to take place at Arena Pharmaceuticals (NASDAQ:ARNA) over the next few days as shares moved up another $0.61 (5.97%) to close at $10.81/share on very strong volume of 27.9 million shares. We pointed out yesterday the degree to which bears were involved here, however over the next few days we could see some serious movement if everything goes well for longs. First investors are awaiting for the decision out of Europe which is due Friday. Also due out soon is the DEA (yes that is the Drug Enforcement Agency) moving to close the 30 day comment period on Belviq and the finalization of its ruling. That will be positive for the shares should everything go smoothly, but the partnership will not be able to sell their drug until another 30 day period concludes after the DEA finalizes its ruling (discussed previously). Assuming a best case scenario, the company should be able to have patients getting their prescriptions filled in a little over a month here in the United States.
Also catching our eye in the biotech industry is Celgene (NASDAQ:CELG), which has put together a very strong week after a solid conference and positive comments from the CEO. The stock rose $1.72 (1.76%) to close at $99.39/share with volume of 6.6 million shares which is above the three month average. With the recent analyst upgrades and numerous media outlets getting a whiff of the story we think that the company is poised to test that $100/share threshold tomorrow morning.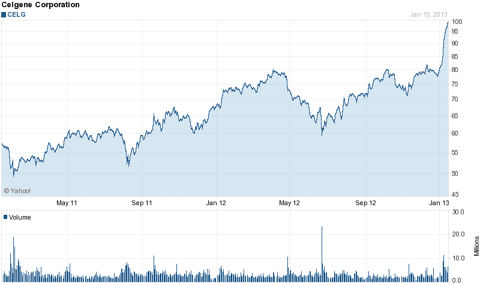 Chart courtesy of Yahoo Finance.
For our traders, the stock set another new all-time high yesterday so we are in unchartered territory right now. In our experience you buy a stock if it crosses $100 and if it continues upwards you buy at the meaningful whole numbers. Once that momentum is broken is the precise time when you walk away from the trade.
Retail
Yesterday we received decent retail numbers, however they were not as amazing as initially thought due to most of that strength being in automobile sales. We are still believers in well run retailers with solid merchandising and brands that are resonating with consumers. This is part of the reason why we are still bullish of Gap (NYSE:GPS) even after the dramatic pullback over the holiday season. In our view the company got two doses of good news yesterday as Express announced good news which we suspect would apply to Gap's flagship and Banana Republic stores while the negative news from lululemon would be good for Gap's new yoga focused stores.
Some might say that good news for other retailers who compete with the company is bad for it, however we would argue that with the American consumer beginning to come back with balance sheets which have been mended that more spending is positive for everyone. It is not a zero sum game in this situation, rather our view is that the market share losses, should they materialize, will be offset from higher consumer spending.
Charts of the Day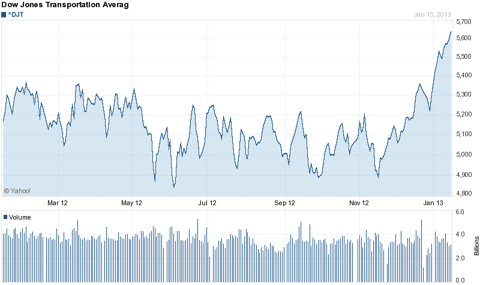 Chart coutesy of Yahoo Finance.
The transports have been hot lately, only taking a brief break during the fiscal cliff crisis to pause on the move higher. Transports are generally a forward indicator so this must be viewed as bullish.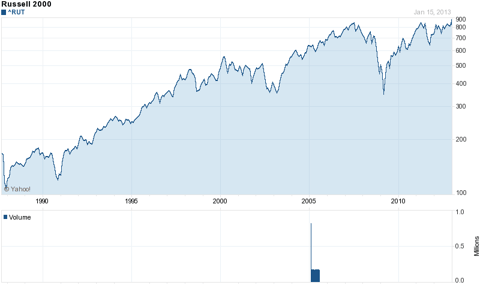 Chart courtesy of Yahoo Finance.
With the smaller stocks rallying to all-time highs it says something about the animal spirits within the market right now. Obviously risk is on, and in a big way.
Disclosure: I have no positions in any stocks mentioned, and no plans to initiate any positions within the next 72 hours. I wrote this article myself, and it expresses my own opinions. I am not receiving compensation for it (other than from Seeking Alpha). I have no business relationship with any company whose stock is mentioned in this article.