Our weekly technical analysis of industry charts uncovered potential in some stocks that have been pummeled; gambling stocks. Since these stocks present more risk than a hand of blackjack, we recommend owning a few and maintaining stops. Risk is not always a bad thing; in this case we hope to be dealt a One Eyed Jack and an Ace of Spades.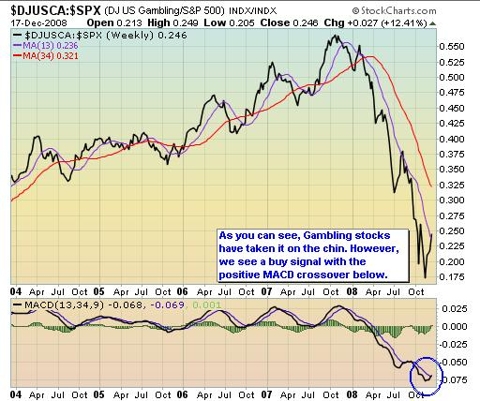 The 3 gambling stocks we like are:
Full House Resorts (NYSEMKT:FLL) trades at less than its book value of $1.86 and at a forward PE of just 7 times earnings. The company is generating enough cash flow to buy back up to $1 million in shares. Full House expects substantial EPS growth when their new FireKeepers Casino opens in mid 2009.

Technically, the stock looks attractive too; recently the MACD registered a buy signal with a positive MACD crossover under zero. A note of caution, FLL is a thinly traded stock averaging 38,000 shares a day.

Nevada Gold & Casinos Inc. (NYSEMKT:UWN) trades at only a quarter of its book value of $2.90 and has an aggressive one year target price of $4.00; not bad for a 75 cent stock. Nevada Gold also boasts an impressive return on equity of 79.5% and trades at just 1.5 times sales. Management recently sold off some assets to create cash for attractive acquisitions that can put more profit on the bottom line.

Monarch Casino & Resort Inc. (NASDAQ:MCRI) trades with an attractive PEG ratio of .99. Shares exchange hands a little more than 1.5 times its book value and just 1.12 times sales. Despite the hardship facing casinos, Monarch was able to top Wall Street's 3rd quarter estimate by four cents. MCRI's management is also in the process of buying back up to 1,00,000 million shares. If Monarch's shares can break out of this range, it could be a $12 stock soon.