With the recent commitment of Japanese Prime Minister to devaluation of Japanese Yen, one starts to think what could be the best currency trade in this situation. Even though most major currencies and some exotic ones can be used for this purpose I would like to analyze from the trade balance and interest rate perspective.
The below table lists the major trade partners of Japan. As you can see the major partners are China and US, US being a net importer, and China is on par.
2010 Trade Data, USD bln (source: Wikipedia)
However one country is of interest. Australia. The reason it is interesting is that Australia is a net exporter to Japan. The major reason behind this is that Australia is supplying most of the raw materials to Japan and in return purchasing automobiles and electronics. With the significant increase in the raw material prices in the last decade Japan turned into a net importer from a net exporter as stipulated by the charts indicated below. Please note that the below charts are monthly figures whereas the above table is yearly, and the currencies are different so they will not match one to one.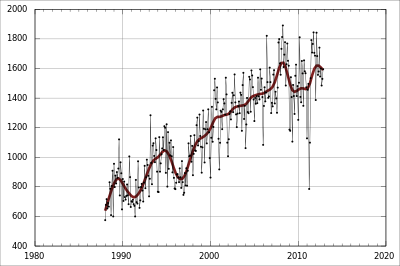 Monthly value (A$ millions) of merchandise imported to Australia from Japan since 1988 (source: Wikipedia)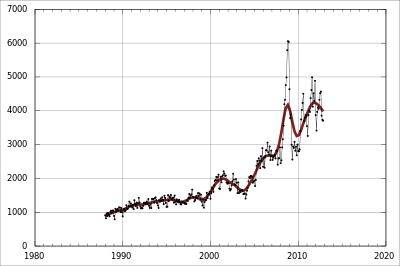 Monthly value (A$ millions) of merchandise exported from Australia to Japan since 1988 (source: Wikipedia)
From a macro perspective, trade imbalance together with the average interest rate difference between the two countries where Australia being much higher one should expect the Yen to depreciate and help narrow the gap. However as it was on its course the financial crises hit and reversed the carry trade Japanese used to doing, once the trust in the financial system is hindered.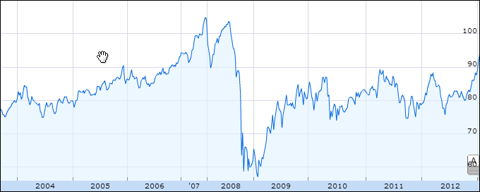 AUDUSD Chart (Source: Google Finance)
Since the election of the new Prime Minister Yen is losing value against all major currencies and broke the crucial 90 level against Australian Dollar. At the moment central bank borrowing rate in Japan is 0.1% and in Australia 3.0%. On 5th of February Reserve Bank of Australia is going to have their monthly meeting. A rate cut is expected but we don't know for sure. In the absence of a rate cut my bet will be to long AUDJPY aggressively.
Disclosure: I have no positions in any stocks mentioned, and no plans to initiate any positions within the next 72 hours. I wrote this article myself, and it expresses my own opinions. I am not receiving compensation for it (other than from Seeking Alpha). I have no business relationship with any company whose stock is mentioned in this article.