On Monday, shares of computer company Dell (NASDAQ:DELL) soared after a Bloomberg report that the company had begun buyout talks with private equity firms. Shares rose $1.41, a gain of nearly 13%. The rally continued on Tuesday, with shares closing at their highest point since May of 2012. Dell shares have now rallied 33% since their December 31st low, and are up 51.5% from their 52-week low. There have been several questions about a deal being possible. One thing is certain. If a deal for Dell is not worked out, this stock is a sell, as the computer maker continues to bleed market share. Here's why.
Falling Market Share:
IDC recently released its preliminary fourth quarter and full year vendor shipments for the industry, and the picture is not good. The research firm breaks down their numbers into two segments: US and Worldwide, and provided both quarterly and yearly numbers. Here's what they said for Dell in those periods.
The first breakdown is for worldwide PC shipments in the fourth quarter. IDC estimates that Dell shipped 9.482 million units, down from 11.967 million in the prior year period. That is a decline of 20.8%. In terms of market share, IDC believes Dell is now at 10.6%, nearly a two full percentage point drop from last year's period at 12.5%. Overall, Dell's 20.8% plunge was more than three times the overall drop of 6.4% in the space. Dell is now a distant third in this segment.
In terms of the United States in the fourth quarter, Dell fared slightly better. The company shipped an estimated 3.475 million units, down from the prior year period of 4.166 million. That's still a drop of 16.6%, but not as bad as the worldwide one. In terms of market share, IDC predicts 19.6% for Dell, down from the previous year's period of 22.4%. Dell is now a distant second to Hewlett Packard (NYSE:HPQ), now 7.4 full percentage points behind HP. In last year's period, Dell was just 0.6 percentage points behind for the top spot. Additionally, Apple (NASDAQ:AAPL) is catching up, despite preliminary sales figures for Apple being flat. In last year's period, Apple was 11.5 points behind Dell in market share for second. In this year's period, the gap is expected to narrow to just 8.2 points.
In terms of the 2012 full year numbers, the picture was not pretty. For worldwide shipments, Dell saw a decline of 12.6%, from 44.278 million to 38.718 million. That decline was roughly four times the overall drop in the industry of 3.2%. Additionally, Dell saw the largest year over year drop of any of the top 5 vendors. But that wasn't the worst news for Dell. The company lost its number 2 spot to Lenovo. IDC forecasted Dell to decline from a 12.2% market share to an 11.0% share. Dell will probably remain stuck in third next year, with second being well ahead and fourth being substantially behind.
In terms of the United States numbers for 2012, Dell held on to its second place spot, but lost ground to HP for the top spot, and Apple in 3rd is catching up. Overall, US shipments for Dell were expected to drop 11.5% from 15.898 million to 14.062 million. Dell's market share declined from 22.2% to 21.1%. After trailing HP by 3.8 percentage points in 2011, Dell was expected to be 5.7 percentage points behind in 2012. In terms of Apple, Dell's lead narrowed from 11.5 points to 9.7 points.
Where things are now:
Now the PC industry weakness is not very surprising to many. I recently detailed that fact when discussing Microsoft's (NASDAQ:MSFT) slow start to its Windows 8 and Surface launch. But the decline that Dell is seeing now doesn't bode well for the company if this industry remains weak. The table below shows Dell's breakdown by business segment, in terms of the recent third quarter. Numbers below are in millions, and as you can see, none of the four main segments saw a year over year gain.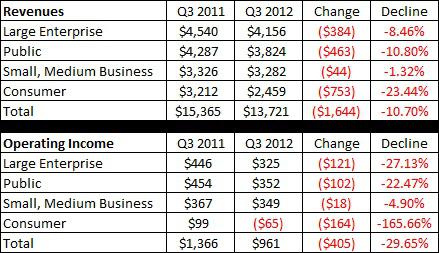 The operating income numbers are the segment operating income figures, which do not include items like stock based compensation, amortization of intangibles, as well as severance and acquisition related costs.
The valuation does not fit:
With the huge rally in Dell shares recently, the valuation just doesn't work anymore in my opinion. The table below shows Dell against Apple and Hewlett Packard in terms of revenue and earnings growth, as well as P/E. These firms use different fiscal years, so trying to compare them on a calendar basis could be quite difficult.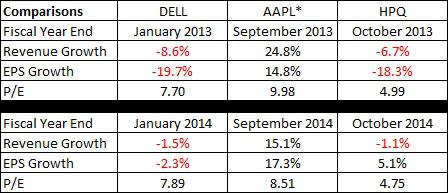 *2013 growth numbers adjusted for 53rd week in prior fiscal year.
Current expectations not only have Dell's revenue and earnings falling this year, but in their next fiscal year as well. Apple is growing both those numbers at quite a brisk pace, and HP is expected to show an earnings rebound in its next fiscal year. However, Dell trades at a substantial premium to HP, and the premium Apple trades at going forward narrows. Given the huge rally, I don't think Dell is a good buy at these levels, and is a good short if you don't believe in the buyout. The average price target for Dell is $11.96, meaning that Dell analysts believe the stock goes a bit lower from here.
Deal price / funding issue:
CNBC's David Faber reported Tuesday afternoon that the leveraged buyout price for Dell would be in a range of $13.50 to $14.00. At that price, you're not talking about very much upside from Dell's close Tuesday at $13.17, when you consider this stock was under $10 about two weeks ago. Even at $14, you're looking at just about 6.3% upside from here. But if the deal falls through, you're looking at a $12 stock at best, and maybe an $11 one. That's a ton more downside risk than upside, so I won't be playing this one. If Faber is right and the analysts are wrong, you've missed the rally.
Now the biggest issue with this deal has been its pure size. A deal to acquire Dell would require about $20 billion in financing, with a large portion of that coming in the form of debt. While it appears there are firms lining up to make this possible, don't forget what happened with Best Buy (NYSE:BBY). That company was expected to go private with a takeover in the mid $20s, and we're still waiting for a deal, with a stock now at $14.42 (and having been as low as $11.20 recently). Are there enough firms out there that want to be a part of this? It's possible, but we don't see too many of these large deals that often.
Final Thoughts:
If you are buying Dell right now, you are speculating that a buyout of the company will take place. With Dell's market share falling and the PC industry seeing tremendous weakness, you aren't buying this company for its growth potential. Additionally, those looking at Dell for its dividend might be disappointed. The current yield is down to 2.42% after reaching more than 3.2% just a few weeks ago.
For those that don't believe in the deal, Dell remains a very attractive short candidate, but that's only if you believe a deal won't occur. Dell's revenues and earnings are declining, and it could lose even more market share next year. The valuation just doesn't fit against rivals like Apple, where you can get a tremendous amount of growth potential. Dell has soared more than 33% in the past couple of weeks, helped mostly by these latest buyout rumors. However, without a deal, Dell is a sell.
Disclosure: I have no positions in any stocks mentioned, but may initiate a long position in AAPL over the next 72 hours. I wrote this article myself, and it expresses my own opinions. I am not receiving compensation for it (other than from Seeking Alpha). I have no business relationship with any company whose stock is mentioned in this article.
Additional disclosure: Investors are always reminded that before making any investment, you should do your own proper due diligence on any name directly or indirectly mentioned in this article. Investors should also consider seeking advice from a broker or financial adviser before making any investment decisions. Any material in this article should be considered general information, and not relied on as a formal investment recommendation.