"What's the Product Review market like? [I] tell them that there is no market...there's a couple players but Bazaarvoice really owns it."
- Gartner Senior Research Analyst, ITL Enterprise Software Group
Introduction
We've made a long investment in Bazaarvoice, Inc. (NASDAQ:BV), beginning last Friday. Bazaarvoice is down 60% over the past six months, and based on our research, it may be oversold. In particular, the stock dropped 25% last week after the company announced an antitrust lawsuit from the Department of Justice in response to its acquisition of competitor PowerReviews, Inc. That decline wiped out $200 million of market cap and we think that's a gross overreaction by the market. In fact, the DOJ lawsuit demonstrates how dominant Bazaarvoice has become in its market niche.
The company's current valuation and growth prospects are attractive relative to comparable SaaS companies. Bazaarvoice has a number of positive attributes. Having essentially created the ratings and reviews product category, it's the dominant player in its market. Its customers are large retailers like Wal-Mart (NYSE:WMT) and Crate & Barrel and consumer brands like 3M (NYSE:MMM) and Procter & Gamble (NYSE:PG), all of whom are aggressively seeking to shift sales from in-store to online. These customers are willing to pay a premium for a ratings and reviews software that can drive online sale conversion and increase overall brand awareness. Bazaarvoice benefits from network effects; the more customers it has, the more reviews for given brands can be cross-listed within their retail client base, leading to yet more customers opting to become part of BV's network. Currently, BV counts over half of the 500 largest online retailers (like macys.com and walmart.com) and 112 of the Fortune 500 as customers (BV Sept 12th Investor Presentation). According to the company, BV's customer network, in aggregate, receives over 6x the number of monthly visits as Amazon (NASDAQ:AMZN). The result is a sticky revenue stream that is reinforced by a sustainable competitive advantage.
The company's end market is under-saturated, and there remain many prospective industries that BV can penetrate. Virtually all major companies that sell products on their own websites would benefit from robust ratings & reviews functionality - online reviews have been repeatedly proven to increase the conversion of page views into increased online sales. This incentivizes both the retailers and the brands themselves to work closely with Bazaarvoice to compile a robust rating and review system. Over the past few quarters, the company has added clients like Mohawk Industries (NYSE:MHK), Dow Chemical (NYSE:DOW), Tyson Foods (NYSE:TSN) and SunPower (NASDAQ:SPWR), demonstrating the wide range of enterprises that are now selling products online. Bazaarvoice also has a large, untapped opportunity in emerging markets.
While other leading software vendors are forever at risk of emerging upstarts, the network built by Bazaarvoice gives it a powerful edge. Each new brand added to BV's network increases the value proposition to retail clients, who gain access to a greater number of syndicated ratings and reviews about that brand on other Bazaarvoice client retail sites. In the same way, each new retail customer increases the value to brands since the brand's consumer reviews are syndicated across a larger swath of the internet retail landscape. This explains why competitors such as Reevoo and Citricle have struggled to build meaningful market share; sub-scale networks are unable to reach critical mass. Similar to Facebook (NASDAQ:FB) for social profiles or LinkedIn (NYSE:LNKD) for business networking, this winner-take-all-market provides a robust competitive moat that only grows as the number of participants in the network increases.
Going further, we believe that BV has yet to fully monetize its customer behavior database, its cost base is highly scalable, and the addition of PowerReviews' customer base gives it increased pricing power and a better offering to clients. Over time, the more review content that is generated within Bazaarvoice's network of customer, the more valuable it becomes.
From a valuation perspective, BV trades at less than 3x 2012E revenue, a far cry from many of its enterprise SaaS cloud comparables, like ServiceNow (NYSE:NOW) which trades at 16.6x 2012E revenue, more than five times Bazaarvoice's multiple. We certainly don't think that NOW's future business prospects are 5x more attractive than BV's, and in many ways Bazaarvoice has a number of advantages over ServiceNow, including less viable competitors and a faster-growing end-market. From a comparable companies' analysis perspective, BV is distinctly cheap (10K, 10Q).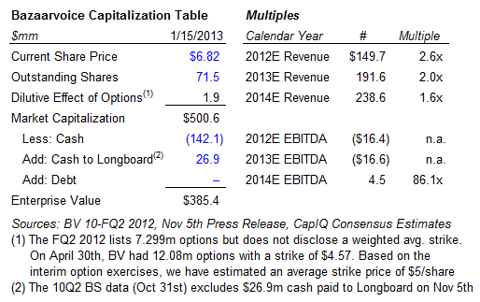 The Market has Overreacted to the Antitrust Lawsuit
On Thursday, January 10, Bazaarvoice revealed that the Department of Justice (DOJ) had filed a lawsuit alleging that the company's acquisition of PowerReviews violated federal antitrust provisions, and that the company would be required to divest assets in order to create a competing business that can replace the competitive significance of PowerReviews in the marketplace.
In response, the stock declined 25% from $8.90 on January 9 to $6.65 on January 11, erasing nearly $200 million of value. We think this is an overreaction. The total consideration paid to PowerReviews was originally $150m, with $31m of that in cash and $119m in stock and options. At BV's share price today, the shares granted to PowerReviews would be worth about $55m, implying an all-in deal value of roughly $85m. Therefore, the decline in Bazaarvoice's market cap in the two days following the DOJ lawsuit was more than double what PowerReviews is worth.
The main purpose of the PowerReviews acquisition, in our opinion, was to remove the company's main competitor from the marketplace. In that sense, the DOJ lawsuit has merit. PowerReviews was the only SaaS vendor that provided a comparable product to BV's offerings and it consistently undercut BV on price. Acquiring PowerReviews allows Bazaarvoice to have materially higher pricing power in negotiations with prospective customers as well as current customers when contracts are renewed.
With the acquisition having closed over six months ago, the gains to Bazaarvoice far outweigh any potential negative consequences from DOJ action. An actual divestiture of PowerReviews is unlikely to materially impact BV's financials; PowerReviews generated less than $15 million of revenue in the last fiscal year. If the DOJ is successful and PowerReviews is divested, PowerReviews has likely been sufficiently weakened that the Bazaarvoice acquisition will have still succeeded in removing its only viable competitor from the marketplace. Some of PowerReviews' management have left the company after cashing in lucrative stock options and severance packages. A look through LinkedIn shows that former PowerReviews' CEO Ken Comee, as well as a number of mid-level employees, have left the company over the past few months. Much of PowerReviews has likely been integrated into Bazaarvoice, so a divested PowerReviews may have to rebuild its back office infrastructure, hire new employees to replace those that wish to remain with Bazaarvoice post-divestiture, acquiring funding, etc.
It's also possible that the DOJ levies a fine on BV for the antitrust violations. However, as can be seen on page 20 of the lawsuit, where the government specifies its "Request for Relief," it doesn't appear that the DOJ is seeking financial compensation:
"Request for Relief

The United States requests that:

(NYSE:A) Bazaarvoice's acquisition of PowerReviews be adjudged to violate Section 7 of the Clayton Act, 15 U.S.C. 18

(NYSE:B) the Court order Bazaarvoice to divest assets, whether possessed originally by PowerReviews, Bazaarvoice, or both, sufficient to create a separate, distinct, and viable competing business that can replace PowerReviews' competitive significance in the marketplace;

(NYSE:C) the United States be awarded the costs of this action; and

(NYSE:D) the United States be awarded any other equitable relief the Court deems just and proper"
- Page 20 of January 10th, 2012 Antitrust Complaint
As we can see, the DOJ does not even specifically list a financial penalty in its Request for Relief, but rather requests that BV divest assets to create a competing business, pay for the DOJ's legal fees and contribute whatever other equitable relief the court deems just. While the court could rule that BV pay a fine, that doesn't necessarily appear to be the government's main purpose. Given that government-levied fines tend to not be especially material with respect to these companies' overall market caps, we would guess that a meaningful government fine should not be a major concern for shareholders.
Company Overview
Bazaarvoice sells a powerful rating and review tool that is the undisputed leader in its market niche. The company markets its software-as-a-service to seven of the ten most valuable U.S. retail brands, over half of the largest 500 Internet retailers, and over a fifth of the Fortune 500 (BV Sept 12th Investor Presentation). Bazaarvoice's product platform is anchored by its core online rating and reviews system named Conversations. Customers can customize the review system to their specifications, respond directly to questions, and share those reviews across various retail platforms. Online retailers and brands increasingly recognize the value of a robust set of online reviews for their products and BV is currently the vendor of choice. BV offers multiple tiers of service - some offerings are completely self-serve while others have BV manually review each submitted review before posting it live. The company's software also runs fraud detection algorithms introduced to flag reviews that may be faked by competitors or spammers. BV can drive customer traffic by directing search engine results directly to the consumer review pages. Regularly updated features such as these make its SaaS platform particularly attractive to Bazaarvoice's customers.
The company markets several adjacent offerings that leverage the content generated in ratings and reviews. These social analytics tools have high incremental profitability since an upsell to any existing client requires little incremental costs relative to the return. Bazaarvoice has three discrete social analytics tools sold alongside the Conversations review system. The Connections tool matches customer questions with brand managers, Bazaarvoice Intelligence tracks frequent user complaints and feedback to improve product quality and messaging, and, lastly, the Media group, enhanced by the Longboard Media acquisition, manages targeted advertising within BV's retailer customer base. This last segment may have future upside, given that Amazon generates $1bn to $2bn from co-op advertising (BV Nov 28th Conference). Preferred advertising can provide a boost to specific product SKUs much like end-of-aisle kiosks at brick and mortar stores.
With a powerful first-mover advantage in place, Bazaarvoice's dominant network of retailers and growing data set of content give it a sustainable competitive advantage vs. its peers. If an online retailer that sold things like Tide detergent and Sephora makeup were to launch tomorrow, their review data set would be nil. But if the same retailer purchased Bazaarvoice's SaaS solution, it would immediately incorporate Tide and Sephora reviews posted on other retailers that are members of the BV network. Since online reviews drive customer conversion, retailers are more than willing to pay Bazaarvoice a premium over peers who have less robust networks. The same thought exercise can be studied from the perspective of a consumer brand. The brand customer is incentivized to build a review ecosystem on their own homepage and then syndicate that content across Bazaarvoice's retailer network. In this way, Bazaarvoice actually benefits from a law of accelerating returns. Each new brand and each new retailer adds to the overall value proposition of the network. And ultimately, more online reviews increases the number of consumers that purchase the products.
Bazaarvoice's Rapid Fall from Grace
In 2012, technology IPOs with the word "SaaS" in the prospectus routinely debuted with sky-high valuations. Early investors in Bazaarvoice, Splunk (NASDAQ:SPLK), and Jive (NASDAQ:JIVE) Software, amongst others, benefited from this temporary market fever with 25%+ opening day price spikes. Bazaarvoice IPO'd at $12 share and closed the day at $16.51, a 38% one-day price increase. The stock remained a Wall Street favorite through much of the spring, accumulating glowing buy recommendations and trading at an ~8x forward revenue multiple.
Since then, the pendulum of market sentiment for BV has swung in the other direction. While the company's quarterly revenue results have largely beaten or been in-line with Wall Street consensus, the stock's forward revenue multiple has compressed from a high of 10x to around 2x today. A CEO succession, antitrust complaints over a May 2012 merger, and early share lock-up expirations have frightened momentum investors out of the stock.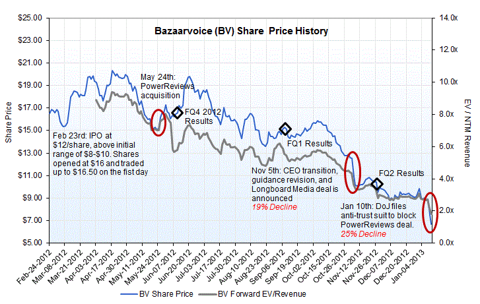 Sources: CapitalIQ, BV Press Releases.
At the company's current price of $6.82, we believe that BV now represents a more reasonable investment. The market capitalization, net of cash, is near $385m, making BV a tempting acquisition target to web content companies, advertising businesses, and cloud software companies. While the company failed to grow organically in FQ2 (after adjusting for PowerReviews revenue), we think that was a one-quarter hiccup, and remain confident that BV will be much larger five years from now.
Pricing Power and Operating Leverage Should Drive Profitability
Though the DoJ Complaint was scathing in its critique of the PowerReviews deal, it also revealed some very interesting industry dynamics that should prove favorable to BV over time. The Complaint quotes a BV employee who believed that customers brought PowerReviews into negotiations solely as a "lever to knock [Bazaarvoice] down on price." PowerReview's "scorched earth approach to pricing" was used to drive down Bazaarvoice's pricing power and mitigate its revenue growth. Following the deal, BV now has a syndicated network of retailers and brand reviews that is without match. With PowerReviews out of the equation, we expect BV's pricing to increase. As a high-margin software business (~65% gross margin), price increases will largely fall straight to the bottom-line as profits.
The company is poised to achieve substantial operating leverage as new hiring has slowed to a near-stop. BV only added 6 employees in FQ2, bringing the total headcount to 777 full-time employees (FQ2 2012 call). The company believes that they have "reached a suitable employee base for the time being and... expect[s] that the number of employees will grow modestly within strategy areas such as sales and marketing and… media" (FQ2 2012 Call). Management is also actively focused on increasing revenue per employee to levels comparable with best-in-class SaaS businesses. Today, BV achieves about $200,000 per employee while salesforce.com earns closer to $400,000. On the FQ2 call, management stated that they believe a per employee revenue target of "the high 2s," is realistic. This would increase revenue by almost 50% while keeping headcount flat.
Bazaarvoice Remains a Tempting Acquisition Target at this Price
A cursory analysis of recent social analytics deal multiples makes Bazaarvoice appear irrationality cheap. Moreover, the demand for increased page-view to sale conversion rates, targeted advertising, and customer engagement is spreading. Salesforce.com (NYSE:CRM) has been aggressively expanding into the social customer relationship management ("Social CRM") business, most recently with its $689m acquisition of Buddy Media in June 2012. According to CRM's filing in conjunction with the acquisition, Buddy Media had $18.0m of revenue for the six months ended June 30th, 2012, an increase of $10.2m during the same period last year. Assuming 50% growth in the second half of the year, Buddy Media might have generated about $45m in revenue during 2012. Our rough revenue estimate would imply a nearly 15x 2012E revenue multiple in the acquisition, a ~600% premium to BV's 2012E revenue multiple of 2.6x. Salesforce.com also owns Radian6, acquired for $336m in March 2011. According to CEO Marc Benioff, Radian6 had run-rate revenue of about $35m, giving the deal a 9.6x multiple.
Oracle (NASDAQ:ORCL) has also been acquisitive in the sector. The software giant bought the social engagement company Vitrue for approximately $300m in May 2012. The TechCrunch press release suggests that Vitrue was expected to generate somewhere under $100m of revenue in 2012, implying a multiple well above 3x. Seven months earlier, Oracle acquired RightNow in October 2011 for about $1.5bn at a roughly 7x 2012E revenue multiple. RightNow offers support and monitoring services for Facebook, a customer's support page, and customer engagement.
We don't recommend investment decisions solely based on takeout speculation. In the case of BV, we think it has a sustainable competitive advantage, pricing power, and an ability to drive growth over time. But these recent deal multiples suggest that investment bankers could be actively sketching out new pitch books.
Least Expensive Growth in the SaaS Ecosystem
Investors prize software-as-a-service businesses for their recurring revenue stream, ability to update software in real-time, and integration with the cloud. For these reasons, the public market has rewarded SaaS companies with revenue multiples we've frequently considered absurd. Ultimately, investors are buying growth. We like Bazaarvoice because it offers the cheapest growth within our selected SaaS universe.
Below is a table comparing Bazaarvoice to other enterprise SaaS vendors.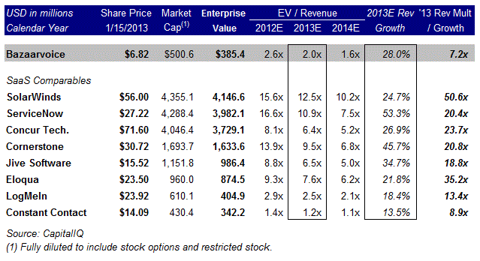 In order to compare the current valuation prices with growth expectations, we divided each stock's 2013E revenue multiple by expected growth for the year. Our results in the final column above suggest that BV is materially cheaper than its peers. Given BV's sustainable network advantages, its ability to increase pricing following the PowerReviews deal, and its rapidly evolving line of products, we are confident in next year's growth, particularly in relation to the current stock price.
Leading Short Critic has Covered and is No Longer Short
When it was trading at $18 a share, Bazaarvoice was the subject of two articles by noted short seller Ben Axler of Spruce Point Capital, arguing the short case for BV. Axler also published his short thesis on sumzero.com, a website where hedge fund analysts share ideas. On January 12, Axler wrote on his sumzero write-up that he had covered his position and was no longer short. Specifically, he wrote:
"BV was a short at $18 that I recommended and one of the highest rated short ideas ever on Sumzero. The stock made a low of $6.50 today, I am no longer short."
We'd argue that Axler recognizes that BV has a legitimate underlying business, and that his original thesis was based on valuation. With the stock down more than 60%, Axler believes that BV is no longer overvalued. We think it may be now undervalued.
A Few More Comments on the DOJ Lawsuit
As we've discussed, one of the more significant overhangs in the stock today is the Department of Justice's antitrust suit to block the PowerReviews deal. Since the revenue threshold required for a Hart-Scott-Rodino filing is $68.2m, the deal was not pre-approved. Because Bazaarvoice plans to fight the suit in Court (BV Jan 11th Press Release), this overhang will probably not be resolved for several quarters. However, we are comfortable with this situation for a number of reasons and believe that even if BV is ultimately forced to divest the business, the competitor will be weakened to such a degree that BV's market lead can no longer be challenged. While we cannot predict the ultimate outcome of the case, there are several reasons to believe that Bazaarvoice may be able to fend off the lawsuit.
Bazaarvoice does not have a monopoly, it has a competitive advantage. Antitrust laws have been put in place to prevent companies from gaining unfair pricing power and limiting customers' scope of options. In the ratings & review database, we've found a number of smaller competitors such as Citricle, Reevoo, Re-VU, and WP Review Engine. If a customer believed they were being unfairly treated by BV, they could retain their existing data set of reviews and substitute BV's software for a competitor in a month or two. A network advantage should not be confused with a lack of choice. The differences between a monopoly like Rockefeller's control of the nation's heating oil and Bazaarvoice's lead in the ratings market is subtle but important. Even Microsoft, whose dominance dwarfs Bazaarvoice's position, ultimately reached a modest settlement in its own Antitrust suit.
The DOJ's definition of market scope is limited. Bazaarvoice can argue that the reviews market itself is probably dominated by e-retailers like Amazon and eBay (NASDAQ:EBAY), who have had vast proprietary systems in place for years. Amazon and eBay, who aren't Bazaarvoice customers, have aggregated tens of thousands of reviews. If either of these giants were to syndicate its review content to other e-retailers, its business model would look a lot like Bazaarvoice.
The Complaint glosses over the net benefit to customers. Given the benefits of an increased network on review volume and sale conversion, the combination of Bazaarvoice and PowerReviews has benefits for the combined customer base. The e-retailer customers benefit from a larger database of brand reviews. The brands themselves benefits from a larger review distribution footprint. These benefits might warrant the higher price point that BV intends to charge.
Even if BV is forced to divest PowerReviews, the competitor is severely weakened. In a worst case scenario where BV is forced to divest PowerReviews, the competitor would have already lost a sizable number of employees, brand equity, and customer loyalty. An eventual divestment would leave PowerReviews a shell of its former self.
The DOJ's expenditure of valuable resources on the acquisition of a company of such inconsequential size strikes us as odd. PowerReviews produced only $12m of revenue in 2011 versus BV's $94m (BV May 24th Call). As we often see in the stock market, we believe that the market overreacted to the announcement of impending litigation. Upon closer analysis, it should be fairly apparent that the DOJ lawsuit is unlikely to be a meaningful detractor of value for Bazaarvoice.
Conclusion
We believe that Ratings and Reviews offers a clear value proposition for both retailers and brands. Five years from now, we expect the demand for robust online ratings and reviews systems to be materially larger than it is today. The secular migration of consumer behavior from in-store purchases to online has been widely discussed. As brands increasingly invest in their online platforms, the ability to drive online visits into sale conversions is paramount. Online reviews, both good and bad, provide validation of a product's usefulness and allow consumers to build confidence in their ability to make an informed decision. These trends have staying power. Combine this with a company that has been named the best place to work in Austin for four years straight and is said to have one of the most competitive hiring processes in the country (ranked #14 on Glassdoor), and the long-term upside looks attractive. At $6.82/share and 2.6x 2012E revenue, this is a speculative bet we are willing to take.
Disclosure: The author is long BV. The author wrote this article themselves, and it expresses their own opinions. The author is not receiving compensation for it. The author has no business relationship with any company whose stock is mentioned in this article.
Additional disclosure: Read our full disclaimer at kerrisdalecap.com/legal-disclaimer-2. I am short NOW and SPLK. This is not a recommendation to buy or sell any investment. We may transact in the securities of NOW, SPLK and BV at any time subsequent to publication. In 2012, Kerrisdale retained Ben Axler for consulting services on Bazaarvoice.