By: Brendan Gilmartin
Overview
Bank of America (NYSE:BAC) is scheduled to report 4Q 2012 earnings before the bell on Thursday, January 17. The results are typically released at 7:00 a.m. EST with a conference call scheduled to follow at 8:30 a.m. Bank of America is a Dow component with broad market influence and therefore could have a heavy impact on the index futures and other key market gauges. Note that Bank of America is the last of the major banking institutions to report earnings for the recent quarter.

Outliers And Strategy
Bank of America is expected to post EPS of $0.02 in the 4Q 2012 period (range is breakeven to $0.05). Revenues are seen falling 15.5% to $21.03 bln (Source: Yaho

o Finan

ce).
At a recent $11.55, Bank of America shares are still trading at a steep discount to Tangible Book Value of $13.48 (09/30/2012).
Bank of America's results follow strong earnings from

JPMo

rgan Chase (NYSE:JPM) and a mixed quarter from Wells Fargo (NYSE:WFC).
J

PMorg

an Chase reported 3Q EPS were a record $1.39 per share, handily topping the consensus of $1.20, thanks in part to continued strength strong lending and deposit growth.
Wells Fargo reported 3Q earnings of just $0.91 per share, narrowly topping the consensus of $0.89, but came under pressure after revenues missed the mark.
Recent News
01/11: Sandler O'Neill cut Bank of America to Hold following the recent run-up, but raised the price target from $11 to $13, according to a post on Barron's Online. The firm also raised its ongoing EPS estimate to $0.22 per share in the 4Q period, up from $0.18, but cut the GAAP EPS estimate from $0.18 to $0.01 to reflect losses from non-recurring items. The firm remains upbeat on Bank of America, based on improvements in investment banking, credit quality, tighter expenses, and mortgage production.
01/07: Bank of America announced agreements with Fannie Mae to resolve agency mortgage repurchase claims originated and sold directly to Fannie Mae through December 2008. Bank of America also signed definitive agreements to sell the servicing rights on 2.0 million residential mortgage loans totaling approximately $306 billion. Together, these actions are expected to reduce Bank of America's pretax income by approximately $2.7 billion in the fourth quarter of 2012.
10/24: Bank of America declared a quarterly dividend of $0.01 per share.
Technical Review
Bank of America shares recently broke out to the highest level since May, 2011. Over the past few sessions, however, the shares backed off the 52-week high of $12.20 (1/7/13), holding support at the 20-Day SMSA near $11.50. In the event of a positive earnings surprise, look for initial resistance at the aforementioned high of $12.20. Support is at $11.00 on a weak earnings release, with downside risk to the 50-Day SMA near $10.50. (Chart courtesy of StockCharts.com)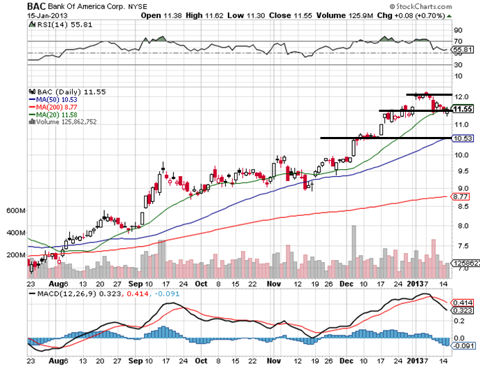 Summary
Bank of America shares have been on quite a run, mirroring the advance in other names in the banking space, thanks to resolution to the fiscal cliff, improved credit quality, a pickup in mortgage lending, and a stronger capital markets backdrop. A series of settlements related to its activities at the height of the mortgage crisis also removes some major overhangs for Bank of America. Against this backdrop, however, the bar remains high for earnings and any missteps could trigger a sizable retreat in the equity price.
DISCLAIMER: By using this report, you acknowledge that Selerity, Inc. is in no way liable for losses or gains arising out of commentary, analysis, and or data in this report. Your investment decisions and recommendations are made entirely at your discretion. Selerity does not own securities in companies that they write about, is not an investment adviser, and the content contained herein is not an endorsement to buy or sell any securities. No content published as part of this report constitutes a recommendation that any particular investment, security, portfolio of securities, transaction or investment strategy is suitable for any specific person.
Disclosure: I have no positions in any stocks mentioned, and no plans to initiate any positions within the next 72 hours. I wrote this article myself, and it expresses my own opinions. I am not receiving compensation for it (other than from Seeking Alpha). I have no business relationship with any company whose stock is mentioned in this article.