By Brendan Gilmartin
Intel (NASDAQ:INTC) is slated to report Q4 2012 earnings after the closing bell on Thursday, January 17. Results are typically available between 4:05 p.m. and 4:15 p.m. EST with a conference call to follow at 5:30. Other tech names are often impacted by the results, along with related ETFs such as the PowerShares (NASDAQ:QQQ) & Market Vectors Semiconductor ETF (NYSEARCA:SMH).

Outliers & Strategy
Key Measures:
Non-GAAP EPS. Intel is seen posting EPS of $0.45, near the midpoint of analyst forecasts ($0.36 to $0.50). (Source: Yahoo! Finance)
Revenues: Intel reported back in October it was looking for revenues in the range of $13.1 billion and $14.1 billion. The current consensus is at $13.53 billion.
Gross Margins: Intel stated back in October the expectation for fourth quarter gross margin of 58%, plus or minus a couple percentage points (56% - 60%).
Keep an eye on the following guidance measures for the Q1 2013 period:
Revenues Guidance (Est. $12.92 BLN).
Gross Margins Guidance. GMs have been running in the high 50s to low 60s.

Intel shares are well above the recent lows near $19.50, as value investor come calling after dropping to the lowest level since August 2011. The absence of a preannouncement may be one positive clue suggesting results for 4Q will top consensus forecasts.
Recent News
01/16: FBR Capital Markets reiterated a Market Perform rating and a $23 price target on Intel, according to a post on Benzinga.com. The positive view was based in part on manufacturing capacity and process leadership, but noted it faces stiffer competition from the likes of Broadcom (BRCM) and Qualcomm (NASDAQ:QCOM) due to a pickup in mobile devices.
01/10: MKM Partners is maintaining a bullish contrarian view on Intel according to a report on StreetInsider.com. The firm reportedly notes the concerns over PC shipments and slow adoption of Windows 8 appear overblown. The firm also notes a solid dividend yield, a dominant position in the server market, and weak sentiment market makes the shares attractive at these levels.
12/31: Wells Fargo raised its 2013 EPS estimate on Intel and maintained a Buy rating and valuation range of $28-$33, according to a post on StreetInsider.com. The positive report cited the attractive dividend yield and opportunity for the Atom platform to gain market share in the mobile (smartphone and tablets) segment. Increased mobile traffic could also drive X86 processor demand.
12/11: Intel introduced the Atom™ processor S1200 product family, the world's first low-power, 64-bit server-class system-on-chip (SoC) for high-density microservers, as well as a new class of energy-efficient storage and networking systems.
Technical Review
Intel shares are trading at the highest level since early November and up more than 12% from the recent December nadir. Despite the recent strength, Intel shares are now at a pivotal resistance area near $22. Should earnings surprise to the upside, Intel could push through this level and make a run back toward the 200-Day SMA near $24.00. Conversely, support is at $21.00, with downside risk to $20.00. (Chart courtesy of StockCharts.com)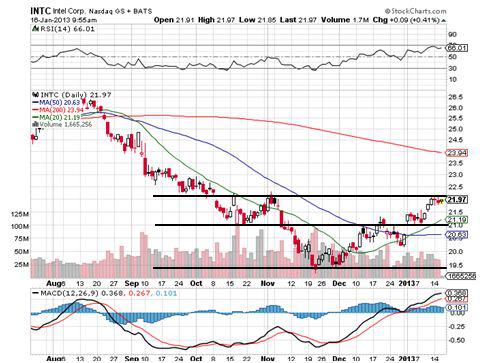 Summary
Intel shares are rebounding from 18-month lows, despite concerns over the pick-up in mobile and slow adoption of the Windows 8 platform. But with Intel trading at just 9.6x trailing earnings, a forward PEG ratio of just 1.12 and a dividend yield of 4.11%, buyers are creeping back in. Furthermore, Intel is well-diversified beyond PCs, with the Atom processor opening opportunities in mobile and the expansion of its presence in the data center.
DISCLAIMER: By using this report, you acknowledge that Selerity, Inc. is in no way liable for losses or gains arising out of commentary, analysis, and or data in this report. Your investment decisions and recommendations are made entirely at your discretion. Selerity does not own securities in companies that they write about, is not an investment adviser, and the content contained herein is not an endorsement to buy or sell any securities. No content published as part of this report constitutes a recommendation that any particular investment, security, portfolio of securities, transaction or investment strategy is suitable for any specific person.
Disclosure: I have no positions in any stocks mentioned, and no plans to initiate any positions within the next 72 hours. I wrote this article myself, and it expresses my own opinions. I am not receiving compensation for it (other than from Seeking Alpha). I have no business relationship with any company whose stock is mentioned in this article.