A year ago, no one believed housing markets were in recovery. Despite significantly outperforming the market last January, investors were quick to conclude homebuilders like Lennar (NYSE:LEN) would turn lower amid European austerity and political uncertainty.
Instead, the homebuilder ETF (NYSEARCA:XHB) went on to post a 57% return in 2012, outpacing the S&P 500 ETF (NYSEARCA:SPY) by more than 40%. Lennar did even better, returning 98% and finishing December at 52 week highs.
The strength in housing isn't abating.
In Q4, Lennar reported sales grew 42%. Importantly, operating leverage increased dramatically, sending earnings per share 250% higher than a year ago. This marked the 6th consecutive quarter of accelerating revenue growth - a key indicator for positive analyst revisions.
During the quarter, Lennar delivered 32% more homes. New orders climbed 32% too and backlog rose an impressive 87% to 4,053 homes. The higher volume and 7% higher average selling prices helped margins expand by 410 basis points to 23.5%. It also allowed SG&A to drop by 250 basis points to 11.3% of sales. And, if that wasn't good enough, operating margins came in at 12.2%, up 660 basis points.
The strength boosted the company's balance sheet, as debt to total capital fell to 45.6%, down from 47.7%, and cash and equivalents climbed to $1.1 billion, up from $692 million in Q3.
CEO Stuart Miller summed housing's outlook up nicely in the company's earnings release: "Our homebuilding machine continues to improve and be our primary driver of profitability, fueled by our opportunistic land acquisitions and increasing operating leverage due to higher absorption per community and overall deliveries."
The most important words in Mr. Miller's statement are "increasing operating leverage," which means each sale is dropping more money to the bottom line.
If the industry can continue to keep costs in check, leaders like Toll Brothers (NYSE:TOL), D R Horton (NYSE:DHI) and Pulte Homes (NYSE:PHM) should post solid results too. Margin improvement also suggests more leveraged builders, such as Hovnanian (NYSE:HOV) and Beazer Homes (NYSE:BZH), will turn the corner this year.
Lennar's report is bullish for finance companies.
Lennar's lending arm generated $32 million in earnings during the quarter, up from just $9 million a year ago. The growing demand for home mortgages should bode well for banks and private mortgage plays such as Tree.com (NASDAQ:TREE), which provides online lending services through Lendingtree.com.
It should also help support mortgage services stocks like Ocwen Financial (NYSE:OCN). Finally, this strength supports mortgage REITs, such as Redwood Trust (NYSE:RWT), which I discussed previously here.
And investors shouldn't ignore the housing related plays either.
The recovery in home building means rising demand for machines, tools and supplies. Coupled with post-Sandy reconstruction this year, demand for products from U S G Corp (NYSE:USG), Beacon Roofing (NASDAQ:BECN), Trex Company (NYSE:TREX) and Lumber Liquidators (NYSE:LL) should head higher.
Investors should also keep in mind this time of year is historically strongest for homebuilders. According to the Seasonal Investor database, the homebuilder ETF has posted the greatest excess to the S&P 500 ETF in the period beginning December and ending April. This suggests any sell-the-news consolidation in Lennar and related plays may offer an opportunity.
Source: Seasonal Investor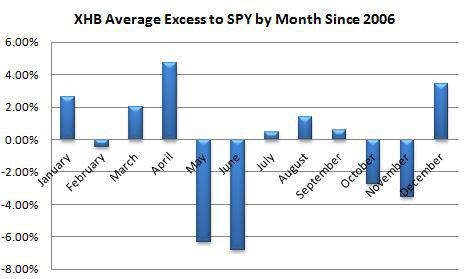 Disclosure: I have no positions in any stocks mentioned, but may initiate a long position in TREX, TREE over the next 72 hours. I wrote this article myself, and it expresses my own opinions. I am not receiving compensation for it (other than from Seeking Alpha). I have no business relationship with any company whose stock is mentioned in this article.