Introduction
In this article, we will look at the two publicly traded US based entries in the burgeoning market for 3D printing. The companies are 3D systems Corporation (NYSE:DDD) and Stratsys Limited (NASDAQ:SSYS). We will examine some historical performance indicators, forward growth estimates, and macroeconomic issues in an attempt to determine which of the two is a better winning bet right now.
Tracking Financials
Here are the two companies for our analysis:
| | | | |
| --- | --- | --- | --- |
| | | | Industry Average |
| Market Cap | $3.5 bil | $1.8 bil | -- |
| Price/Earnings (TTM) | 89.3 | 98 | 17.7 |
| Price/Sales | 10 | 9.7 | 1.4 |
| Price/Book | 8.3 | 8.9 | 2.6 |
| Forward P/E | 40.5 | 55.2 | -- |
| 5 Year Growth Forecast | 28.8% | 27.5% | -- |
| Dividend Yield | -- | -- | 2.3% |
| ROE | 11.16% | 9.74% | -- |
| Operating Margin | -3.29% | 0.48% | -- |
| Debt/Equity | 0.31 | -- | -- |
| Current Price | $60.46 | $82.84 | -- |
Data from Morningstar on January 14, 2013
What Does 2013 Have in Store for 3D Printing?
This may be the year 3D Printing begins to live up to its billing as the "next big thing" for investors. In essence, 3D Printing technology isn't printing at all but rather a manufacturing process that creates 3 dimensional objects layer by layer. The process is a combination of CAD (Computer Aided Design) and CAM (Computer Aided Manufacturing). A software program with a digital model of the object guides the "printer" as it builds the final product one layer or "sheet" at a time. Currently materials available are limited to a variety of polymer based substances and some metals.
Industrial applications for 3D printing have been around for some time and are growing. Parts replacement and prototype modeling are two of the most common uses. It is the entry of this technology into the consumer market that has some investors seeing dollar signs in their eyes. Personal computers are now as common in most households as toasters. Will 3D Printers follow the same explosive growth path? That process has already begun and 2013 may accelerate the trend.
3D Systems was the first publicly held company to enter the consumer market with its Cube 3D Printer in 2012, priced around $1,300. Prior to its entry into the market consumer choice was limited to 3D Printer Kits and the pricier entry from rival Stratasys Ltd, the Mojo, priced just under $10,000! Stratasys did classify the Mojo as a commercial grade printer. At the 2013 Consumer Electronics Show 3d Systems' latest entry, the Cube X 3D Printer, won a Best of CES award from the editors of CNET.
If you look at the valuations of both 3D Systems and Stratasys it becomes clear the investing community sees the potential for 3D printing to be a game changing disruptive technology. Both stocks are trading at high multiples, but investors appear willing to pay for anticipated growth. Shareholders of both companies have been well-rewarded year over year, although the following chart from Yahoo Finance shows DDD has done quite a bit better. 3D Systems is up 250% compared to 125% for SYSS.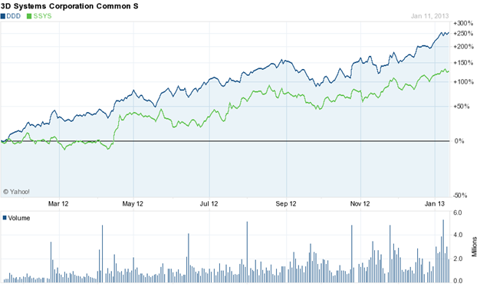 3D Systems is a strong believer in growth by acquisition, having acquired 31 companies in just the last three years. Some investors view this as a bearish sign, preferring organic growth from within. However, the stock price speaks for itself. Although the company serves the commercial market as well with 3D printers, print materials, design services, and on-demand custom parts services, it is their aggressive pursuit of the consumer market that makes them stand apart.
At the 2013 Consumer Electronics Show 3D Systems unveiled a test release of Cubify Capture, a service that will allow consumers to upload images from digital cameras, smartphones, or tablet computers to a website. The images will be transformed into computer models stored in the user account for later use with Cube 3D printers. This focus on the consumer market stands in sharp contrast to the business model of its largest publicly traded US rival, Stratasys.
Stratasys Limited prefers for the moment to concentrate on professional users, largely in the engineering community. They serve government agencies and manufacturing clients from a broad array of industries, including aerospace, automotive, consumer appliances and electronics, educational, medical and military industries
SSYS has big name clients like Intel (NASDAQ:INTC), Ford (NYSE:F), Nike (NYSE:NKE), Xerox (NYSE:XRX), and Boeing (NYSE:BA). The recently completed merger with a privately held rival in Israel, Objet, will make Stratasys the largest US based 3D printing company by market cap. The merger will expand the technological base of the company's operations with three additions -- Fused Deposit Modeling (FDM) for quick and cheap prototype design, inkjet-based PolyJet for prototypes that require higher-level of detail and a finer surface finish, and Solidscape Drop-on-Demand ("DoD") 3D wax printers for investment casting. The biggest benefit may be the fact the new Stratasys can now boast its technology has more than 120 different materials from which to produce final products. .
Analysts and investors alike appear to see the merger as highly positive. The stock price continues to climb as have analyst forecasts for 2013. The average analyst estimate for earnings per share has risen from $1.33 for FY 2012 to $1.68 in 2013.
The merger gives the new company added technological capability and a bigger customer base. However, history tells us mergers do not always proceed smoothly. The merger of Time Warner and AOL is now considered one of the worst in history. To date, little has been written about how the details of merging these Stratasys and Objet will progress, except for the announcement of an executive committee to handle the integration.
Final Verdict
While one could argue both these stocks are "too hot to handle," if you believe in growth investing both are worthy of your consideration. Despite the entry of a larger and more capable Stratasys, the Financial Times recently reported a majority of analysts polled still see DDD outperforming the market.
The press coverage DDD has gotten from its focus on the consumer market can make it easy for investors to forget 3D also has an impressive list of industrial customers, including Xerox, Motorola (NYSE:MSI), Northrop Grumman (NYSE:NOC), Johnson Controls (JSI), General Motors (NYSE:GM), and Ford. It appears that 3D Systems could be first to crack the consumer market with affordable desktop printers. Revenue generation from printer materials and design software could dwarf revenue from the sale of printers, following the classic "razor blade" model pioneered by the Gillette Company. Once proud Hewlett Packard rose to prominence on the back of its consumer market. If 3D Systems is successful at bringing its printers into the hands of the masses, shareholders will be very, very happy.
Disclosure: I have no positions in any stocks mentioned, and no plans to initiate any positions within the next 72 hours. I wrote this article myself, and it expresses my own opinions. I am not receiving compensation for it (other than from Seeking Alpha). I have no business relationship with any company whose stock is mentioned in this article.