The Libor-OIS spread is getting within striking distance of its pre-Lehman levels: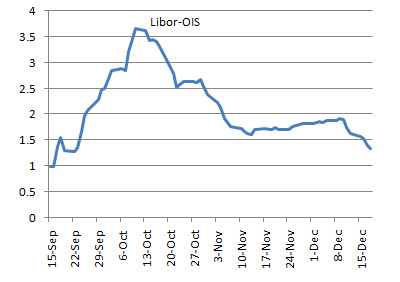 The big moves down in October were related to the bank recapitlization plan and the announcement of the Fed's programs to buy assets from the non-financial sector. It's harder to pin-down the exact reasons for the current southward trend. But it's worth noting that it coincided with the first junk-bond sale in six weeks.
Stanford's John Taylor has some more to say about the behavior of the Libor-OIS spread post-Lehman and argues that its collapse wasn't the primary cause of the heightened crisis. Highlights here.