At some point in your life, you've probably heard of Primerica (NYSE:PRI). A lot of individuals these days (although not all) view this business with relentless disapproval. The purpose of writing this article is to transparently explain what Primerica is, what Primerica does, and the investment opportunities present in this business.
What Is Primerica?
Primerica (sometimes mispronounced "PrimeAmerica") is a leading distributor of financial products to middle-income households in the United States and Canada. Primerica's financial representatives assist their clients in meeting their needs for term life insurance, mutual funds, annuities, and other financial products that are distributed primarily on behalf of third parties. According to John A. Addision, CEO of Primerica, "Primerica is a Main Street Company for Main Street North America. Our mission is to help families earn more income and become properly protected, debt free and financially independent."
The Primerica opportunity is available for both individuals interested in working for them as a business associate, and also as a prospective customer. Basically, it is a MLM business (though they won't admit it). New sales representatives are recruited by existing sales representatives. When these new recruits join their sales force, they are assigned an upline relationship with the sales representative who recruited them and with the recruiting sales representative's respective upline RVP organization. The recruiter will recruit many individuals and use the recruits' "warm market" to gather sales. While attending these meetings (usually with the recruit's parents or close relatives), the recruiter will dissect the family's financial situation and determine if they can accommodate them with any products they offer. If the recruiter finds that the family is in financial turmoil, he or she will offer a financial needs analysis (FNA), which is a free personalized assessment of the family's current situation and directions to achieving their financial goals. Typically, many of the customer's financial goals can actually be met through the FNA. The recruiter also uses many different concepts to gather the attraction of the customer. Those concepts are as follows:
High Cost of Waiting
Pay Yourself First
Theory of Decreasing Responsibility
Rule of 72
Power of Compound Interest
Debt Stacking
You can find the full description of these concepts on their website. Most of this information isn't really important to investors, but I believe that in order to make an intelligent investment decision, investors must know how the business works, what are the products it uses, and its competitive edge. Now that we know what Primerica is and how they make their money, let's see how much money they're actually making and if it's sustainable.
The Company's Financial Strengths
Click to enlarge image.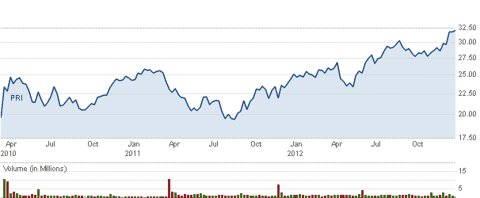 On April 1, 2010, Primerica completed its initial public offering at $15.00 a share. Since then, it has appreciated to a new 52-week high of $32.22, while yesterday it closed at $32.09. In 2011, Primerica enjoyed a lot of success. Let's take a closer look at the annual shareholder report.
Investment and Savings Products (ISP) sales were up 18% driven by a 43% year-over-year increase in variable annuity sales.
Recruiting increased 6% outpacing the direct sales industry's -1%.
The company repurchased 8.9 million shares of common stock at $22.42 for a total price of approximately $200 canceling out around 12% of outstanding shares.
Primerica's life insurance companies issued 1 billion in life insurance claims.
There is a total of $1.10 billion in revenue and $178.3 million in net income, resulting in a 10% increase in net income (50% of all revenues came from term life insurance).
There was a 27% increase in revenues in term life and 18% increase in ISP.
The company has approximately 92,000 representatives.
There were 237,535 term life insurance policies issued.
$1.5 million in dividends was paid in 2010, $7.3 million in 2011.
Revenue was as follows -- 2009 revenue: $2.2 billion; 2010 revenue: $1.3 billion; and 2011 revenue: $1.10 billion.
Questions Investors Should Ask Themselves
Primerica's source of income is precarious to its ability to sell its products to the American people. This fact alone brings up many questions, one being: "How can this business retain sustainability if it doesn't have an infinite market?" That answer is simple if you're in the business of producing shoes, but it's different when there is no variation in your product. For example, Crocs witnessed tremendous success with their breakout shoes, but after about a year or so of uncontrollable growth, sales began to slowly shrink. Why? They exhausted their market. Just about every person in America owned a pair of Crocs, so they had no one to sell to. In response, they made innovative recreations and produced variations of their product.
Financial service companies lack that ability. The need for financial services is definitely in demand, especially with economic hardships such as the ones we're currently experiencing, but one could assume that the targeted market will eventually be exhausted due to the capacity of policies written per year. Also, Primerica isn't the only business in the financial services industry, so the sustainability of Primerica's competitive edge should also be in question. It's evident through the continuously decreasing revenues that Primerica's market is slowly shrinking. How long will this short-term spike in profitability last? Only time will tell.
Final Thoughts
Based on the decreasing revenues year after year, I can not foresee a long-term investment opportunity in Primerica. I think eventually their sales will diminish because of the exhaustion of their market, and also because of continued exposure to our society.
Primerica's script for getting appointments is sly. Basically, it is along the lines of explaining to your family or friends that you are training and you and your manager would like to sit down with them for about 20 minutes and show them exactly what you'll be doing in the future -- for training purposes. That script won't last long because people will catch on, therefore making it nearly impossible to gather appointments -- and also improbable to grasp a recruiting base. That's my four- to six-year outlook. There will come a day when Primerica will no longer have the ability to sell its products at the high capacity it is today, and in that moment a shorting opportunity will be present. I justify myself through this information: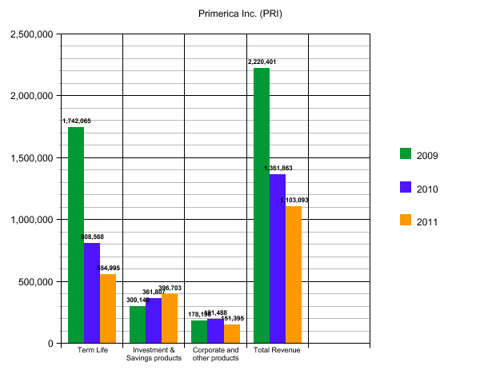 Based on this information, I cannot justify a long-term holding in the company. Watch for the trends and keep up with the news over the next few years. Short-term possibilities do exist, but I like to look at long-term investments and my long-term advice on Primerica is to short the stock.
Disclosure: I have no positions in any stocks mentioned, and no plans to initiate any positions within the next 72 hours. I wrote this article myself, and it expresses my own opinions. I am not receiving compensation for it (other than from Seeking Alpha). I have no business relationship with any company whose stock is mentioned in this article.
Disclaimer: I have no affiliation with this company and have written this article based on personal interests and for educational purposes.