Apple Inc. (NASDAQ:AAPL), longtime maker of Macs and more recently the producer of iPods, iPhones, and iPads, has suffered a serious setback in stock price. From the week of the last iPhone launch, shares have been on a slide: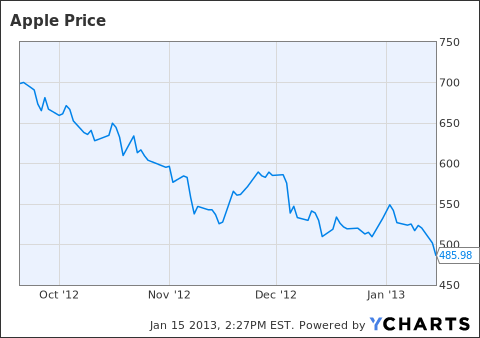 One might attribute some of this to headlines highlighting Android's gains in unit share, but honestly: Apple's history hasn't been a story of success through unit share dominance. And with Samsung potentially shifting its products' operating system to Tizen, the story of platform market share as some sort of profit predictor will look even less appealing for Android as an Apple competitor: no Android OEM other than Samsung makes any money in the cutthroat mobile business.
Something else is behind Apple's slide. Perhaps - as some suggest - Apple is doomed to descend into low-margin competition to make profitless commodity products, like nearly everyone else.
Will Cheap Products Doom Apple?
Writing for TheStreet.com, Rocco Pendola declared that a "Cheaper Apple iPhone Would Trigger Tim Cook's Departure." Although a long-term bear on Apple, Mr. Pendola has one thing dead-on right: Apple and its iPhone products are all about maintaining a certain level of user experience. So, is he right? He says that an Apple iPhone-lite will, if anything, be a little smaller and lower-cost but not "cheap," and predicts it will play out like the iPad … and presumably the iPad Mini, which many derided as overpriced to compete with Kindle and Nexus but which nevertheless are selling like hotcakes. But that's Mr. Pendola's point: Apple didn't succeed with a product everyone agreed was "cheap," it succeeded with a product everyone said wasn't cheap enough.
Besides: the very week Apple was reported to have a "cheap" iPhone in the works, the stock tanked: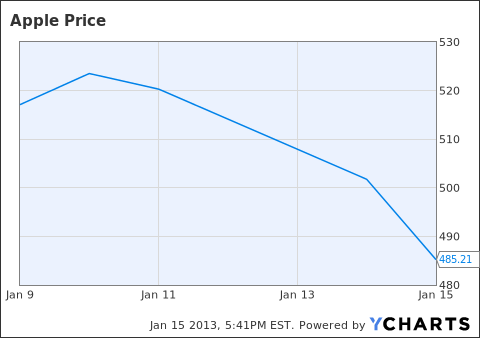 And what better proof do you need? It didn't help that an initial report that Apple's marketing manager Phil Schiller had denied the cheap phones were withdrawn by Reuters after significant changes to the Chinese source from which it was derived. The message: cheaper iPhones are coming.
Let's have a look at how cheap products have hurt Apple in the past. After enjoying success with the most expensive portable music player ever sold, Apple created more and more versions of its iPod until there was no price point at which a competitor didn't compete with Apple on price. Apple built a fantastic brand for portable consumer electronics by giving people an experience they liked with music players. And you can get those players as cheap as fifty bucks. It's a success in part because Apple's pricing policy prevents safe havens for competitors, and in part because it includes low-end products that meet the needs of users with simple expectations. And maybe also a desire to accessorize: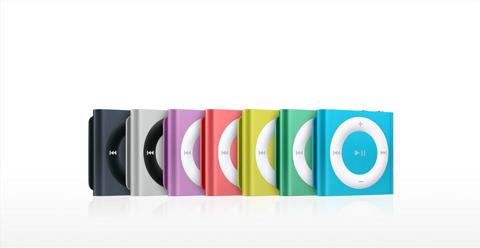 By preventing competitors from enjoying safe havens in the price range in which products could possibly compete, Apple has maintained pressure on competitors so they could not either position Apple in the public eye as the "too expensive alternative for folks with too much money" or drive Apple off its high-margin business by dominating it with share. In music players, the latter was a real risk: players potentially leverage network effects by playing only music compatible with the licensing schemes to which the manufacturers adhere. One doesn't hear much about iPods these days, but it's an object example of how Apple's pricing strategy has allowed it to take a contested market: the most recent numbers available suggest Apple sold more dedicated music players than all competitors combined. This means less now, though than it did before phones began delivering music player functionality to mobile users. But the same principles apply: Apple could have lost this market by refusing to sell at lower price points, and might not be making mainstream music players but niche products.
Apple's success selling phones in the subscription-subsidized market shows a similar pattern. After launching with an expensive high-end product, Apple moved down the price points until it covered all the prices from its top-end model all the way down to this: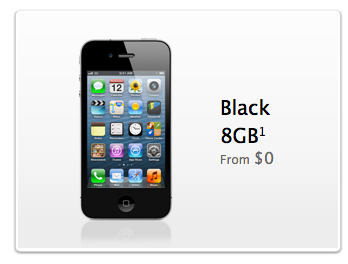 And how has that worked out for Apple in the carrier-subsidized market? In a recent 12-week period, Apple sold more phones in the mature U.S. market than every other smartphone vendor combined. With 53.3% of the U.S. market, Apple reached the highest share it ever held in U.S. smartphones. But the U.S. market isn't the world, by a stretch. As predicted here last year, Apple expects China to overtake the U.S. soon as its most important market.
And most importantly: China isn't the U.S.
Much of the world's markets are predominately prepaid, meaning that Apple's product pricing in the subsidized markets aren't the prices seen by most customers in the world. Even in the U.S., prepaid mobile is growing at the expense of service contracts. Exemplifying this trend, T-Mobile plans killing all subsidies even for subscription customers, offering instead a combination of lower monthly rates and mobile device financing. The upshot? Actual phone cost matters for much of the world, and will matter more and more in the future.
Apple's product pricing strategy demands attack in the low-cost market segments in which Apple has no competitive products in the growing global market for unsubsidized mobile hardware.
But Phones Are Different!
When the iPod came out, it had a mechanical scroll wheel surrounded by mechanical buttons, and Apple sold it as the greatest user interface ever offered in a music player. And maybe it was: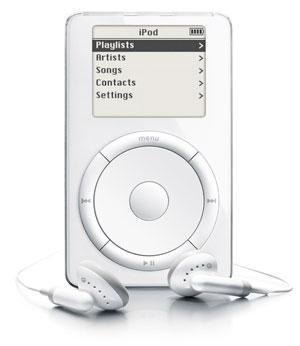 But then Apple advanced the state of the art with touch-scrolling, then touch-wheels that doubled as a set of multiple buttons (the "click-wheel"). Apple's best-selling iPod now is the iPod Touch - basically an iPhone that doesn't make calls. The lowest-end iPod - the one that protects Apple at the low end by preventing highly profitable competition below a safe price point - doesn't currently have a screen. But for $100 more, Apple offers a tiny touch-screen iPod with a built-in pedometer for exercisers. Apple offers a dizzying array of interfaces in its music players, from mechanical buttons to touch-screen models, suiting multiple different price points.
And Apple can't pull off this trick in phones. Apple's whole pitch on phones depends on consistent user interface hardware so it will support iOS applications. The original iPhone launch specifically harped on how other products' problems flowed from the fraction of the front face no-one could fix after the product shipped: it wasn't a software-driven interface, but fixed in physical materials.
The touch-screen and limited alternative input also protects developers from having to target too many different form factors. The importance of Apple's application ecosystem to the iOS platform has made developers an important constituency for Apple in its iOS business. Apple is stuck in the high end, right?
And if it makes low-end junk like its unprofitable competitors it will cheapen its brand and suffer their fate, no?
Well, maybe not. Recall that much of the profit in the mobile market is based not only on design (e.g., components costs), but margins issues driven by ownership of key technology in each product. If it were enough to have sufficient volumes to drive down the per-unit contribution of fixed costs, Nokia would not have suffered the last couple of years of losses. This is an IP battle - a battle of vertical integration - not a competition for raw unit sales. If Apple owns the high-value content in its products, its competitors' efforts to ape its efforts with components sourced somewhere else will continue to fall flat.
What Apple must do to succeed at more price points is identify the essential elements those price points' users require to feel their purchase is a success.
Innovation At All Price Points
Apple's success in iPods depended on finding products that could be competitive at each price point, even those incapable of supporting the technology that made its flagship product such a peach. Mr. Pendola isn't the only onlooker to opine that Apple's innovation died with Steve Jobs, but if such critics are right Apple's decline is inevitable. Thankfully for Apple, the things that have made Apple so successful since its return haven't been things on which Apple was dependent on Mr. Jobs to produce.
Apple's success in competing at other price points will serve as an opportunity for Jobs' successors to demonstrate Apple's ongoing ability to innovate as the firm needs to expand its product lineup for competitive advantage. And this effort will take innovation to succeed: it will take insight into the essence of Apple's customers' essential requirements in the price points in which Apple intends competing. Just as the first iPod Shuffle was decried as a failure and a cop-out because it didn't include a click-wheel control, Apple's budget phones will surely be decried as failures until the numbers come in.
But Apple's Falling So Hard, Newton Ran For Cover!
Let's face it: Apple is volatile. The company went from the brink of failure to the most valuable firm on the planet, and it's been a wild ride along the way. The author recalls the aftermath of Jobs' Cube debacle (do you even remember it?), which convinced people Apple's innovation was over, its iMac a one-trick pony: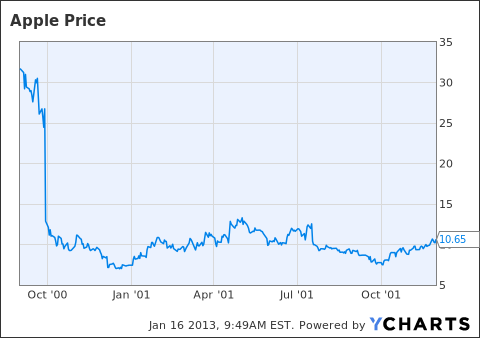 That 50% drop wasn't a one-day blip, it was a gut-punch. And the ride isn't about to get smooth now. But the fact Apple's price remains volatile when people hear bad news and run doesn't by itself mean much about Apple's actual ability. Sir Jonathan Ive, the guy who designed the iMac - then designed the iPod, and then designed iPhone, then designed the iPad - is still at Apple. And as of last year, he is for the first time solely in charge of Apple's interfaces. (Some folks, overlooking the need for supply-chain expertise, suggest he should run Apple itself.) Apple isn't bloating into an un-innovative behemoth in the post-Jobs era, it's cutting the fat. Apple's design is about to improve.
So why are shares falling?
First, there's been no shortage of other headlines hammering Apple. Interestingly, many of them have proven immaterial or even incorrect. For example:
Getting global distribution of the iPhone 5 so quickly is a big deal, actually, and positive news in its own right. Apple didn't used to get iPhones to China in the first quarter after launch, but in the future Apple will seek even faster iPhone launches in China. With competition driving Apple to biannually product cycles, quick global launches will be important to capitalizing on the innovation in each product before competitors move to catch up.
Based on the news, one would expect quite a lot of fear-generation in observers without much commitment to following Apple.
Conclusion
Apple's innovation continues to be tested. Resurgent conviction that its only working brain died with Steve Jobs weighs on headline-skimming retail speculators just as earlier waves of the same pessimism were adopted under different arguments in the past. Apple's opacity will likely continue to allow the meme of Apple's imminent irrelevance to be advanced unchecked until sales figures show what's really happening in its major markets. It might be true that the truth will come out, but nobody said it would be out first, or earliest, or loudest. Further short-term dismal share prices should not surprise long-term investors. A close look at the prices on the Y-axis of the price chart from the Cube-era crash should give some idea how dramatically Apple's fortunes can change when the markets start paying attention to numbers again. And the numbers say Apple's P/E ratio has virtually collapsed, even before adding in the impact of the company's as-yet unannounced blowout holiday quarter: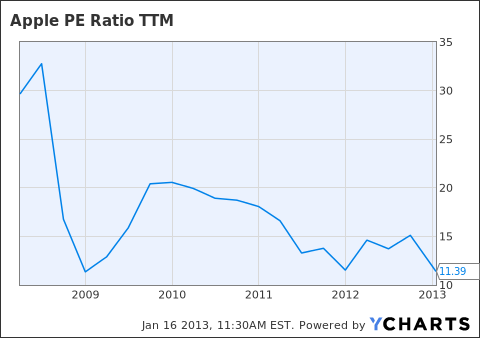 Note that the graph isn't based on projected P/E, but trailing 12-month P/E excluding the unannounced but concluded holiday quarter that saw Apple's first full quarter of iPhone 5 sales and the launch of both an updated iPad and the new iPad Mini. And yet: less than 12. This trend hasn't been the sudden result of the news, though: this is a 5-year graph. Market participants, increasingly skeptical of Apple's continued success, have priced Apple increasingly closer to Hewlett Packard (NYSE:HPQ) and even below Microsoft (NASDAQ:MSFT):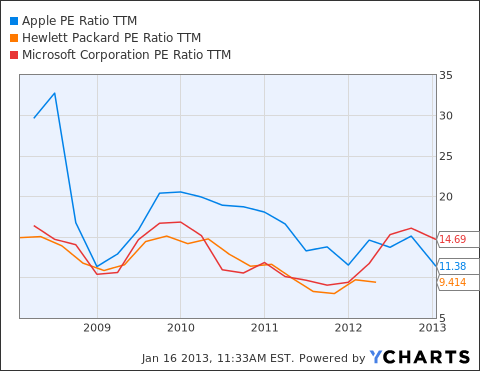 Microsoft may be a fine place to find stable income from OEM OS licensing and enterprise software sales - but who really envisions Microsoft's earnings outgrowing Apple's as the latter is forced to focus its future on market segments that entertain projects like subsidizing the likes of Nokia in handsets and clobbering its hardware partners by competing in tablets? After Microsoft's last quarterly announcement Microsoft braced for a Windows 8 surge, but changing markets have reduced Microsoft's new-OS revenue ramps until sales - instead of soaring - drive softly over disappointing speed bumps. It's reliable money, to be sure, but is it long-term growth? Is it really worth more than the money made by Apple in the huge and growing global mobile hardware markets?
Historically, Apple's shares have reacted badly to frightening news, especially those that fanned fears that Apple is "over now" after prior success. Following stock shocks, prices have drifted sideways for a few quarters while the company's ongoing success has been slowly digested. The severe case of the post-Cube crash took quite a while to support a recovery driven by market-moving sources of widely-believed analysis.
Apple's powerful and growing global brand is an outstanding asset in marketing consumer products. 47% of consumers polled expresed interest in an Apple television sight-unseen, and willingness to pay a higher premium for Apple's product than for others'. But that brand also means Apple's name makes great click-bait for negative headlines, however thinly researched or scantily sourced the attached articles may ultimately prove. And as we've seen above, such headlines are neither in scarce supply, nor are they ineffective in impacting the short-term sentiment that affects share prices: witness the recent selloff in the wake of the supposed iPhone 5 demand collapse.
Amidst this, Apple is executing a product pricing strategy that has proven successful in the music market, proven successful in the subsidized smartphone market, and (if one views iPads as PCs) outrageously successful even in the aging PC market. Apple is offering high-margin products at more and more price points, including "cheaper" price points, to deny competitors the safe haven they enjoyed when Apple was unable to compete as it currently does: with volume pricing power. Apple's products enjoy design features intended to differentiate them from competing products at each price point in which Apple competes. So, Apple will have a new phone at a lower price for the unsubsidized cellular market. Whether Apple's product will be called "cheap" remains to be seen, but the author reminds readers that the first iPhone was not only thicker than current models but adorned with visible black plastic band across the back and trimmed with a narrow band that bent interestingly in the blender. And when Apple's iPhone was derided as having no potential market due to its outrageous price, we know how that turned out. Readers may wish to compare the iPod Shuffle to the original iPod for insight into how Apple's product might evolve over time in execution of its plan to pursue enterprise performance rather than obsessing over per-unit metrics.
The question of Apple's price is when the market will value its earnings as earnings at a firm like HP or Dell (NASDAQ:DELL) - which have little in the way of a competitive moat - and when the market will price Apple in light of its ongoing growth and durable competitive advantages. In the near term, expect volatility to continue. In the long run - however slowly - the market will live up to Warren Buffett's famous claim: it will price Apple as a weighing machine more than a popularity contest.
Disclosure: I am long AAPL. I wrote this article myself, and it expresses my own opinions. I am not receiving compensation for it (other than from Seeking Alpha). I have no business relationship with any company whose stock is mentioned in this article.