Part 1, which discusses Chesapeake's bankruptcy risk, can be read here.
Back in October, I suggested traders of natural gas futures contracts and shorter-term owners of natural gas related equities take profits given an underwhelming demand outlook and surprisingly relentless gas production. At the time, the January contract was trading at about $4, while the February 13 contract traded between $3.50 and $3.70. My thesis has played out reasonably well, as record supply had yet to be liquidated and expected demand on the part of utilities hadn't been met.
A few months later, major producers like Chesapeake (NYSE:CHK) finally seem to be bringing less gas to market, and focusing more heavily on liquids production.
Chesapeake's Reliance On Natural Gas
Chesapeake Energy, marred in recent in months by Aubrey McClendon's personal loans scandal and a weak balance sheet, is the second largest producer of natural gas. The company noted in its 3Q conference call that in 2013, each $.10/mcf change (mcf and mmbtu is nearly a 1 to 1 conversion) in the price of natural gas will have a $100 million impact on CHK's EBITDA.
Management has been quick to note that as the country's second largest natural gas producer, it has a major impact on market supply. While the company was rather reluctant to curtail production in 2012 (likely due to its need for cash flow), Q3 production was up 19% year-over-year, despite only drilling from 9 rigs, compared to as many as 81 in 2011. The company believes Q3 2012 was the peak in natural gas production, and that 2013 will bring a 7% decline.
The company's extensive and diverse asset base has enabled it to achieve 190% growth since 3Q 2010: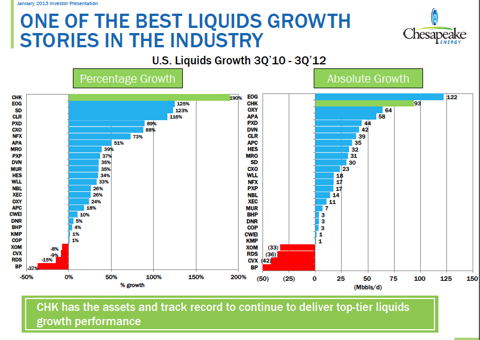 Moreover, average daily oil production nearly doubled in 3Q 2012 from the prior year. Management has a stated focus on producing more oil than NGLs, and expects a 2013 average of $90 NYMEX.
While the company has stopped issuing specific guidance, it has given a range of estimates dependent on three levels of 2013 natural gas prices: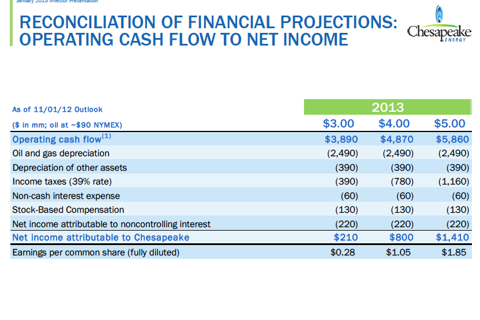 2013 Natural Gas Outlook
I believe natural gas bottomed very recently for 2013, given (finally) the curtailing in production by the country's major gas producers.
Simple technical analysis shows spot natural gas bouncing off the late September breakout point around $3.10, when nat gas took off towards $4.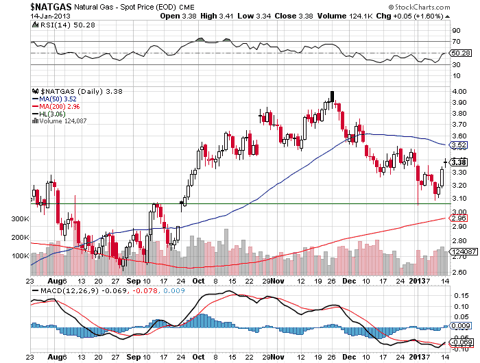 12 month futures prices have the commodity trading at $4 by December, while Morgan Stanley just cut its 2013 average forecast to $3.50.
March inventories will likely be 20% below last year's supply. Coinciding with this technical bottom was a 201 Bcf drawdown last week, the most since February 2011.
Using an average price of $3.50 and given CHK's estimates, I expect the company to earn about $.75 in 2013 (below analyst estimates of $1.25), and my previous analysis shows CHK will have a funding gap on the order of $4 billion. To fill this gap, management expects to sell $5-7 billion more of non-core assets. The recent acquisition of the ~6% term loan due in 2017, unscheduled debt or equity issuance is highly unlikely. The funding gap should be closed by 2014.
Looking further out, exceptional liquids production growth in the double digits and restrained CAPEX spending should finally add up to substantial free cash flow. After selling billions of its midstream asset business, CHK believes it will be able to ramp up production in the Utica Shale and Niobara region; production growth was slow in these two plays for 2012. Meanwhile, the Eagle Ford shale, where oil production was up more than 300% in 2012, will continue to generate even more liquids as 233 more wells come on line.
Chesapeake's Boardroom Shaken Up By An Old Friend Of Warren Buffett
A common criticism of management has been that it built its asset base on the assumption that natural gas prices were going to be far stronger. When natural gas prices tanked, shareholder value was destroyed. This evaluation is quite fair, and the ill-timed uncovering of McClendon's loans troubles kicked off the last round of heavy selling from investors.
For as poor an investment CHK has been over the last few years, much has changed, and the market has, for the most part, refused to notice. With almost 90 million shares short (15.4% of the float), short sellers are betting on significant downside, even though shares are trading at only 90% of book value. I am of the opinion that the major bear thesis is near to intermediate term bankruptcy, due to the company's excessive debt load and continued funding gap.
My recent article, linked above, discussed why there is essentially no chance of a Chesapeake bankruptcy on the horizon.
Aubrey McClendon's embarrassment and positioning of the company since 2010 has also led to excessive bearishness on the stock. Prior to mid-2012, there was little sense of urgency regarding the need to reduce CAPEX and leasehold spending, while also generating higher cash flows.
The outside addition of Lou Simpson (former CIO of Berkshire Hathaway's GEICO, and touted as an excellent investor by Buffett himself), and other new board members appointed by Carl Icahn and major shareholder Southeastern Asset Management (with 14% of the company) have had a substantial impact on Chesapeake's strategy.
Conclusions
As cliché as it may sound, Chesapeake's asset base is exceptional. The rapid acquisition of these plays and excessive focus on natural gas production wiped out billions in shareholder value, but the current valuation of CHK's shares doesn't sufficiently price in future production growth at lower expenses.
Furthermore, it appears that valuation is being suppressed as a result of unwarranted liquidity worries and ongoing management concerns. Given a new board with real shareholder interests is reigning in spending and diversifying the company's production, CHK is headed in a much better direction. At 90% of book (which appears to be understated given SEC requirements to mark down proven reserves due to last year's record low natural gas prices), Chesapeake offers an asymmetric return profile.
Disclosure: I am long CHK via calls. I wrote this article myself, and it expresses my own opinions. I am not receiving compensation for it (other than from Seeking Alpha). I have no business relationship with any company whose stock is mentioned in this article.