Just what in the world are those Chinese up to?
You can't turn your head these days without someone commenting on, analyzing, besmirching or otherwise gabbing about the Chinese. And with good reason. The Chinese economy is now the "scale-tipper" in the battle to reflate the world economy. Whither China, whither the rest of us.
They're not a friendly lot, though, the Chinese. Not much concern for workers' rights or the environment. And absolutely single-minded in their desire to consolidate power and acquire territory they believe is rightfully theirs.
They certainly relish the prospect of becoming the next great global economic and military juggernaut, too. But you're not likely to see a Chinese attempt to conquer the Koreas or any of her southerly neighbors, let alone Japan. This is not the former Soviet Union, after all. Otherwise, they're prepared to do just about anything to achieve an absolute regional supremacy.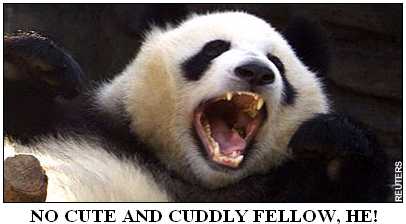 Last weekend, the Chinese unveiled their next big move toward accomplishing just that. After November's significant pledge of $600 billion in infrastructure investments failed to break the global logjam and reignite confidence that the worst of the global crisis was over, the Chinese went back to the drawing board. Chinese premier Wen Jiabao's November "biggest contribution to the world" was replaced with an even bigger December version. This time, Beijing decided:
To increase the country's money supply by 17% in order to stoke consumer spending. You see, the Chinese are notorious savers, and becoming ever more so as their wealth expands.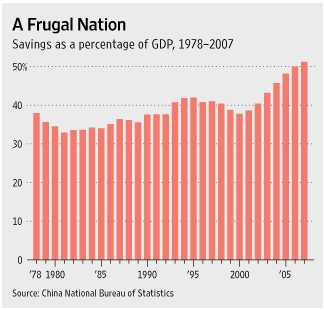 The money will reportedly be made available through easier bank credit to individuals and businesses. (Where have we heard that one before?)
Subsidies will also be offered to industry to upgrade technology and improve energy efficiency.
A special gift for the steel industry: production surpluses will be absorbed by the government (don't want prices to fall too sharply).
And for Joe consumer: tax breaks to stimulate new home and automobile sales.
But why? If it's America that's broke, why don't the Chinese just spend their billions fixing it? Ringmaster Paulson wants it. In fact, just last week he oversaw quick approvals for Chinese financial institutions to buy into a dirt cheap America. He even flew to Beijing to do his arm-twisting – pushing "welcome new investments" by China's sovereign wealth fund and foreign-exchange administration.
But it doesn't seem to have worked.
China Lends, America Spends!
For years it was so: China was ever seeking new foreign investments to acquire. Up until even the last few months, the trend was in effect. As we've discussed in this space on several occasions, this latest spike in U.S. Treasury prices can be attributed to foreign interests – including, but not limited to the Chinese – searching for a safer financial harbor to park funds. We even brought evidence of increasingly large purchases by the Chinese Central Banking authorities in these last crisis months. And we continue to hold that this is a trend that must continue in substantio for the mutual benefit of China and the U.S.
Because Chinese industrial development requires the U.S. consumer to buy its products, and
Because America needs money to go out and buy those same cheap goods.
The whole project, therefore, will continue to be financed by the Chinese, whose vast stores of savings (and virtually no national debt) are continuously sunk into U.S. Treasuries.
In essence, America borrows from China (through Treasury sales) in order to spend in China! It's a brilliant scheme – and one that the Chinese especially have an interest in maintaining.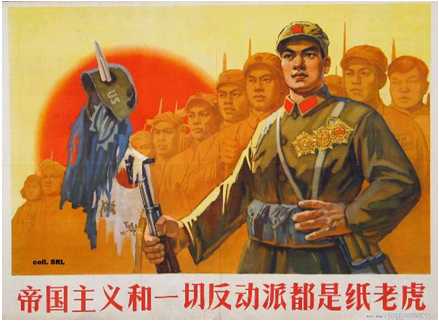 Yet something changed recently. The Chinese detected a new attitude in the American consumer, the lynchpin upon whom the whole scheme is predicated. If he were to stop spending, there would be no more need to lend to him. And that's precisely what appears to have happened.
The American consumer is starting to save.
The American government was therefore forced to step into the breach to serve as lender to the American consumer (by paying for his bad mortgage). And the Chinese government went off in search of new consumers – namely their own citizens – to buy her cheap goods. Hence the internally-focused stimulus plan.
How do we make money off this?
Now that those hundreds of billions that would have gone to America are being reinvested in China, the likely place to look for opportunity is also in China. But perhaps not where most imagine.
The easiest and most obvious bet would be to invest in the overall Chinese market, represented by the ishares FXI fund which trades on the NYSE. FXI has good exposure to those companies that stand to benefit from the Chinese stimulus (see pie chart of FXI composition, below).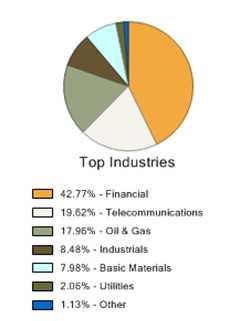 And the overall market is looking like it may be turning a corner, too: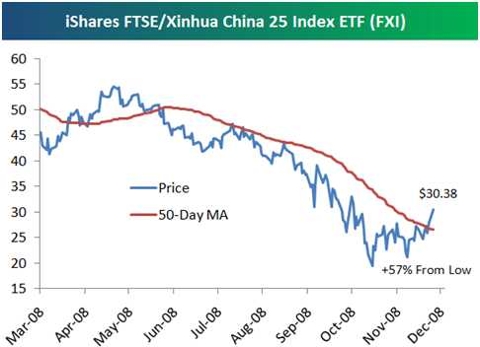 And while it would certainly be logical – and potentially profitable – to follow this course, we're not sure it's the silkiest route to take. Why? Because we're not so convinced that the average Chinese steel worker (seen in the picture below) is ready to be stimulated. That is, we're not convinced that she'll go out and spend that new money like her communist bosses want her to. Heck, look how well she's dressed already!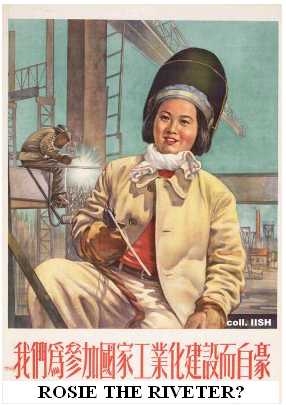 It's hard to imagine the sea change in attitude that would break the save-at-all-cost mindset of the average Chinese. We're betting it won't happen to the extent that the authorities want. Instead, look for Joe Qiu average to do what he's been doing for a good long time now: buy gold.
A quick glance at the following chart shows a staggering, exponential buying trend that we believe has little reason to stop here.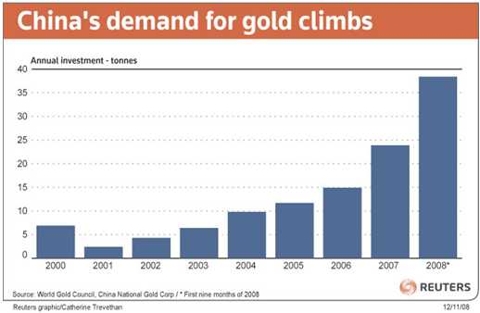 China is the world's third largest gold consumer after India and the U.S. And this year, China overtook South Africa as the world's largest gold producer. The Chinese romance with gold is a growing passion. And it should serve to buoy the metal through even the roughest bouts of selling.
The China Bull is Gold!
Disclosure: No positions.