Versant (NASDAQ:VSNT) is a well-managed, growing company with strong niche products in the database software market. We do not expect the company's growth to fall off a cliff in the foreseeable future. As a result, we view the shares as meaningfully undervalued at only 6x trailing EPS (even less on cash-adjusted basis). After some reluctance, management finally announced a $5 million stock repurchase program on December 4. We view buybacks as highly accretive both to EPS and to intrinsic value per share given the low valuation of the shares.
BUSINESS OVERVIEW
Versant, founded in 1988, provides object-oriented data management software that companies use to solve complex data management and integration problems. The software is used in strategic distributed applications, including network modeling and management, fault diagnosis, fraud prevention, service activation and assurance, and customer billing and scheduling. Management is based in the U.S. and Germany, while R&D activities are conducted in Germany and India.
The company targets the telecom, technology, defense, financial, transportation, and health care industries. It sells two types of perpetual licenses: Development licenses, sold on a per seat basis, authorize a customer to develop an application that uses Versant software. Deployment licenses permit a customer to deploy an application it has developed under a development license. End-users typically buy deployment licenses based on the number of CPUs. VARs and distributors purchase development licenses on a per seat basis. In exchange for royalties, VARs are authorized to sublicense deployment copies of Versant software.
click to enlarge
SELECTED OPERATING DATA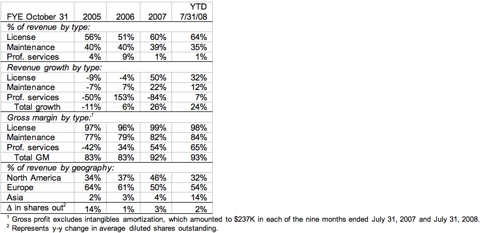 INVESTMENT HIGHLIGHTS
Object-oriented database management software has advantages over relational databases in meeting the data requirements of companies who use very large, changing bodies of complex data.
Versant Object Database [VOD] cuts customers' hardware costs and speeds development. VOD sales account for almost all license revenue. Versant also sells FastObjects software, added in 2004 via a merger with CEO Witte's former company.
Large recurring revenue stream, high switching costs. We estimate that two-thirds of revenue is of a recurring nature. Versant is deeply embedded into customer applications, making it difficult to switch.
Highly capable Jochen Witte (47) became CEO in 2005. Previously, he headed Versant's European operations and co-founded a firm that merged with Versant in 2004. Since taking the helm, Witte has cut costs and focused on the database business. Financial results have improved dramatically.
Strong balance sheet; large NOLs. Versant had $27 million of net cash as of July 31. It had federal, state, and German NOLs of $80 million, $16 million, and $41 million as of October 31, 2007.
Stock price implies 19% trailing FCF yield and 6x trailing P/E (no EPS estimates available).
INVESTMENT RISKS & CONCERNS
Impact of weak economy, dollar appreciation. According to CEO Witte, "achieving our future goals will become more challenging."
Competition from relational database companies including Oracle (NASDAQ:ORCL), CA, Sybase (SY), IBM, and Microsoft (NASDAQ:MSFT). Versant also competes against object database firms such as Progress Software (NASDAQ:PRGS) and Objectivity.
Small but growing object-oriented database market. The $70 million market size limits the explosiveness of Versant's growth potential.
Low insider ownership—particularly noteworthy given Versant's small market capitalization.
COMPARABLE PUBLIC COMPANY ANALYSIS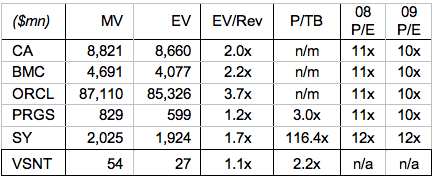 MAJOR HOLDERS
CEO Jochen Witte 2% │ Other insiders 2% │ RenTech 8%

Disclaimer: Copyright 2008 by BeyondProxy LLC. BeyondProxy and its affiliates may have positions in and may make purchases or sales of the securities discussed in this report. It is the policy of all Related Persons to allow a full trading day to elapse after the publication of this report before purchases or sales of any securities discussed herein are made. No Related Person held a position in securities discussed in this report as of the date of publication. Use of this report and its content is governed by the Terms of Use described in detail here.