By: Brendan Gilmartin
Overview
General Electric (NYSE:GE) is slated to report 4Q 2012 earnings before the bell on Friday, January 18. Results are typically released at 6:30 a.m. EST and will be followed with a conference call at 8:30 a.m. GE's earnings are often viewed as a barometer on the overall health of the U.S. and global economy. Therefore, GE has the potential to influence broader markets, including the index futures, currencies, and other broad market indicators, particularly if the results are far outside the band of consensus estimates.

Outliers & Strategy
GE's EPS have topped estimates by an average margin of 2.0% over the past 4 quarters. A figure close to the high end of forecasts would therefore be seen as a positive signal. Revenue is the next critical measure.
The consensus for 4Q EPS is $0.43 per share (range is $0.42 to $0.44) on revenue of $38.76 bln (Source: Yahoo! Finance).
Recent News
12/19: Oppenheimer reiterated an Outperform rating and a $24 price target on GE, according to a post on Benzinga.com. The positive view was based on improving margins, execution, and growth in the global economy.
12/14: Citigroup reiterated a Buy rating on GE following the increased in the dividend by 12%, according to a post on Barron's Online. The firm also maintains a $24 price target, based on stronger fundamentals, improvements in the industrial segment, and stabilization in the GE Capital division.
12/14: GE raised the Company's quarterly dividend by 12%, or $0.02 per outstanding share of the Company's common stock, to $0.19. The shares are now yielding 3.58%.
12/14: GE increased the existing share-repurchase authorization by $10 billion and extended the repurchase plan through 2015.
12/13: GE Chairman and CEO Jeff Immelt made the following observations from the 2012 Annual Investor Meeting:
•Immelt said he anticipated a good end to 2012 with "strong double-digit growth."

•For 2013, Immelt said he was targeting double-digit growth in earnings, including the GE Capital division.

•Still sees pretty good growth in the emerging markets; Europe will be a "challenge."

•GE Capital has "a lot of liquidity and a lot of capital strength."
Technical Review
Since touching a 52-week high of $23.18 on October 5, GE shares have been trending lower and have nestled into a tight range in advance of the 4Q 2012 earnings release. These thinner candlesticks and narrow trading bands are possible harbingers of a potential breakout in the near-term, with earnings as the potential catalyst. A break above $21.25/$21.50 on strong earnings could trigger a rally back toward the aforementioned 52-week high. Conversely, initial support is at the crossover of the 20-Day & 50-Day SMA near $21.00, with further downside risk to $20.50. (Chart courtesy of StockCharts.com)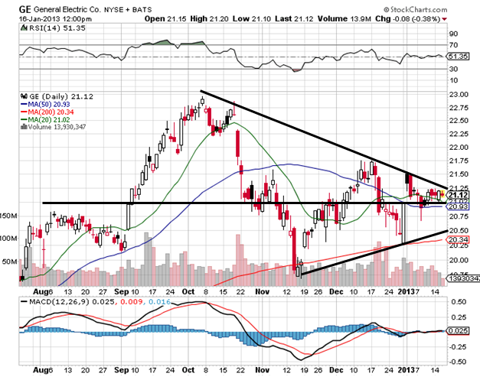 Summary
Sentiment surrounding GE is fairly upbeat in advance of the 4Q earnings release on January 18, thanks to evidence of an improving macroeconomic backdrop, strength in the energy services segment thanks to rising oil prices, a sharp turnaround at GE Capital, upbeat comments from CEO Jeff Immelt at the end of 2012, an attractive dividend payout, and a commitment to continue share repurchases through 2015. But with the shares range-bound of late, a breakout could be in store - positive or negative.
DISCLAIMER: By using this report, you acknowledge that Selerity, Inc. is in no way liable for losses or gains arising out of commentary, analysis, and or data in this report. Your investment decisions and recommendations are made entirely at your discretion. Selerity does not own securities in companies that they write about, is not an investment adviser, and the content contained herein is not an endorsement to buy or sell any securities. No content published as part of this report constitutes a recommendation that any particular investment, security, portfolio of securities, transaction or investment strategy is suitable for any specific person.
Disclosure: I have no positions in any stocks mentioned, and no plans to initiate any positions within the next 72 hours. I wrote this article myself, and it expresses my own opinions. I am not receiving compensation for it (other than from Seeking Alpha). I have no business relationship with any company whose stock is mentioned in this article.