A few highlights from today's report from the Federal Reserve on industrial production in December (PDF):
1. Automakers in the U.S. assembled 10.74 million units in December (seasonally adjusted annual rate), the highest production level for the month of December since 2006 (see chart below). Except for a slightly higher assembly count in July 2012 of 10.89 million units, US automakers assembled more light vehicles in December than in any month since August 2007, more than five years ago.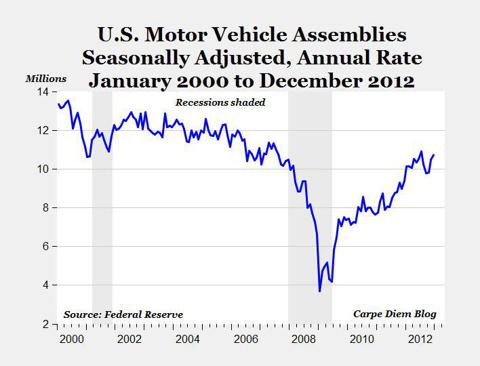 2. (Update): As an industry group, "motor vehicles and parts" increased by 17.2% in December from a year earlier, and by 33.7% in the last quarter of 2012 (at annual rate). Also noteworthy is the fact that output of "motor vehicles and parts" in December reached a new all-time record high, and output in this booming sector is more than 5% above the pre-recession peak output in April 2007 (see chart below). The U.S. auto industry has made a complete recovery from the Great Recession and is now one of the sectors at the forefront of the economic expansion, with an amazing growth rate of almost 34% (annualized) in Q4 last year.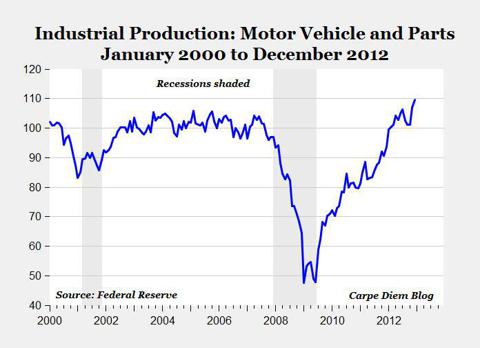 3. The mining component of industrial production reached the highest level in December since March 1982, more than 30 years ago, led by strong, exponential growth in the "oil and gas extraction" component of mining. Industrial output related to oil and gas extraction was higher in December than in any month since February 1973, almost 40 years ago (see chart below). Over the last year, output from oil and gas extraction grew at more than an 8% rate, and in the fourth quarter growth in this sector accelerated to more than 14% (annualized).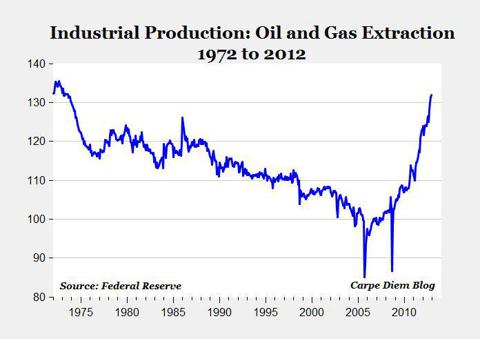 4. Overall, Industrial Production in December was the highest since June 2008, more than four years ago, and increased by 2.2% compared to December 2011. The December increase from a year earlier was the 35th consecutive month that industrial production has increased on a year-over-year basis, going back to February 2010.
5. The manufacturing component of industrial production was also the highest in December since June 2008, and increased by 2.4% above a year ago.
Bottom Line: Today's report on December industrial production provides more evidence that the energy (oil and gas) and automotive industries of the U.S. are two of the strongest sectors in the U.S., and are at the forefront of the economic expansion with amazing growth rates of 14% and 34% respectively in Q4 2012. Additionally, the 2.2% growth in industrial output overall, although not especially impressive, supports the First Trust Portfolio concept of a "plow horse U.S. economy" -- low, but steady growth.