By Jason Born, CFA
Scrap metal exporting is anything but sexy. Yet in Sims Metal Management Ltd. ADR (SMS), we find much to like.
First, we'll take a look at Sims' businesses. Sims takes ferrous and nonferrous scrap from places of high supply - such as North America, Europe, and Australia - then processes it to be used by mills and smelters in places of low supply - like Turkey and the world's manufacturing hub, China. SMS has the largest market share in this traditionally fragmented industry. It is itself, the result of a recent merger between Sims Group from Australia and Metal Management from the U.S. In fiscal 2012 the company made its first investment in China by purchasing 16% of Chiho-Tiande Group Ltd., a mixed metal recycler and importer with operations in Hong Kong and China's mainland.
The use of scrap steel in global steel production has grown swiftly since 2000. Rapid growth is expected to continue as China, the world's largest producer of steel, slowly incorporates scrap into its supply chain. Today most of China's steel is made with the energy-hogging and emission-spewing Basic Oxygen Furnace which uses virgin ore. Steel made with recycled material is fed into the more efficient Electric Arc Furnace.
SMS also runs a business called Sims Recycling Solutions (NYSEARCA:SRS) which recycles electronic devices (e-recycling) and even refrigerators. This segment provides about ten percent of the company's revenue.
The key driver for expanding or contracting margins for SMS and its competitors is the price of ferrous scrap. These are impacted by worldwide and local demand and country-specific economic conditions. Increasing prices allows the company to expand margins, while falling prices means contracting margins.
We like to start by looking at a company's balance sheet to see if they have adequate funding to continue operations should a rough patch turn up. Before we dig in, it is important to mention that SMS reports in the Australian dollar. But since the Australian and the U.S. dollar have bounced around parity for several years and since one of the company's common shares equals one ADR, the reader may easily substitute the two currencies at this time. SMS has credit facility agreements with several banks totaling over A$1,450 million (which is $1,522 in U.S. currency at today's rates). The credit agreements are actually denominated in US$, A$, Euros, and Pounds which provides a diverse and somewhat naturally hedged source of funding. The total amount borrowed stands at roughly A$345 million for a large availability cushion of A$1,100 million. The facilities all mature in 2015, so the company has ample time to negotiate renewals. The total debt to capital ratio for Sims is 15%. When we consider only tangible assets, the debt to capital ratio increases to 20%, still very conservative.
Revenue growth has been healthy, though it does exhibit the volatility one would expect from a company with a cyclical product. Operating margins run in the 7.5% range. Most recently, during Sims' 2012 fiscal year, goodwill was written off to the tune of A$557 million, resulting in an accounting loss. The lion's share of the write down came from the North American and United Kingdom operations as they were affected by slowed demand from China in the latter half of 2011 and beginning of 2012. Yet, from an operating cash flow and free cash flow basis, the company is decidedly profitable. Due to its conservative balance sheet management, Sims covers its interest expense by a minimum of six times each year.
The largest shareholder is a strategic investor. Mitsui is a Japanese conglomerate that owns 18% of the outstanding common shares and has a representative on the board of directors. While, of course reducing the publicly available float, this significant holding ought to provide a certain level of stability in the long run share price and perhaps even in the strategic direction of the company.
SMS has an expressed policy (with all the necessary caveats) to maintain a dividend payout ratio that falls between 45% to 55% of net profit after-tax. Though volatile, the company has paid a dividend annually since 2005.
The intrinsic value target we place on SMS ADRs is US$12.50, about 25% above the current price, calculated as follows: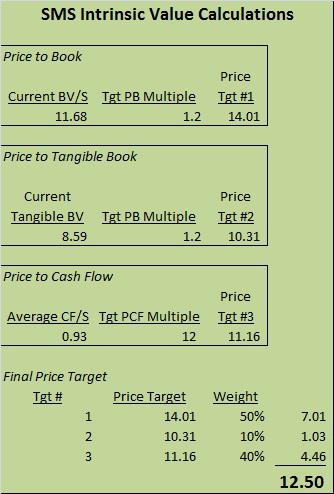 A brief note on our methods and/or assumptions: Our target price to book multiple is the average over the past several years, with the lowest and highest tossed out. We include a tangible book value multiple to make certain that our result is not overly optimistic. It is, however, in our minds appropriately weighted at only 10%. We averaged five years of the values we calculated for free cash flow per share to smooth out the cyclicality of the company's earnings.
In summary, with worldwide demand for recycled steel and e-recycling growing, Sims is well-positioned to capitalize. The company's global reach helps it efficiently get is products to market, but we must temper enthusiasm due to its inherent commodity nature. The company has proven over time that it is a capable operator in this space. They have a logical dividend payout policy, though it sometimes results in a growing or shrinking dividend. We believe investors who want a geographically diverse, small to midsized company will do well with SMS.
Disclosure: I am long SMS. I wrote this article myself, and it expresses my own opinions. I am not receiving compensation for it. I have no business relationship with any company whose stock is mentioned in this article.