Junk-bond exchange traded funds were a high yield favorite last year and most advisors are recommending investors keep some exposure to them in their portfolios. S&P Capital IQ agrees that although the junk bond market may be a bit overpriced, it is still a hot spot to gain yield.
"Junk bond performance is correlated to the corporate growth cycle, which remains solid albeit slowing, " Alec Young of S&P Capital said. "High-yield defaults are at only 2.7% versus a 4.5% long-term average. While the 500 basis point spread over 10-year U.S. Treasuries may not narrow much further, the 6% yield for the asset class warrants exposure even if it's more a coupon play than a capital gain play after four years of stellar gains driven by narrowing credit spreads."
"Yields have been pushed down by a highly aggressive central bank policy, with the result that yield-oriented investors have been pushed into owning lower-rated credits. As a result, the yields on riskier debt are as low as they have ever been," says Fran Rodilosso, fixed income portfolio manager at Market Vectors ETFs. "But the credit spreads, the difference between the yield on a high yield bond and a Treasury security, are actually closer to their historic average."
The two biggest so-called junk bond ETFs are the iShares iBoxx $ High Yield Corporate Bond Fund (NYSEARCA:HYG) and the SPDR Barclays High Yield Bond ETF (NYSEARCA:JNK). HYG had about $4.5 billion in asset growth in 2012, with a yield of 5.2%. HYG gained 13.8% in 2012. JNK has a 5.2% yield and returned 12.6% last year.
According to S&P data, junk bonds command a risk premium with a 5.92% higher yield than U.S. Treasuries.
The low-yield environment in the U.S. is going to linger for some time, which will ultimately limit duration risk, reports S&P Capital IQ. The rating company predicts the U.S. GDP will grow 2.2% this year, with the Federal Reserve keeping rates low until 2015.
Overall, the outlook for the U.S. economy is still uncertain, with U.S. GDP growth currently in its weakest cycle and a prolonged economic recovery playing out.
Recent talks of a junk bond bubble in fourth quarter of 2012 have been laid to rest for the start of 2013. Despite modest outflows from HYG, the fact remains that inflows were steady and heavy for most of 2012. So far in 2013, JNK has gained 0.1% and HYG has gained about 0.7%, reports Benzinga.
iShares iBoxx $ High Yield Corporate Bond Fund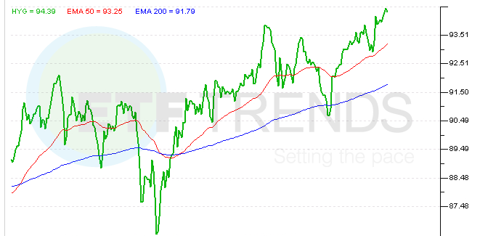 Tisha Guerrero contributed to this article.
Full disclosure: Tom Lydon's clients own HYG and JNK.
Disclosure: I have no positions in any stocks mentioned, and no plans to initiate any positions within the next 72 hours. I wrote this article myself, and it expresses my own opinions. I am not receiving compensation for it. I have no business relationship with any company whose stock is mentioned in this article.