Amidst much expectation Facebook (NASDAQ:FB) introduced its new social search engine, "Graph Search" to the public on Tuesday. The market's immediate reaction was not positive, as the company's shares dropped 2.7 percent, to $30.10, but I believe, over time, the new tool will lead to greater monetization on the social media platform, by enabling intelligent, data-driven and locally-focused advertising. Graph Search is "limited beta" at the moment and will be rolled out gradually. Facebook CEO, Mark Zuckerberg said Graph Search was "a completely new way for people to get information on Facebook" and it represented one of Facebook's three pillars, the other two being Timeline and News Feed.
The new feature is not designed to be a web search engine like Google (NASDAQ:GOOG) but rather to enable users to search its base of friends to find things like "Indian restaurants liked by my friends from India." At the press conference, Zuckerberg showed a list of Mexican restaurants that his Facebook friends had visited and "liked." It is fairly obvious how these types of searches might entice advertisers. According to eMarketer, Facebook generated $4.2 billion from advertising last year, 84% of its estimated $5 billion in total revenue. While the new tool isn't focused on web searches, it will actually provide web search results to queries when Facebook doesn't have an answer, by relying on Facebook's partnership with Microsoft's (NASDAQ:MSFT) Bing. Thus it will expand Facebook's relationship with Microsoft. Microsoft currently integrates certain Facebook results into its Bing search results.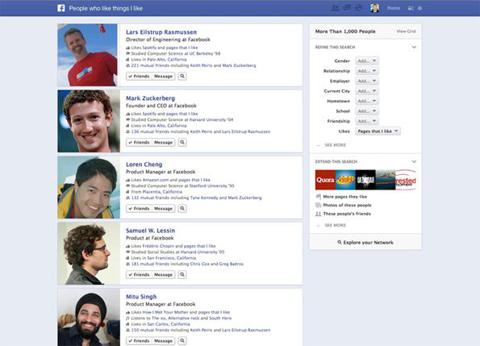 Click to enlarge
The introduction of Graph Search puts Facebook squarely in the path of both Yelp (NYSE:YELP) and Foursquare, by allowing users to find things to buy and places to go by querying what their friends like and looking at "reviews" from their friends.
And as Tom Stocky, Director of Product Management at Facebook, pointed out, the new tool might be useful for recruiting, putting Facebook in competition with the leading recruiting website, LinkedIn (NYSE:LNKD). It is also conceivable this new feature will also put Facebook at odds with dating sites like IAC/InteractiveCorp's (IACI) Match.com. Zuckerberg added that work is already underway on integrating Graph Search on the mobile side, but said it was "hard for us to estimate" how long this would take.
Analyst Reaction
Bank of America Merrill Lynch analyst Justin Post noted today that "search could help increase engagement on Facebook, either through making information on Facebook more accessible or, possibly, encouraging entry of more likes, posts and interests data." That might result in "some highly monetizable category suggestions for Graph Search," like nearby restaurants and games, Post said, suggesting that it should be easy to incorporate commercial search results through Facebook's partnership with Bing. "Given Facebook's large scale, getting users to search on the platform is a significant opportunity; if Facebook can generate just one paid click per user per year, the company could add $500 [million] in annual revenue," said Post said as he boosted his price target for Facebook shares by $4 to $35.
Sterne Agee analyst Arvind Bhatia also raised his target price and said yesterday's announcement expands Facebook's longer-term growth opportunity.
Long term, we think this will be a big revenue opportunity. We believe users will engage strongly with the product, which should result in better monetization overall as users spend more time on the platform. The Bing partnership for Web search received less focus during the presentation. However, we think this could perhaps represent just as big an opportunity from an incremental revenue standpoint, depending on whether Facebook users adopt the Facebook/Bing integration for general Web searches as a replacement for their current preferred search engine of choice. In the long run, we would not be surprised if FB developed its own search engine to crawl the wider Web.
I would personally be highly surprised if Facebook were to go down that path. It already has a strong relationship with Microsoft for its web search capability and as we know Microsoft has spent billions developing Bing. Developing search is difficult and expensive. Furthermore, as Facebook's last quarter so aptly demonstrated, mobile is where it is at, or more specifically mobile advertising is where it is at. The big missing component in this announcement was app search. It would be very useful if you could simply search in Facebook's mobile version to see what apps your friends like, or use your phone to find out what restaurants nearby your friends like. I believe this will come when the mobile version finally does arrive and it is likely that it will rely on Microsoft's partnerships to drive these types of searches.
Conclusion
While Facebook's stock might see some short-term pressure from investors who were expecting a larger announcement like a phone or web search, as these analysts suggest, over the longer term Graph Search will increase Facebook's user engagement, search monetization and will ultimately lead to increased valuation. "Graph Search has broad monetization potential across a spectrum of new opportunities, but monetization will take time," Jefferies & Co analysts said.
Disclosure: I have no positions in any stocks mentioned, and no plans to initiate any positions within the next 72 hours. I wrote this article myself, and it expresses my own opinions. I am not receiving compensation for it. I have no business relationship with any company whose stock is mentioned in this article.